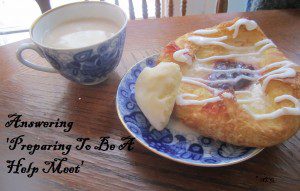 Another installment of giving better answers to the questions asked at Debi Pearl's site message board for the book 'Preparing To Be A Help Meet'. Many young ladies ask questions on all sorts of different subjects brought up by the book. There was just one big problem, many of the answers stray into either the outright bad and emotionally unhealthy to dangerous. Yes, typical Debi Pearl borderline abusive. Here's what we're going to be doing here at NLQ. Every week, once or twice a week, I'll be posting up one of the questions from the message board and ask you, our readers, to answer that poor soul's question in a way that is logical, rational and the best possible solution, in other words 180 degree turn from Debi and friends answers. As always  all spelling and grammar in the posting is unchanged from the original author.
Okay, on to today's question:
I am a discouraged 22 yr. old. Where I live in the Midwest, there seem to be very, very few young men who are even Christians. There are so few youth in the local churches and the church we go to now has no young people; the majority are over 50. I could probably count the Christian young men that I know on one hand. We have been trying to meet other Christian families and have attended a Bible family camp. I gave my life to God to be a missionary, but I don't really desire to go alone. I have asked my mom if there are any young men out there who love God and are in His word, who are going to the mission field and she tries to encourage me that God knows where the needle is in the haystack. But is there anything I can do?
Has it really become so hard to find a decent guy out there for the young ladies that desire to be married? She was given many answers, but most of them were to pray, control her thought life, find a  mission to do or go to a No Greater Joy Shindig conference, none of which I would consider the most helpful ideas.
Read our hate mail at Jerks 4 Jesus
If this is your first time visiting NLQ please read our Welcome page and our Comment Policy!
Comments open below
NLQ Recommended Reading …