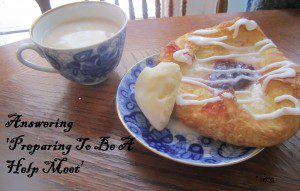 Another installment of giving better answers to the questions asked at Debi Pearl's site message board for the book 'Preparing To Be A Help Meet'. Many young ladies ask questions on all sorts of different subjects brought up by the book. There was just one big problem, many of the answers stray into either the outright bad and emotionally unhealthy to dangerous. Yes, typical Debi Pearl borderline abusive. Here's what we're going to be doing here at NLQ. Every week, once or twice a week, I'll be posting up one of the questions from the message board and ask you, our readers, to answer that poor soul's question in a way that is logical, rational and the best possible solution, in other words 180 degree turn from Debi and friends answers. As always  all spelling and grammar in the posting is unchanged from the original author.
Okay, on to today's question:
Don't know what to do…help, please!

Hey everyone 🙂 So.. here's a little background information. There's this guy at our youth group who started coming to your church a couple months ago. He's about 18. He's really a GREAT guy, friends with everyone and he's growing in his faith. He is my best guy friend. BUT!, I don't consider him any more than a friend. There is someone who likes him (obviously) and it seems as though she doesn't want me around him because then there might be something more between us? I guess she didn't get as much attention before now and since he's nice to her as well, she might think he likes her. But really, he's nice to everyone and I have a feeling he likes someone else from somewhere else. I really enjoy being around him because he's loads of fun but if I feel like I'm in the "way" of someone than I feel as though I shouldn't be around him anymore. Do I leave him alone… completely? a little? not at all? It seems all the girls are stuck. Some don't want to be his friend because then they might get feelings for him, some don't like his personality, but most of them like him and want to hang out with him. And like me, most of the girls are feeling pretty lonely because of this. Our youth group has really changed. One of the older girls has talked to me about it and mentioned that we should maybe have a sharing group (with just us girls) and bring this all completely to the open because it hasn't yet. Of course, he wouldn't be there. Is this a good idea? Should one of the married ladies be with us? I'm really confused about all of this so ANY answer is appreciated. Whatever your thought is, PLEASE put it down… we really want our youth girls to be closer like it used to be. Thanks in advance! 🙂 🙂 God bless!
Alright, so I'm not 100% sure what this girl is saying and asking except it sounds like every unmarried female in that youth group has a vested interest in this guy. I guess no one else could tell what she was asking either because no one gave her any answers. What would you say to her?
If this is your first time visiting NLQ please read our Welcome page and our Comment Policy!
Comments open below
NLQ Recommended Reading …