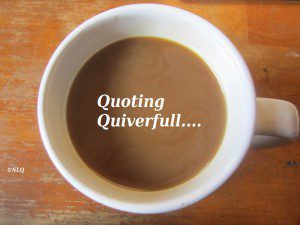 by an unnamed editor at Ladies Against Feminism – Family Edge: You Can' Say That! Feminists Enraged at Rape Victim
Editor's note: I know this is several weeks old but… as usual LAF takes every opportunity to slut shame rape victims. This time they used the outrage over The Pretenders Chrissy Hynde's words about her rape in her recent autobiography to drive home the point that they think if you weren't sober and dressed like a nun that you got what you deserved while bashing the feminist movement. I've refrained from bringing up Ms. Hydne's thoughts about her rape here because it always struck me more as the words of someone that has never emotionally dealt with or healed from what happened to her. I hope she does eventually get the help she needs, but it won't be coming from anyone connected with LAF.
Perhaps rock stars and feminists have never been very comfortable with each other, but if they had, a beautiful alliance took a hard blow last week when Chrissie Hynde, who sang with the 1980s British rock group The Pretenders, committed the ultimate feminist faux pas.

In her recently released memoir, Reckless, which she discussed with the Sunday Times, the 63-year-old says that she took "full responsibility" for her own experience of sexual violence at the hands of an Ohio bikie gang when she was 21. At the time she was drunk, high on drugs and scantily dressed when she hopped on the back of a gang member's motorcycle to hitch a ride to a party. Instead she was taken to an empty house and sexually assaulted.

In taking responsibility for the part she played in an experience that she would no doubt rather forget, she has apparently sinned grievously by identifying the root cause of the horrible events on that unfortunate evening, namely, her carelessness towards herself.

If honesty is the best policy and we learn from our mistakes why is it that feminists and victim support groups are taking her to task for pointing out the error of her own ways? Apparently the prevailing notion that thou shalt not judge applies even if you are judging your own actions. How dare she think!
QUOTING QUIVERFULL is a regular feature of NLQ – we present the actual words of noted Quiverfull leaders, cultural enforcers and those that seek to keep women submitted to men and ask our readers: What do you think? Agree? Disagree? This is the place to state your opinion. Please, let's keep it respectful – but at the same time, we encourage readers to examine the ideas of Quiverfull and Spiritual Abuse honestly and thoughtfully.
If this is your first time visiting NLQ please read our Welcome page and our Comment Policy!
Comments open below
NLQ Recommended Reading …