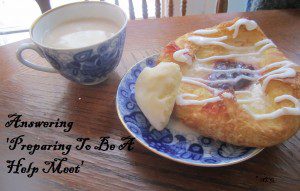 Another installment of giving better answers to the questions asked at Debi Pearl's site message board for the book 'Preparing To Be A Help Meet'. Many young ladies ask questions on all sorts of different subjects brought up by the book. There was just one big problem, many of the answers stray into either the outright bad and emotionally unhealthy to dangerous. Yes, typical Debi Pearl borderline abusive. Here's what we're going to be doing here at NLQ. Every week, once or twice a week, I'll be posting up one of the questions from the message board and ask you, our readers, to answer that poor soul's question in a way that is logical, rational and the best possible solution, in other words 180 degree turn from Debi and friends answers. As always all spelling and grammar in the posting is unchanged from the original author.
Okay, on to today's question:
What are your thoughts on this?

I am 17 years of age. I will graduate soon (i am homeschooled) and I Thought I had everything figured out. I was been called to be a missionaries wife last year. My situation is a bit complicated….my parents seperated and divorced (biblicaly, said by my pastor) my mother is a good christian lady. My father on the other hand is unstable and doesn't like the church. They had me when my mom was 15. My dad doesn't like the church at all and would rather me be something that makes money for that but i have no desire to be part of the world. A wise lady from my church advised that if something were to ever happen to my husband i should have a career to be a back up plan. I want to be a full time christian. My question is, should i trust in God and be a full time christian, or have a career also? (a nurse or teacher or something that would help in a field) I will be talking to my pastor and his wife and fast. What are your thoughts? Thanks:)
Yes, I know it seems like many of the questions are just repeats of the others, but it seems there is a lot of confusion in Pearl World about how much control a parent should have over an adult child. There were a lot of replies to this question, a couple people said having a degree with a vocation to fall back on was a wise idea but the majority of the commenters said that she should simply 'trust' God and not go to college or get a degree or career. One claimed that college is poisonous for good Christians, while another claimed that you do not need education to have a job. Fundy Translation: She explains later in the comments that the remark about being a 'full time Christian' involves working in a ministry, on the mission field or as a missionary's wife. What do you think?
If this is your first time visiting NLQ please read our Welcome page and our Comment Policy!
Comments open below
NLQ Recommended Reading …