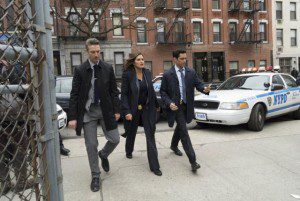 Earlier today something that has been rumored about for a few months was confirmed by NBC. One of their most popular long-running crime dramas, 'Law & Order: SVU' is doing an episode based upon the news that Josh Duggar molested four of his sisters and an unrelated girl. L&O has always prided themselves on doing 'ripped from the headlines' television with storylines right out of the headlines. This continues in that tradition.
Here's what the episode is about from The Huffington Post:
E! says that the "SVU" Duggars-themed episode will center around a large family with a reality TV show as the investigators discover the 13-year-old daughter is pregnant. The episode, called "Patrimonial Burden," will air on Nov. 4.
Here's what Raul Esparza, who plays ADA Barba had to say when asked if the Duggar drama would make an appearance on the show. From the above linked Huffington Post article.
Earlier this year, actor Raúl Esparza spoke to reporters about the possibility of a Duggar episode.

"I'm sure they're coming our way," said Esparza. "I don't think there's any way the writers room will stay away from it, but who knows what form it's going to take. It won't be that exact … Ultimately, it's got to stay fiction and got to stay engaging."
This what E! Online had to say about the episode:
In "Patrimonial Burden," the Wednesday, Nov. 4, episode of the long-running NBC drama, the squad investigates a famous reality TV family after it's discovered the 13-year-old daughter is pregnant. Naturally, there's a web of secrets at play in with this virtuous family.
From the same article comes the thoughts of one Peter Scanavino – Detective Carisi on L&O SVU on the Duggar scandal:
"With the Duggar one, it was like the double-whammy because it was his sisters and the fact—I mean, honestly, I feel like we're dealing with some topics this season that feel a bit meatier than some lunatic fringe family…I wouldn't mind doing one just because I have never been so infuriated with someone's level of hypocrisy, and lying, and then displacement of responsibility onto something else," Peter Scanavino, Detective Carisi on the show, told press on set of SVU prior to the season premiere. "When I think about that guy, it boils my blood, I will say."
Ouch! 'Law & Order: Special Victims Unit' airs every Wednesday night at 9 pm est on NBC. Who here is going to watch this episode?
If this is your first time visiting NLQ please read our Welcome page and our Comment Policy!
Comments open below
NLQ Recommended Reading …