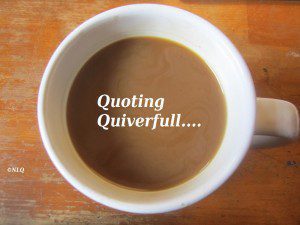 by Nancy Campbell from Above Rubies – Out of Sight and Out of Mind
Editor's note: This piece should really be titled 'Out of Her Mind' because it goes to all new fear-mongering depths. Not only is Nancy saying that working mothers have been duped  by Satan, she's trying to claim that all stay-at-home moms are in danger of being Satan's cabana girl too! How about this Nancy? We will wrap ourselves in clothing fashioned from printed Bible pages, paper the inside of the house with Bible pages and have the Bible being read piped throughout the house while staying inside and away from any possibly Satanic-addled others? Or will Satan magically squish himself under the doorjam and wreck havoc anyway?

The greatest blessing, stability, and power of the nation are godly homes–homes where the husband and wife love one another and together seek to raise godly children to influence the world. Satan also knows the power of the home and therefore tries to woo women away from their greatest place of influence.

However, he is not content with eliminating the mother from the home. He even comes to homes where mothers have come home to raise their children. He searches for ways to get his foot in the door, bringing in his deception and evil.
Mothers, we must be watchwomen, constantly on the alert for his crafty ways. 1 Peter 5:8, 9 says: "Be sober, be vigilant; because your adversary the devil, as a roaring lion, walketh about, seeking whom he may devour: whom resist steadfast in the faith."

When you notice him putting his toe in your door, boot him out before he gets any further. Speak the name of Jesus out loud. Confess the Scriptures out loud. Don't allow the enemy to get entrenched in your home. Raise up the stand of righteousness. Cast out all worldly practices and entertainment, and "the lust of the flesh, and the lust of the eyes, and the pride of life" (1 John 2:15-17). Deal strongly with negative and evil habits.

God spoke to His servant, David: "I have cut off all thine enemies OUT OF THY SIGHT" (1 Samuel 7:9). God reveals the way He wants us to also deal with Satan's temptations. We cast them OUT OF OUR SIGHT! We don't allow them to linger around. We don't tolerate them. We send them kicking, OUT OF SIGHT AND OUT OF MIND.

James 4:7 says: "RESIST the devil, and he will flee from you."
QUOTING QUIVERFULL is a regular feature of NLQ – we present the actual words of noted Quiverfull leaders, cultural enforcers and those that seek to keep women submitted to men and ask our readers: What do you think? Agree? Disagree? This is the place to state your opinion. Please, let's keep it respectful – but at the same time, we encourage readers to examine the ideas of Quiverfull and Spiritual Abuse honestly and thoughtfully.
If this is your first time visiting NLQ please read our Welcome page and our Comment Policy!
Comments open below
NLQ Recommended Reading …