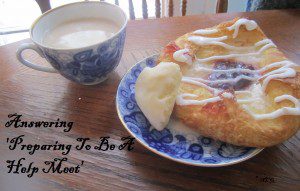 Another installment of giving better answers to the questions asked at Debi Pearl's site message board for the book 'Preparing To Be A Help Meet'. Many young ladies ask questions on all sorts of different subjects brought up by the book. There was just one big problem, many of the answers stray into either the outright bad and emotionally unhealthy to dangerous. Yes, typical Debi Pearl borderline abusive. Here's what we're going to be doing here at NLQ. Every week, once or twice a week, I'll be posting up one of the questions from the message board and ask you, our readers, to answer that poor soul's question in a way that is logical, rational and the best possible solution, in other words 180 degree turn from Debi and friends answers. As always  all spelling and grammar in the posting is unchanged from the original author.
Okay, on to today's question:
I don't know if I understood a message from God about who I'll marry

I'm 18 years old, and a girl. Last year in February I realized that God had let me know who I would marry. It was sort of a gradual thing hat began to form the summer before, and it dawned upon my in February that God was telling me I'd marry this boy. It was just something that I know with conviction – the thing is, aside from that, I don't like him. I know that he's the sort of godly man who'll be a great husband and father someday, and we are friends, but I don't like him more than as a friend. Like I said, it's been more than a year since I realized, and for the past few months I've started having doubts about whether or not I understood God's message. On top of that, for the past few weeks I've begun to like his brother more and more (who is also a great godly man). I picture myself kissing the boy I (think) I'll someday marry and cringe, but if I picture myself kissing his brother I feel so right and happy. I know I'm young but I honestly want to just follow God's will for my life, but I don't know how to tell the difference between a message from God and myself going insane. I feel like I should ask God for a sign but I'm scared about what I'll be told. if you have any advice I'd really appreciate it.
The answers this gal was given were a) stop thinking dirty kissing thoughts about anyone and b) use caution because you might not actually be hearing from God. While I agree with the second answer the first one is just most of the shaming/blaming you slutty slutty girl thinking that Evangelicalism is so good at breaking out. What would you tell this girl?
And her question spawned another question from someone else in the comments:
Hello there! i am new on this site but I have read Preparing to be… and it was of great help. However, I have been facing a problem lately. i am 18, and this summer I began to talk to a boy I have known for several months but never got close to. I admired his passion for Christ and his desire to live according to the Lord's will, but I didn't let myself think of him more than a brother. But we began to talk on chat, because I was away from home, and after two weeks of deep conversations (and, also, Christ-centered conversations), I asked him where is this relationship going, because the Lord had put on my heart to pray for this, and I needed to have things clear. And he answered and said that he had been praying for it several weeks, and that he believes it is the Lord's will for us to consider marriage. But he asked me to set some time apart and both pray for it harder, and we did, we stopped talking meanwhile, and then he called my father and told him that he had these intentions and asked for my father's permission to continue talking to me and starting a friendship relationship that would eventually lead to marriage(he is 24, I am 18). But dad, for reasons I truly understand and appreciate, told him to wait for 6 more years for me to finish college and then consider marriage, and stop communicating with me in the meantime(he is from a different church. too). The think is, yes, we stopped talking for two months now, but now I am sure that he is the boy God wants me to marry with. But I am also confused: why would the Lord tell us so early that He prepared us for each other, and then keep us completely apart for 6 years? How can I be completely certain that it is the Lord's will and how can I keep myself focused on school and working in His field when I miss this boy so bad? It makes no sense, apparently, to bear this burden now, for several years ahead…so that's whatmakes me doubt the fact that we truly understood the Lord's will. But looking back, we both seeked guidance and sincerely prayed and put it before the Lord and He guided our steps. Oh, and my parents do not believe that we received this answer, they say that it is purely our feelings and imagination, but we both know that it is not true. Not knowing his perspective on the matter is pretty difficult, he only told me that he is willing to wait and that he wants to repect my father's choice and follow our Father's plan. And I want to honour my parents and obey, and do the Lord's will above everything else. But what if I know that the lord has given me a path to walk on and they do not understand the same thing?
Is it likely that these Pearl girls are so eager to be married that their minds are perhaps leading them to see coincidences as 'God's will'?
If this is your first time visiting NLQ please read our Welcome page and our Comment Policy!
Copyright notice: If you use any content from NLQ, including any of our research or Quoting Quiverfull quotes, please give us credit and a link back to this site. All original content is owned by No Longer Quivering and Patheos.com
Comments open below
NLQ Recommended Reading …