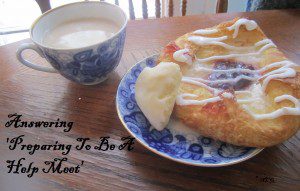 Another installment of giving better answers to the questions asked at Debi Pearl's site message board for the book 'Preparing To Be A Help Meet'. Many young ladies ask questions on all sorts of different subjects brought up by the book. There was just one big problem, many of the answers stray into either the outright bad and emotionally unhealthy to dangerous. Yes, typical Debi Pearl borderline abusive. Here's what we're going to be doing here at NLQ. Every week, once or twice a week, I'll be posting up one of the questions from the message board and ask you, our readers, to answer that poor soul's question in a way that is logical, rational and the best possible solution, in other words 180 degree turn from Debi and friends answers. As always all spelling and grammar in the posting is unchanged from the original author.
Okay, on to today's question:
I am not quite sure how to pose this question. I guess I will give a little bit of "background" first. I am 18 and living at home. I have graduated and am an only child. I have worked for a short time when I was 16/17 at a seasonal job. Once I completed that, I kept busy and didn't really even think about finding work again, although I supposed it was something I would need to do again eventually. My dad had given me a deadline, however, that I was to try my best to find work by the end of 2012. This was because he wants me to pay for my own cellphone and internet. I did up resumes and filled out several applications without hearing a word. Since I was trying to find work, but hadn't got anything, he extended my deadline to July.

July is not far away now and I have had a busy schedule, going to the local collage and studying for and taking my GED, as well as helping out families at church with caring for their little ones. I have a trip coming up in May and a close friend coming for an extended visit in the coming week. I have continued to apply for jobs that would be suitable to my skills and desires to have a good atmosphere to work in. No luck. Furthermore, my mom has relayed to me that my dad has firmly stated that he will not extend my deadline again, regardless of whether or not I have a job. I am in such a state of uncertainty. It is not that I am lazy or not wanting to take responsibility, but the more I think and pray about what to do if a job does not open up, the more I feel that God is telling me my place is at home. That I need to continue cultivating my homemaking skills and serving others in my church community as I have been. I could not do those things to the extent I normally would if I was working. On the other hand, I seriously doubt I could go without my phone and internet. I am certainly not addicted, but as I have no friends anywhere nearby, my phone and internet are my main way of staying in touch, as well as doing research etc… My heart is so torn. Do I honor my dad's wishes and try even harder to find a job? Or do I heed what I feel God is telling me ( to essentially be a "mini-homemaker" ) and plead my case to my dad and ask him to continue paying for something he doesn't want to pay for? And how should I go about either choice? My dad is a king type that can be very strong-willed, but he can also be understanding. It is sometimes hard for me to talk to him about things because I can also be strong-willed. This is one topic I'd rather not get into an argument about, yet one that needs a quick resolution. Since I believe God has shown me His will for now, I think it will not be too difficult for me to bring it up in a diplomatic and gentle way, but I do need it to fall on a tender heart. Please pray for me! I would sincerely appreciate some input to my situation. Thanks and God Bless.
The only answer this young lady was given was to obey her father. Not for the reason that having job skills and her own money would be a good thing, but because you have to obey your father because he's your spiritual head, your patriarch. But in defense of the question-asker she didn't even have a high school diploma so finding a job that isn't fast food, or even fast food, might be extremely difficult. Most employers are going to expect you at least finished the most basic level of education. What advice would you give this girl?
If this is your first time visiting NLQ please read our Welcome page and our Comment Policy!
Copyright notice: If you use any content from NLQ, including any of our research or Quoting Quiverfull quotes, please give us credit and a link back to this site. All original content is owned by No Longer Quivering and Patheos.com
Comments open below
NLQ Recommended Reading …