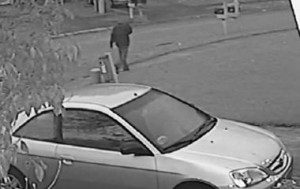 by Suzanne Titkemeyer cross posted from her blog True Love Doesn't Rape

ETA Monday 11-23-15 Have to admit I was completely wrong on this one. They have arrested three guys for this murder with no apparent connection to Davey Blackburn. Breaking news from Fox 59
~~~~~~~~~
We've followed Biblical Gender Roles for about six months now. Gasping in shock at some newer more outrageous statement of his, laughed at some of the things coming out of mouth like that disastrous Alan Combs interview he did. But one thing we have not done here at NLQ is realize how his contemptuous words against women in marriage could have serious influence on unhappy husbands and possibly lead to tragic circumstances, possibly even murder.
There's a developing case happening right now in Indianapolis right now that seems to be almost a direct result of the type of dangerous marriage and sex advice pushed by BGR and others on the fringes of the Evangelical Quiverfull movement. It's not as obvious a leap of logic and linking as Michael Pearl's influence on the parents of Hana Grace Williams and Zariah Shatz, oh no, it's more subtle. But it is a creeping thought process that could possibly lead to crimes such as the murder of pastor's wife Amanda Blackburn.
Someone gained entry to the Blackburn home and shot 12 weeks pregnant Amanda in the face at extremely close range. At this point the police are looking for a stranger that broke into the home, even if there are no signs of forced entry, and executed the young mother. Tragic story, but one that plays out every single day somewhere in America. Wrong place, wrong time, and some innocent ends up dead.
What links this to the world view of Biblical Gender Roles and other male cultural enforcers who insist upon sex on demand and the complete groveling submission of their women are the whispers emerging from those that knew Amanda and her husband Davey. Davey Blackburn's own words, language patterns of deception and rumors leads some to think he was involved in the murder of his wife. Here's some of the suspicious things from his statements.
I take this language from Blackburn, himself, who mentioned starting the work with "$100,000 of start up cash" and his wife's complaint that he was always at "work" beginning right after the honeymoon, which, from her perspective, led to the bad marriage. From his perspective, it was not "work" that made the marriage bad, but pregnancy and his wife's inability or unwillingness to meet his sexual needs. This, too, was her fault because he "articulated" his need, as he condemned other men for blaming their wives when they had not, in fact, "articulated" the need, leaving the wife to "guess" what was wrong.
Reading through the blogs and news stories there are aspects of the murder of Amanda Blackburn that seem too familiar, that have a great deal in common with both sets of Peterson murders, both the murder of Lacey Peterson and the murders of multiple wives of Drew Peterson. Both of these men claimed to have no knowledge of their wives whereabouts only to be found out later to be liars, to be the ones that murdered their spouses. Both men were making the major media rounds with repeated denials, just like Davey Blackburn is doing right now.
So neither of the Peterson killers were religious, like Davey Blackburn is. But if you are constantly absorbing messages such as 'Don't respect women,' 'Wives submit always in all things,' and 'You owe me sex' constantly churned out on websites like BGR (his recent posting 'How Doing LESS For Your Wife Can Make Your Marriage Better) and other good 'patriarchs' online like Deep Strength (posting "Why I Don't Respect Women") is it really that far a jump to murdering your wife because you don't feel like you are getting the sex and respect you demand in your marriage?
I don't know that Davey Blackburn murdered his wife Amanda, or if he's ever stumbled across the writings of BGR, but it would not surprise me if it comes out that both of those are exposed as the truth eventually. I do know that when men are constantly encouraged to view women as inhuman objects instead of fully developed human beings it's much easier to kill them. Currently Blackburn is not a suspect due to footage of a strange man in a hoodie caught on security footage of the house. We will be watching this investigation, just like we've been watching BGR as he shouts out his advice to rape your wive and compel her submission by taking things away from her It's abuse, pure and simple.
~~~~~~~~
Suzanne Titkemeyer is the admin of NLQ and also the wife of a man who had sense enough to recognize their church as a cult before dragging her out. She is a crazy old cat lady keeps busy with her grown children, her rescue animals, foster care animals and her love of all things art. Contrary to Fundy-Belief she's usually smiling, laughing or smirking while swilling diet coke and dispensing sarcasm. She blogs at Every Breaking Wave and True Love Doesn't Rape
~~~~~~~~
If this is your first time visiting NLQ please read our Welcome page and our Comment Policy!
Copyright notice: If you use any content from NLQ, including any of our research or Quoting Quiverfull quotes, please give us credit and a link back to this site. All original content is owned by No Longer Quivering and Patheos.com
Comments open below
NLQ Recommended Reading …