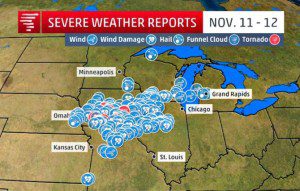 The Inquistr has a fascinating article about that recent evening flight of the Duggar family plane through very hazardous weather from Rockford, Illinois to Springdale, Arkansas. This is the flight where people are alleging Josh Duggar was taken out of rehab and flown home. There are people at the Rockford airport that claim to have seen Josh among the others boarding that plane.
The article raises a number of interesting questions I've been pondering myself. First, why didn't Jim Bob Duggar and assorted Duggars simply not check into the nearest Embassy Suites or other hotel to ride out the rough weather and fly out in the morning after the storm cells had passed? It's not like they cannot afford it. Go buy a change of clothes there locally and check in somewhere, sleep in, eat at the complimentary waffle bar and head home safely.
Guessing the haste of leaving was to keep the media from knowing Josh left the program early. More Duggar lies.
Reading through the analysis of the flight, wind speeds, lightening strikes, tornadoes and hail combined with the erratic flight pattern and the fact that once the plane had to cut their speed to just about stall speed it seems extremely foolish fly right through that mess. Why not alter your flight plan and take a longer easterly route that skirts the storm?
After reading through everything and looking at the weather charts I can only conclude this is more of the same 'God will protect us' dangerous thinking that Evangelical Christianity uses, a sort of religious arrogance that covers a multitude of bad decisions based upon the scripture that the angels will keep you from even injuring your foot on a rock. Looking at the weather charts I'm betting there were some screamed out praying going on in that plane that particular night. John David's overconfidence combined with God's protection thinking makes it very likely that their flight came very close to wiping off the older male Duggars off the planet.
Towards the end of the piece there is speculation as to why Josh Duggar would leave Reformers Unanimous without notice less than halfway through the program. Many of the news outlets and tabloids have reported it was to keep Anna Duggar from divorcing him, pointing to things like Anna allowing her baby girl to wear a pair of pants, the time she spent with her family, the sale of their home, the offer of a newer bigger home to Anna by family patriarch Jim Bob Duggar plus all those 'family insider' speculations. One story that seems to be going around and accepted as fact is that Josh came home to get Anna pregnant in a ploy to keep her from divorcing him. The problem with that is that she's already got a newborn right now, making it very unlikely that he flew home just to impregnate her.
But the Inquistr took a look at the policies in place that RA and came to a very different conclusion, one that seems to make the most sense to me – that Josh is somehow refusing to go along with the stringent rules and does not like to be told what to do. Here's what RA says about their rules on their website and as quoted from the article:
"RU's goals are graduates, not students. We wish that people would stay to finish – but sometimes they chose not to."

"There are many rules, all of which are necessary to create an environment of spirituality and seeking God. The majority of people who leave just don't like other people telling them what to do."

"Others who won't submit to the rules like no smoking or no drinking can be terminated by the housing director if they are considered harmful to other people's programs."

"There are some who come to the program without the intention of following the program or its regulations. Eventually they may choose to leave if they are unwilling to endure the painstaking process."
This is a young man that has always managed to weasel out of trouble, have his family cover for him, and never had to face genuine difficult consequences for any wrong doing he was involved with. It's likely he would not cooperate.
Could have been a very different story had Michelle and Jim Bob Duggar not conspired to cover up his molestation of his sisters. If they had allowed him to get legitimate counseling, treated like everyone by law enforcement and DHS, and had punishment fitting for his actions he might have developed a conscience and been  more mindful of his actions. Now, at 27 years old in a culture that gives you a Jesus 'Get out of jail card' merely for proclaiming you've been repentant and forgiven by the almighty, it's too late. He is who he is, a guy that has learned to mouth the words and pretend while hiding big secrets. This is the mess that Michelle and Jim Bob have created by their toxic ways. They've molded him into someone that constantly lies to get his own way.
While RA isn't a licensed facility with mental health professionals at least they were  giving him some small consequences for his secretive behaviors.
Here's what the Inquistr had to say about why Josh Duggar left RA:
In short, students are either kicked out of the School of Discipleship or they simply lose interest in finishing. While at the school, Josh was not allowed to have cash, checks, or credit cards. He had no way of leaving the Rockford facility without assistance. Whether he was kicked out or he just wanted to leave, the school's policy is to move the student to a local homeless shelter when he is no longer in the program. That was the emergency that sent the Duggar plane on a hazardous flight in inclement weather conditions.
Foolish all the way around. If Josh was kicked out for not going along with the program, or if he left on his own the Duggars would have moved heaven and earth to keep him from being transported to a homeless shelter to await pickup to keep the negative media from happening. You know the moment their perfect son Josh would have landed in a homeless shelter someone would be dialing up TMZ for a payday from the shelter. More coddling of Josh without allowing him to take responsibility for his actions. They'd fly in very hazardous weather conditions, risking life and limb, to keep Josh under wraps and the lie alive. That's what it is, the public facade of the Duggars is a lie. They lie.
If this is your first time visiting NLQ please read our Welcome page and our Comment Policy!
Copyright notice: If you use any content from NLQ, including any of our research or Quoting Quiverfull quotes, please give us credit and a link back to this site. All original content is owned by No Longer Quivering and Patheos.com
Comments open below
NLQ Recommended Reading …