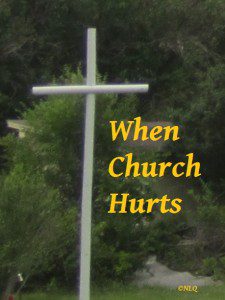 by Ellen cross posted from her blog When Church Hurts
I just have to say I had the best time yesterday! I and my family went to an auction. One of our former church's plants has bought an old building in the town where I teach and they were selling off old (and I mean OLD) doors, windows, cabinets, trim, etc.
Now, you have to understand that my husband and I were repurposing long before repurposing was cool. We live in a 103-year-old prairie-mission style home on an acre in the middle of mid-west farmland. We completely returned our home to it's original style (it had been "updated" back in the 70's) using old trim and doors from the local city hall when they renovated, as well as various other sources. Our entire kitchen cupboards are done in old doors, tile from the ReStore, and various other repurposed items.
Now, our penchant for repurposing is in our children's blood. Our son and daughter-in-law bought a gym floor and we helped them tear it apart and install it in their entire main floor and then my husband refinished it. Unbelievably beautiful.
So . . . this auction of old windows and trim was right up our alley. My husband and I weren't interested in much, but our kids were looking for baseboard material to set off their maple floors. There weren't a great deal of people at the action so no one was lost in the crowd.
Of course, there were a few folks at the auction from our old church – as well as the pastor of the church plant, whose involvement in my abuse you will find in my story. My younger son and my husband arrived at the auction before the rest of us. He was greeted by the pastor and visited a bit. When I arrived, the pastor gave me a side hug and a "long time no see" and we chatted for about one sentence each. Later my husband commented that it is important for him to "make sales" to help fund the renovation of this building into a church.
Another person from our old church who was on staff there and transferred to the church plant was also at the auction. He didn't speak to me, but he did comment as we all went past him in a hallway that he makes way for babies (I was pushing my granddaughter in a stroller).
There were four other people there who knew us from our former church: a car salesman and his wife, a banker, and one other couple. Not one person approached us, waved at us, spoke to us, or acknowleged our presence. The banker made a point to walk past us several times – perhaps so he could see if we would speak to him – and enough times that it was not merely a coincidence. Especially since we had a one-year-old in a stroller and so we were staying far away from the auctioneer and the crowd so she would not be a distraction. The banker had to go out of his way to walk past us each time.
After we left the auction (no, we didn't buy anything) my husband commented on how unhappy those church members were. They all looked bitter and angry – and my husband pointed out that they have always looked that way.
And we talked about how it must have irked them that we were so happy. There we were with our family – our sons, daughter-in-law, grandchild – and we were full of smiles and laughter, sharing whispers and winks, looking for all the world like we were the happiest people in the building – because we were.
This morning I have been pondering how fun it was to be at an auction (we love auctions), how unbridled I was to be in the presence of people who were involved in my abuse – every one of those church members had a hand in it except one wife, as far as I know – and how my happiness was palpable while their bitterness was etched on each of their faces.
How sad for them to live under the constraints of a "faith" that leaves them wearing such scars emblazoned on their faces while I, on the other hand, exude the joy of living in the freedom which has set me free.
Look who has the upper hand now.
~~~~~~~~~~
Several years ago I was the victim of a most heinous form of abuse unlike anything I had ever thought possible. Not having been raised in a Christian home, my first experience with Christians and pastors had been one of joy, grace, fellowship, love, and delight. When faced with the horrors of having the very essence of who I was as a woman of faith stripped from me in what I can only describe as spiritual rape, I couldn't comprehend what was happening. This was church, after all, and I believed that everything works together for good for those who love God. Somehow, it didn't make sense that everything was not working together for good. When I was finally able to resign myself to the fact that God was not going to "work this out," I made my escape and sought a safe haven.
Little did I realize that I was going from the proverbial frying pan into the fire. Oh, how I tried to beat back the flames! Oh, how I prayed and pleaded for mercy, for grace, for a chance. "But hate is strong and mocks the song of peace on earth, good will toward" Ellen.
He who began a good work . . . had forsaken me . . . and the silence was more than deafening . . . it was defeating. So intertwined were we, that as God went missing, so did Ellen. But I am nothing, if not tenacious.
~~~~~~~~~~
Read our hate mail at Jerks 4 Jesus
If this is your first time visiting NLQ please read our Welcome page and our Comment Policy!
Copyright notice: If you use any content from NLQ, including any of our research or Quoting Quiverfull quotes, please give us credit and a link back to this site. All original content is owned by No Longer Quivering and Patheos.com
Comments open below
NLQ Recommended Reading …