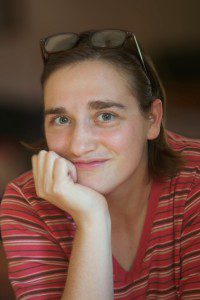 by Kaleesha Williams cross posted from her blog The Lost (and Found) Mind of Kaleesha Williams
(Editor's Note: Kaleesha is talking about her journey three years post-fundamentalism. There is hope of having a full life after leaving toxic faith.)
Yesterday marks the third anniversary of the day I laid aside the Bible, having found the answers to the last of my questions about the god within its pages. My conclusion after years of study and devotion? The Bible was written by men who inspired by their ideas of things bigger than themselves, men who were grasping at significance in the majesty of space and time.
And that's okay. We're all doing that, in a way. It's part of this journey, this life-thing we're all doing.
But I still say it's not okay to foist those beliefs onto other people. That gets awfully messy.
This last year I've felt more and more removed from fundamental Christianity. I've gone on with my life, looking back with less frequency. I spend time with other secular people (I promise, we're not plotting against the religious) and only occasionally do I fumble into conversation with a believer regarding faith. Most of the time I just let it roll off my back; it amuses me, but not much else. I'm too busy living to concern myself overmuch. There's just such a vast amount to learn and explore and do outside of that bubble! It's been astoundingly liberating.
The absolute best part of the past three years has been watching my children blossom under this freedom. Not being bound by religious convention, they are able to grow and express themselves pretty much however they like (with respect). The personalities emerging under my roof amaze and delight me every single day. I shudder when I think how I used to try to coerce and force them into that fundamental, Biblical mold. Gah.
I reckon that if there's one thing that still gets under my skin about Bible-based religions it's the teaching of sin. Particularly the idea that man is inherently sinful. Particularly when this is taught to children. It burns me that young people are being taught that there's something wrong with them, that they are broken and need fixing. Oooooh, don't get me started!
Occasionally the adjustment has been difficult for me in social situations. I've spent much of my life thinking that the Bible and faith in God was the most important thing in the world and as a result I spent much of my time absorbed in it, to the neglect of a broader knowledge of history, culture, and politics. Religion isn't the only fault; we struggled financially and much of my time was focused on just making ends meet. And, come to think of it, on pregnancy, childbirth, and children (though the size of our family was directly related to our religious beliefs–everything is so intertwined!). I'm not a stupid person, but sometimes my ignorance of many common topics leaves me feeling like a stranger in a strange land at dinner parties. Luckily, I have great friends who appreciate (or at least politely tolerate) my comedic interjections, 'else I'd be up social creek without a paddle!
Time will take care of some of that. The upside is that I've learned a lot about myself, about my friends, about the world, about the universe, and about Donald Trump. (And here you thought this was the one place in the whole internet where you'd be safe from the Trumpster! Ha!) A pair of ears for listening and a mouth for questioning gets you surprisingly far in social situations. I daresay it's more appreciated than a plethora of words from someone who thinks they know it all!
The downside is that I end up talking about writing entirely too much. It's my passion these days. But again, I have very gracious friends.
So… yeah. Here we are. The kids and I are positively thriving. We ask questions and grow and are unafraid of things that might shift our worldview. We hold truths lightly and try to be open-minded. We're all happy to be free of religion. We're all excited about what the future may hold.
To the journey!
~~~~~~~~~~
Did you know that Kaleesha has written a book? – Free To Be by Kaleesha Williams is available at Amazon in Kindle or paperback versions and can also be ordered through her website!
Read everything by Kaleesha Williams
Kaleesha Williams accomplishes her musing, writing, and goat-wrangling
in rural southeastern Missouri–that is, when she has time between
homeschooling and adoring her seven children, gardening, making goat
milk soap, planning projects with Denny, and trying to get her
sourdough English muffins to cook up properly.
Kaleesha has been blogging for over ten years and has written for
various farming and astronomy magazines.  You can check out her newest
book, "Free to Be:  How I Went From Unhappily Married Conservative
Bible Believer to Happily Divorced Atheistic Humanist In One Year and
Several Complicated Steps" at her website, www.kaleeshawilliams.com.
You can also keep up with her on Facebook.
The Spiritual Abuse Survivors Network
~~~~~~~~~~~
If this is your first time visiting NLQ please read our Welcome page and our Comment Policy!
Copyright notice: If you use any content from NLQ, including any of our research or Quoting Quiverfull quotes, please give us credit and a link back to this site. All original content is owned by No Longer Quivering and Patheos.com
Comments open below
NLQ Recommended Reading …