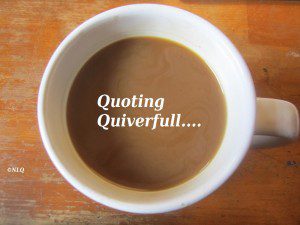 by Zsuzsanna Anderson of Are They All Yours? – Did I Already Mention I Hate IVF?
Editor's note: As a woman who has seriously struggled with infertility while quiverfull, just like many of you here have, I find Zsuzsanna's words mocking another infertile mother upsetting and vile. Where's the love of Christ in any of this? One lesson learned through the years is that things you throw rocks at because it's a battle you do not have can become the same problem for you. Universal reciprocity or karma just seems to like to work that way.
Well, I stumbled across a blog by a previously "infertile" woman who in her "About Me" page details her IVF history. I would link to her blog to prove I am telling the truth, but I won't because I thought the woman was inappropriate, vulgar, and a psycho. So you'll just have to believe me that I didn't make it up, and all you IVF freaks out there can tell yourself I'm just lying. And I quote:

MY INFERTILITY HISTORY:

April 2000 – Got married, went off birth control pills
Nov 2000 – had a lap to check that insides were all ok
Jan 2001 – IUI#1 – negative
Feb 2001 – IUI#2 – negative
April 2001 – IUI#3 – negative
May 2001 – IVF#1 – cancelled, due to poor response
Sep 2001 – IVF#2 – 25 eggs, zero fert, rescue ICSI, negative
Jan 2002 – IVF#3 – 35 eggs, 34 embies, positive, but ectopic
Apr 2002 – IVF#4 – FET, negative
May 2002 – IVF#5 – FET, negative
Jun 2002 – IVF#6 – FET, negative
Nov 2002 – IVF#7 – 28 eggs, 24 embies, positive, vanishing twin, miscarriage at 8w3d, D&C
May 2003 – IVF#8 – 8 eggs, 4 embies, positive, quads, S/R to twins, lost one twin, Luke at 21w
Jan 2004 – Ben born prematurely at 26w, 4 Jan 2004, died 14 Jan 2004
Feb 2003 – lap and HSG
April 2004 – IVF#9 – 20 eggs, 18 embies, positive, twins
Jan 2005 – Adam and Kate born 7 Jan 2005
March 2007 – Surprise pregnancy! That would be pregnancy number 5. Not so much of a surprise miscarriage follows.
June 2007 – IVF#10 – FET, negative
April 2008 – Oh look! Another surprise pregnancy! Pregnancy #6! An equally unsurprising miscarriage follows soon thereafter. I really suck at this whole getting and staying pregnant thing.

Think I might give it up as a bad job.

Since the woman is 39, it means she was 31 when she got married, and had probably been on hormonal birth control for at least 10 years. Nevertheless, she gets checked out after just 7 months of marriage to see why she "can't" get pregnant, and starts artificial you-know-what after just 9 months of marriage. All three attempts are unsuccessful, so she switches to IVF, which she undergoes a total of 10 times. In all, 116 eggs are harvested in the 5 "successful" IVF procedures, with a total of 80 embryos conceived. For all that, the woman now has 2 living children. In addition, a third baby was lost after being born prematurely at 26 weeks. I wonder if that had anything to do with the fact that this particular pregnancy started out with 4 babies, 2 of which they killed in order to increase the chances of the other two living. One of the remaining two babies died in utero at 21 weeks, the other is the one who was born prematurely and died (see points May 2003 and Jan 2004 above).

And, what a shock, in spite of being a walking hormonal cocktail from years of IVF, this woman was able to naturally conceive at age 38 and again at 39, both of which times she miscarried. Don't you just feel so bad for her? I mean, after all, she has already killed 76 babies, and had 2 more die prematurely.

I think "monster" describes this woman very well, as it does any other woman who would knowingly kill their offspring because they just have to have a baby so bad. After all, it's just like in Africa, where not having babies makes you a social outcast. If it means having to kill a few unborn babies for your peers to like you, then so be it, right?
QUOTING QUIVERFULL is a regular feature of NLQ – we present the actual words of noted Quiverfull leaders, cultural enforcers and those that seek to keep women submitted to men and ask our readers: What do you think? Agree? Disagree? This is the place to state your opinion. Please, let's keep it respectful – but at the same time, we encourage readers to examine the ideas of Quiverfull and Spiritual Abuse honestly and thoughtfully.
If this is your first time visiting NLQ please read our Welcome page and our Comment Policy!
Copyright notice: If you use any content from NLQ, including any of our research or Quoting Quiverfull quotes, please give us credit and a link back to this site. All original content is owned by No Longer Quivering and Patheos.com
Comments open below
NLQ Recommended Reading …