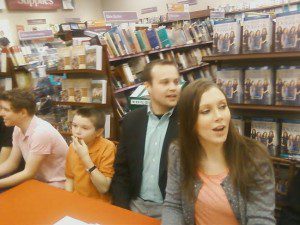 As you can tell I've been putting off posting about the Duggars some weeks now. There's been a lot about them in the news lately but most of it is either speculation or idle manufactured gossip to promote the new series of Duggar family specials on TLC. Yes, TLC is going ahead with 'Counting On' and they've released an entire series of sneak peek videos promoting the show.
After viewing a few of these videos I decided that we really don't want to link to them. Why? They're very hard to watch, particularly if you understand the pain behind some of the sequences. It feels a little too much like peeking into your neighbor's windows at midnight, disgraceful and just plain old not right. The videos show such intimate moments better left off the small screen. Jessa writhing, suffering and struggling through a long, hard labor. Anna Duggar, estranged wife of serial cheat Josh Duggar speaking of how painful she found the revelations of her husband's infidelity. There are also clips that extremely hard to watch of various Duggar brothers and sisters in tears speaking of the deep sense of hurt, betrayal and damage done to each of them by their brother Josh's actions. Jinger cries and Joseph comes very close to tears in the videos.
Most of these are things that would be much better to be only those parties involved instead of the entire watching world. But we know that Jim Bob and Michelle Duggar have raised their children to believe everything deemed suitable by Jim Bob is to be discussed on the television show. For the ratings. For the money.
Not holding out any hope that TLC will come to their senses and allow these people to deal with their issues in private without cameras around. How is there any value or good to come out of airing this emotional display?
How many of you are going to watch TLC's new Duggar show 'Counting On' tomorrow?
One of those fabled 'family insiders' is claiming that Josh Duggar is still squirreled away at Reformers Unanimous in therapy and that Anna Duggar went to Rockford to visit him over the Thanksgiving holidays. But no one outside of the family has seen hide or hair of Josh Duggar since that ill advised plane ride from Rockford last month. Is Josh still at RU? None of the flight records from the Duggar family plane support the assertion that Anna visited Josh in that time frame.
From In Touch:
"Anna knew she needed to talk to Josh about that," explains the source, "and about the lawsuit."

"[Anna] believes Josh cheated on her — because he admitted he did — but she does not believe Danica's story. She doesn't think Josh could be so aggressive," explains the source.

"Josh is still denying it happened and told Anna that since he was living a life of sin, he isn't surprised that people are making things up about him. But Josh doesn't confess anything until he is absolutely caught in a lie."
Curious about Reformers Unanimous? Check out Mel's excellent series on how RU exploits its patients – RU Labor Exploitation For Jesus
Another thing that has come out recently in the media is that Michelle Duggar isn't necessarily slaving away home schooling her children. The family has a live-in tutor, Tabitha Paine. Long-rumored to be in courtship with John David Duggar it was finally revealed that there is no courtship because she's there to teach the school aged children. From Christianity Today:
"So glad you asked! It's easy to assume and few people branch out to find the real answer to questions like these. I have been a live-in tutor to the Duggar children for the past year. Because we don't do school 24/7 I am able to join in with the family's work, and fun activities during the weekends and evenings. Hence, the reason why you may see so many pictures! But, I am in no such relationship. I may just be single for the rest of my life," she writes in the Paine family website.
Let's see, so Michelle Duggar isn't cooking for her family, isn't cleaning the house, isn't doing the laundry, isn't parenting her children and now isn't teaching them? What is she doing?
This photograph appeared on Facebook yesterday. Apparently Mad Magazine gave Josh Duggar the #2 slot in their annual Worst People & Events list for 2015: Looks like Mad has the Duggar's motives down perfectly.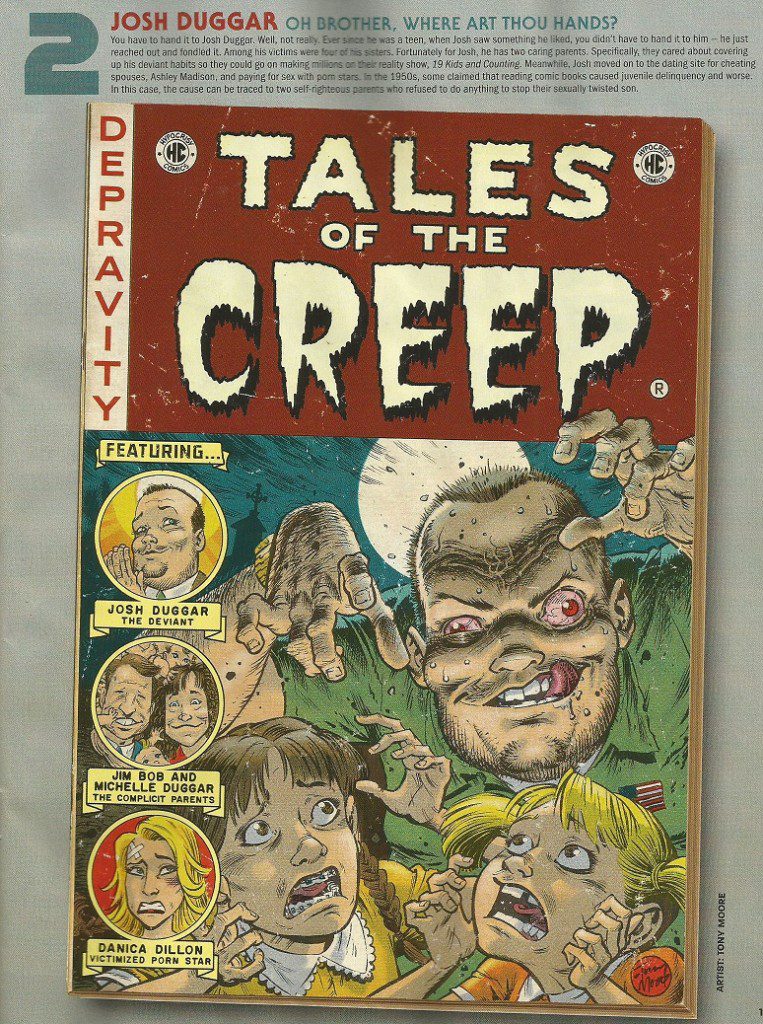 If this is your first time visiting NLQ please read our Welcome page and our Comment Policy!
Copyright notice: If you use any content from NLQ, including any of our research or Quoting Quiverfull quotes, please give us credit and a link back to this site. All original content is owned by No Longer Quivering and Patheos.com
Comments open below
NLQ Recommended Reading …