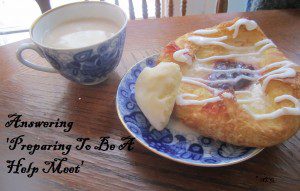 Another installment of giving better answers to the questions asked at Debi Pearl's site message board for the book 'Preparing To Be A Help Meet'. Many young ladies ask questions on all sorts of different subjects brought up by the book. There was just one big problem, many of the answers stray into either the outright bad and emotionally unhealthy to dangerous. Yes, typical Debi Pearl borderline abusive. Here's what we're going to be doing here at NLQ. Every week, once or twice a week, I'll be posting up one of the questions from the message board and ask you, our readers, to answer that poor soul's question in a way that is logical, OKrational and the best possible solution, in other words 180 degree turn from Debi and friends answers. As always  all spelling and grammar in the posting is unchanged from the original author.
Onto today's question:
I currently have a copper IUD, I had read up some information on it and then prayed that if God wanted me to have it removed, He would have to lay it on my husband's heart. We only have one child and my husband is determined we not have another (I am fine with this as well). Lately I've been having some problems with pains ect… and went to the doctor. The doctor said if the IUD isn't causing the problems, it certainly isn't helping and is making things worse. I go back in two days for a followup and am planning on having it removed. My dilemma is I am scared of going back on birth control pills because 1. I am obese and 2. I am 35 and 3. my mother's family has had alot of strokes. I am very frightened about this, but don't know what my next step should be. My husband says I will need to use something and he wants me to go back on the pill. He doesn't like the idea of a diaphragm and we have already tried condoms and spermicide. However, I guess if the doctor says my risk factors are too high and won't give me the pill, maybe he would be open to the diaphragm. I am praying that God leads my husband, my doctor and myself in this issue and I know He can change hearts. I know I am right in this, because I am to obey my husband, but I sure would feel better if others would pray with me on this. I think I am just scared of the birth control at this point in my life. On the one hand, I say that God is in control of ALL and if I obey my husband like I am told to do, I am doing the right thing. On the other hand, I say that my husband isn't as knowledgeable about birth control as I am and doesn't know the risks ect… I guess I just need peace that I am leaving it in God's hands to lead my husband on this and that be that, but sometimes it is hard for me to do that. Thanks for listening!
The only replies she got one of them tried to shame her for using something as 'dangerous' as an IUD. The other two suggested obeying her husband in all matters, but one of them suggested her husband get a vasectomy. A pretty responsible and good suggestion. I was surprised greatly that no one jumped on her for using birth control in the first place because many in the Christian Patriarchy Movement define any type of birth control a sin right up there with abortion. Some actually believe birth control causes abortions.
The whole debate around birth control use in the church is a contentious one, but with the recent spread of the Zika virus in South and Central America it might end up being something that the church is forced to allow. There has been one case of he virus in Texas and if the virus spreads at the same rate it has been spreading it is not that unlikely to reach the United States just in time for summer mosquito season. That birth control decision could mean life or death or miserable limited life for a large number of babies.
Quiverfull poster child Jill Duggar Dillard is currently living in El Salvador, where the government is urging all women of child-bearing age to use birth control and forego any pregnancies until 2018 or when there is an effective treatment or vaccine.  Which begs the question, what will Jill do? This is a much more serious issue now than ever before.
What advice would you give any women in the Quiverfull Evangelical life if she asked you your opinion on birth control?
If this is your first time visiting NLQ please read our Welcome page and our Comment Policy!
Copyright notice: If you use any content from NLQ, including any of our research or Quoting Quiverfull quotes, please give us credit and a link back to this site. All original content is owned by No Longer Quivering and Patheos.com
Comments open below
NLQ Recommended Reading …