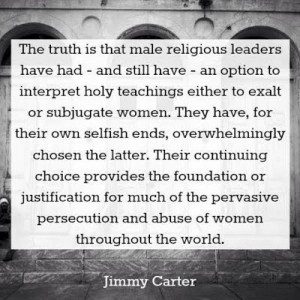 by Emily Nielson Jones of Christian Patriarchal Watch List For Parents
"For every 1 church plant by a mainline denomination, there are 9 church plants by an evangelical group, and most evangelical denominations were more open to women's leadership 100 years ago than they are today – for example, Evangelical Free, Baptist General Conference, Assemblies of God, various Holiness denominations, and the Wesleyan church."
~ Dave Olson, Church Planter, Evangelical Covenant Church (which has a gender-balanced leadership)
http://www.christianitytoday.com/gifted-for-leadership/2009/april/final-church-barrier-for-women-church-planter.html
"We like to talk at Mars Hill Church about basically three categories of gifts or abilities or ways that people (men) are hardwired. We talk about prophets, priests, and kings…" ~

Mark Driscoll
"Is there a test that will tell me if I'm more of a prophet, a priest, or a king?"
Jamie Munson, Mars Hill Church
"Women will be saved by going back to that role that God has chosen for them.
Ladies, if the hair on the back of your neck stands up it is because you are fighting your role in the scripture."
All of these church planting networks listed below used this very preeminent "prophet, priest, king" leadership model which is encouraging young male ministers (most barely out of seminary) to discern which of these leadership "types" they are, both at home and in the church. Very much like the Meyers Briggs personality types, these church planting leaders like chief architect Mark Driscoll–the dethroned rude cool patriarch of Mars Hill– are encouraging young men they are grooming to start new churches to discern whether they are a prophet, a priest, or a king… Not surprisingly, as the quotes above suggest, this exclusive male leadership model also is encouraging a dangerous "gender essentialism" which reduces and circumscribes women's full humanity to subservient "roles" that supposedly the Bible ordains for all times and places. As this whole website is aiming to highlight, this mindset elevates men into a quasi priestlike role which is seen as the conduit of a woman's spiritual growth. (No Mark, women are not saved by going back to a "role".) Not surprisingly, this ideology is translating into highly preeminent leadership titles at these church plants, i.e. "Ruling Elders" and "Shepherd-Kings", highly authoritarian, hierarchical marriage teachings, and also in many cases (like Driscoll's own Mars Hill Church) highly authoritarian church subcultures.
These networks are all so overlapping in their membership and ideology but all have as one of their church planting "distinctives" an
exclusive model of male eldership
(some allow women to be "deaconesses").
These first four networks are part of a coordinated effort which is calling "young men" to come to New England to plant churches. The jarring thing if you live here is that their gender codes are fundamentally incongruent with the subculture and values here in New England which embrace gender equality as a positive development in the church and society. Thankfully there are many homegrown vibrant churches in New England, both old and new, which fully affirm the shared leadership of men and women in both the church and the family.
Please ask good questions before you join a church and do not turn a blind eye to both subtle and not-so-subtle gender attitudes which, though benevolent in intent, consolidate way too much power in the
hands of men, create an authoritarian organizational ethos, and send message to girls and women that they occupy a lower, circumscribed rank in the God's economy.
Be forewarned

that

this is a highly developed theological system which is spreading through the church

planting world (see http://timmybrister.com/2009/03/triperspectivalism-leadership-and-church-planting/ for a list of prophet/priest/king church planting resources) but even as a lay person you can understand the logic: just as Christ fulfills the three OT offices of Prophet, Priest & King so too men starting churches and men in their marriages/homes are one of these three types of leaders.
And sorry women, you are none of the above!
What is so ironic is that while their analogies hold logically (though they misapply the power of metaphors and ancient language) their ideology takes them to a highly preeminent, grandiose (you could argue narcisstic!) view of leadership which Jesus himself never exhibited.
The NETS Institute for Church Planting (a comprehensive training ground for "church planters and their wives" (most of them very young) to establish "gospel-driven churches in New England and beyond" http://www.netsinstitute.org/about/why-new-england)
Together For the Gospel (http://t4g.org/) a biannual conference for male ministers with lots of heavy patriarchal themes of exclusive male leadership as prophet, priest, king in the family and the church and connections with all of the above)
Too many others targeting the "Godless" Northeast…
(red indicates allegations of spiritual and/or sexual abuse surrounding this organization)
If this is your first time visiting NLQ please read our Welcome page and our Comment Policy!
Copyright notice: If you use any content from NLQ, including any of our research or Quoting Quiverfull quotes, please give us credit and a link back to this site. All original content is owned by No Longer Quivering and Patheos.com
Comments open below
NLQ Recommended Reading …