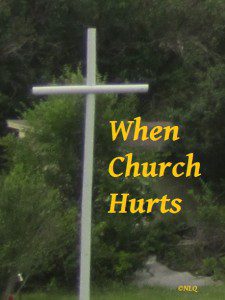 by Ellen cross posted from her blog When Church Hurts
Here is another interesting article on Covert Narcissism – specifically in the pastorate.  As I read the indicators, I was again nodding my head in agreement.
The bullet point list in the article talks about "one-upping you in conversation."  I hadn't thought much about this until I saw this point, but, yes, that happened in my very limited conversations with the pastor.
Also, "awkwardness in one to one interactions" – in fact, I often wondered if one of the reasons he avoided or limited interactions to a quick hand shake was because of his awkwardness.
"Apologies go only one way, to the pastor."  Read my story.
" . . . emotional shallowness and insincerity in their communication."  Yep.
" . . . ignoring your thoughts, ideas, issues, or story."  Yep.
"A consistent misinterpretation of what you say or write." (Boldness added.)
"Tendency to name drop" – my former pastor intimated all of the important people and places he would go and speak with.
"Admonitions against . . . triangulation while they perpetrate the same."  Remember, he had proxies to deliver messages and spiritual abuse to me.
"Non-acceptance of even constructive criticism; usually met with rapid and vicious attack." (Boldness added.)
"Occasional . . . contempt."  I was treated with contempt.  My story drips with it.
The article also talks about the pastors "idealized image without real emotional depth and character" and how they will brag "about the number of new members . . . ignoring the flow of members leaving by the back door."
Another biggie in the article is that the pastors' preaching and teaching "usually tends to be quite simplistic" but "over time, others may complain of a lack of 'meat' in the sermons."  This was a common conversation between my husband and myself and a few folks who confided their discontent to us.
Scapegoating and targeting individuals and groups in meetings is another indicator.  We were told that some staff even resigned because of what was said about people in staff meetings.
"A pattern of misrepresentation of facts" such as finances, plans and directions . . . and attendance numbers."  We often wondered how there could be as many people attending some of the sermons as was touted when the places was nearly empty whenever we attended those services.  And there was no transparency in the financial decision making.  Often, "plans and directions" were made and announced as a "done deal" without any congregational knowledge or input.
"Staff and volunteers fall away."  One of the custodians expressed concern to me shortly before we left about how difficult it was becoming to get and keep volunteers.  Go figure.
Of course, this article has much more to offer, but these are the points that resounded with me in my particular experience.  I hope that if you have found your way here, it helps you to understand and recognize if you have been the victim of a covert narcissistic pastor.
One thing the article didn't mention that I believe to be true at my former church:  These pastors will eventually surround themselves with like-minded leadership who will support, encourage, and carry out (proxies) their narcissistic wishes.  Just a thought.
If this is your first time visiting NLQ please read our Welcome page and our Comment Policy!
Copyright notice: If you use any content from NLQ, including any of our research or Quoting Quiverfull quotes, please give us credit and a link back to this site. All original content is owned by No Longer Quivering and Patheos.com
Comments open below
NLQ Recommended Reading …