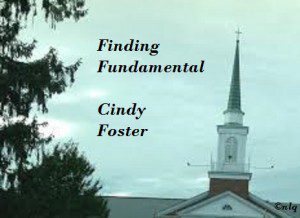 by Cindy Foster cross posted from her blog Finding Fundamental
(God) Who also hath made us able ministers of the new testament; not of the letter, but of the spirit: for the letter killeth, but the spirit giveth life. II Corinthians 3:6
Why would anybody in their right mind want to live by the letter of Old Testament Law when the New Testament clearly teaches they have been set free?
I believe an honest comparison of the ancient, biblical Pharisee to the modern-day 'Pharisee' in all of us could answer this question.
Of course, the biblical Pharisee didn't believe Jesus was who he said he was nor that his teachings were from God, but it appears the spirit of that Old Testament, Law-abiding Pharisee still exists to day, even in those who DO believe in Jesus' deity. Of all the things we know about the Pharisees, this one thing is paramount:
They were a mighty prideful lot.
I would even venture to say that the Christians in our era who advertise, practice and expect others to practice strict adherence to the 'do's and don'ts' of their beliefs….are prideful as the Pharisees.
How does one get this way?
You see, observing the Law was something for which Pharisees were champions. They were devoted. They were highly disciplined. They were exceedingly knowledgeable about the Law. They were even better at performing it to the last detail. Efficient law-abiding was something of which they could boast.
And what human doesn't secretly strive for boast-worthy performances?
But Jesus presented a new testament–a testament of grace. Now this– imparting grace–was not a practice of which Pharisees were accustomed. It was too scandalous a concept for those lacking the heart for it and and anyone so consumed with performing the 'letter of the Law' has little time for concerns of the heart.
If a person has need to live by a strict set of rules, there certainly is nothing wrong with that, but it has been my experience–reinforced by numerous testimonies of others from similar church backgrounds–that most strict, rules people do not limit such ideals to their own needs.
Most come to believe their rules should be EVERY truly dedicated believer's rules.
So, herein lies the problem: these types are often granted positions of authority because, after all, a person who performs so well HAS to be good, right, disciplined, wise, knowledgeable and qualified to be a spiritual leader, right?
Well, at least to the ones who equate outward performance with inward goodness.
But, truth is, one preoccupied with following rules to the letter, is likely to have huge issues all that preoccupation is masking. And, there is no better way to mask abusive tendencies than by convincingly mastering the 'righteous' acts.
Then, what happens when such a person believes he is called to be a pastor; when he assumes 'God-sanctioned', spiritual authority over a congregation?
It usually happens gradually.
In my experience, it began with the women and their daughters, but the pastor's convictions became The Law for the whole church.
In time, more and more rules are added until being a good Christian is defined by one's attitude about and willingness to abide by all the rules.
My husband and I were youth leaders in such a church. We worked and worshiped in this church for over 19 years. We became all about The Rules ourselves, imposing them on our young people.
It would be difficult to appreciate the intense pressure our young people were subjected to without detailing just what was expected of them. So, my husband and I carefully compiled a list of some of the rules–spoken and unspoken– that we helped author and enforce while we were at this church.
We also compiled a list of hobby horse pet-peeves that grew out of our determination to do all the right things. These were treated as rules though not actually rules per se.
Most of these "rules" came about as the result of some situation or crisis due more to overreaction than anything spiritual, but we could always come up with a "spiritual" explanation if challenged.
Also, we enjoyed the distinction of being the "narrowest" or the "strictest." Only the most serious Christians could perform at this level, which was just the kind of 'Christian' we wanted to be.
Do you see the modern-day Pharisee?
This is not an exhaustive list…unfortunately.
It was considered a sin for women and girls to wear pants.
It was considered a sin for men and boys to wear shorts
It was considered a sin to use accompaniment tapes for special music.
Scriptural marriages were performed by covenant. Couples
with state issued marriage licenses could not be married in our church.
Single couples were required to have adult, married chaperons, regardless of their ages.
Single couples were not allowed to converse except in a group.
Single couples were not allowed to sit together in services, even with parents' permission
unless they were engaged.
Single couples or non-couple friends of opposite sex were not allowed to touch in any way.
We were not allowed to attend any other Baptist para-church functions, meetings or youth
rallies.
We were not allowed to participate in the music or Bible competitions at camp.
Teachers, bus workers or any other leaders were not allowed to go to restaurants with a bar.
Teachers, bus workers or any other leaders were not allowed to go to movies.
Teachers, bus workers or any other leaders were not allowed to rent movies from video stores.
Teachers, bus workers or any other leaders were not allowed to dance in any way.
Teachers bus workers or any other leaders were not allowed to mix swim.
We would not fellowship with any church whose women wore pants to church activities.
We were not allowed to attend any camp where women and girls were allowed to wear pants.
Church leaders were not allowed to visit other church member friends' homes on Sunday to
discourage cliques.
Church leaders were not allowed to take vacations during scheduled church meetings unless
providentially hindered.
These are just a few of the rules for teachers and leaders. This does not include the rules for the Institute attendees.
This next list were not technically considered rules, but those who didn't comply or disagreed were viewed as rebellious or immature. We believed and taught:
It was wrong to listen to any music, including Gospel, which was not recorded by a local church group.
It was wrong to attend a Gospel concert that was not held at a local church.
It was wrong for a church to be incorporated by the State. (makes the State over the
church)
It was wrong for women or girls to work outside the home.
It was wrong for young people to receive high school or college education outside the home.
It was wrong to participate in organized sports (joining up with the world).
It was wrong for young adults to have social activities without married adults to chaperon.
It was wrong to read any books not written by a Baptist and quotes from KJV.
It was wrong for young men to take off their ties as soon as church over. (looks like rebellion against dress code)
Ties with cartoon characters drew too much attention to oneself.
It was wrong to want to sit near back of church (shows lack of interest or rebellion).
It was wrong for guys not to wear hair parted.
It was wrong for guys to wear cargo pants.
It was wrong for guys not to wear ties to every meeting.
It was wrong to go to camp meetings (too emotionally charged).
It was wrong to wear bright-colored nail polish.
It was wrong for women to spend more than a little time putting on make-up.
It was wrong for women to have short hair cuts.
It was wrong to display titles, such as "Dr. or Rev." before name.
It was wrong for guys to talk about sports, cars, or any entertainment after church. (conversations should be about "spiritual" things).
It was wrong to drink root beer from the brown IBC bottles (looks like beer)
It was wrong to send women out as missionaries.
It was wrong for girls to pierce ears.
It was wrong to use word "pregnant". (should be "with child").
Women are men's property (teaching about dowry's in OT).
Old Testament civil laws and punishments should still be practiced (stoning rebellious sons,
adulterers, etc.).
It was wrong to watch Disney movies (supports the "sodomites")
It was wrong to rent videos. (supports movie industry, indecent posters displayed, etc.)
It was wrong to go to the mall. (posters of near- naked women on storefronts).
It was wrong to support mission's boards. (missionaries should be sent out by local church only,
also, discontinued supporting BBF missions and missionaries, but sent our own missionary
candidates to BBF churches for support
.
Had enough? I have. It's exhausting just reading it, imagine having to live it!
"Wherefore if ye be dead with Christ from the rudiments of the world, why, as though living in the world, are ye subject to ordinances, (Touch not; taste not; handle not; Which all are to perish with the using;) after the commandments and doctrines of men? Which things have indeed a shew of wisdom in will worship, and humility, and neglecting of the body; not in any honour to the satisfying of the flesh." Colossians 3:20-23
How could we have missed this? Rules and regulations are useless for controlling issues of the heart.
We were seriously, hopelessly, BLINDLY in love with our rules.
~~~~~~~~~~~~
Spiritual Abuse Survivor Blogs Network member, Cindy Foster blogs at Finding Fundamental
Cindy Foster is "Mom" to eight gorgeous, talented, temperamental, noisy, opinionated, alike-but very different kids. She has been married to their daddy, Paul, for 36 years.
~~~~~~~~~~~~
If this is your first time visiting NLQ please read our Welcome page and our Comment Policy!
Copyright notice: If you use any content from NLQ, including any of our research or Quoting Quiverfull quotes, please give us credit and a link back to this site. All original content is owned by No Longer Quivering and Patheos.com
Comments open below
NLQ Recommended Reading …