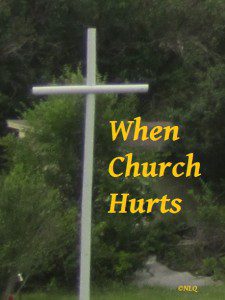 by Ellen cross posted from her blog When Church Hurts
There are big names out there in the spiritual abuse world.  Big name perpetrators.  Big name authors of blogs and books and Twitter feeds.  Big names whose social media accounts explode regularly over big names.  Big names getting the word out about big names who have committed outrageous acts of abuse.  And, of course, any time those outrageous acts are committed with any hint of ties to churchianity, we recognize them as not just sexual or domestic or physical abuse, but as spiritual abuse.
What we don't see so much of and where we don't see explosions on social media is spiritual abuse that manifests itself in ways that are not so easily recognizable.  Not so outrageous.  Those suffering abuse at the hands of church leaders who don't have a widely recognized name or church affiliation.  Those who have not been sexually abused or forced to stay in abusive marriages.  Those who have been shunned, ostracized, ignored and avoided, not allowed to serve or attend, who grovel in every way possible to try to reach an unreachable bar of acceptability.
And because the abuse they suffer isn't "outrageous," because the abuse they suffer isn't so easily identifiable or so newsworthy, they are left to wonder if they are making too much of it.  They wonder if they are just being too sensitive.  They wonder if they just need to try harder, pray more, give more, do better, be better, pretend better.  They keep their heads down and their mouths shut because maybe it isn't really abuse if it isn't outrageous enough to garner attention from the famous ones.
Maybe their abuser isn't really that bad.  Maybe their abuser isn't really an abuser at all.  Maybe they just got their feelings hurt or they just misunderstood or maybe they should try one more time to work it out, to make that appointment to have that chat that, if he would just listen, would make it all better.
Please understand.  You don't have to be the victim of someone famous to be spiritually abused.  And just because the famous folks who call out outrageous abuse aren't talking all that much about the stuff you are going through doesn't mean you aren't being abused or that it's not that bad.
It is that bad and you need to know that even though it's not what the rest of the world would call "outrageous," you do not deserve to suffer spiritual abuse from anyone – no matter what form it takes or how well-known the perpetrator might be.
You deserve to be listened to and heard and supported and cared for and encouraged and helped on the road to healing.
Let the famous ones explode over the abusive actions of the famous ones.
Those of us who are not so famous . . . We are here for you.
~~~~~~~~~~~~
Ellen is a member of the SASBN and she blogs at When Church Hurts
More about Ellen:
Several years ago I was the victim of a most heinous form of abuse unlike anything I had ever thought possible. Not having been raised in a Christian home, my first experience with Christians and pastors had been one of joy, grace, fellowship, love, and delight. When faced with the horrors of having the very essence of who I was as a woman of faith stripped from me in what I can only describe as spiritual rape, I couldn't comprehend what was happening. This was church, after all, and I believed that everything works together for good for those who love God. Somehow, it didn't make sense that everything was not working together for good. When I was finally able to resign myself to the fact that God was not going to "work this out," I made my escape and sought a safe haven. 
Little did I realize that I was going from the proverbial frying pan into the fire. Oh, how I tried to beat back the flames! Oh, how I prayed and pleaded for mercy, for grace, for a chance. "But hate is strong and mocks the song of peace on earth, good will toward" Ellen. 
He who began a good work . . . had forsaken me . . . and the silence was more than deafening . . . it was defeating. So intertwined were we, that as God went missing, so did Ellen. But I am nothing, if not tenacious.
~~~~~~~~~~~
Read our hate mail at Jerks 4 Jesus
If this is your first time visiting NLQ please read our Welcome page and our Comment Policy!
Copyright notice: If you use any content from NLQ, including any of our research or Quoting Quiverfull quotes, please give us credit and a link back to this site. All original content is owned by No Longer Quivering and Patheos.com
Comments open below
NLQ Recommended Reading …