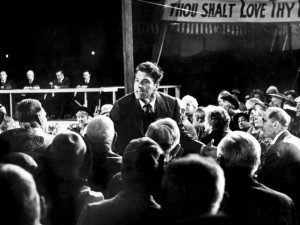 by Bruce Gerencser cross posted from his blog The Life and Times of Bruce Gerencser
In the first part of this post I dealt with Churches That Abuse: Why Bad people do Bad things. I wrote:
Churches attract all kinds of people with varying motivations for being a part of a particular religion. I spent fifty years in the Independent Baptist/Non-Denominational/Evangelical church. When it comes

to other religions, I only know what I read in the media. The experiences and observations I share in this post come from the fifty years I spent in those churches, first as a parishioner, and later as a pastor. I spent twenty-five years in the pastorate, pastoring churches in Ohio, Michigan, and Texas.

While I am no longer a Christian or a pastor, I do keep myself informed about the Independent Baptist/Non-Denominational/Evangelical church. Just because I no longer believe doesn't mean that my experiences and observations are now, suddenly, invalid or lack value. Some Christians try to marginalize or invalidate my writing by suggesting that since I am no longer a Christian, or may have never been a Christian (their view), my experiences and observations can safely be ignored or ridiculed. I will leave it to the readers of this blog to decide whether what I write has value. I suspect, knowing my readers as I do, that what follows will resonate with many of them,

The Christian church attracts people with ulterior motives. Generally, Christian people are very trusting. When someone gives a testimony of redemption, most Christians readily embrace the lost sheep that is now found. Tales of addictions, sexual immorality, prison, violence, and the like find a sympathetic ear with most Christians. The worse the sinner, the greater the testimony of God's wonderful, saving grace.

There is no doubt that many sinful, fallen people have found deliverance through what they believe is the saving work of Jesus Christ. Many vile people now live productive, grace-filled lives as born again Christians. They are to be commended for the change that has taken place in their lives. While I no longer embrace the Christian church and its message of saving grace, I am quite ready to admit that religion transforms and changes multitudes of people.

Because Christian people are trusting and accept people at face value, they are an easy mark for people who have evil intentions. In among the sheep are criminals, thieves, child abusers, and sexual deviants, to name a few. These people make an outward show of Christianity, but inwardly they are ravenous wolves seeking sheep to devour. This is true not only in the local church, but also in Christian camps, group homes, and Christian schools.

Churches make it easy for deceivers to set up camp in their midst. The deceivers quickly embrace the church family, begin to regularly attend services, and even give money to the church. They are soon embraced as brother or sister. Before too long they are given access to places of responsibility within the church. They now have access to the treasures of the church. (monetary, physical, spiritual)
In this post I want to deal with Churches that Abuse: Why Good People Do Bad Things. This post deals with a very difficult and controversial subject. It is easy for us to understand evil actions in a church when they are committed by evil people; wolves in sheep clothing. It's much harder for us to understand evil actions in the church when the evil is committed by individuals who are generally considered good people.
How does a good person — a pastor, deacon, or Sunday school teacher — go from a life as a devoted follower of Jesus to engaging in acts of abuse and perversion? It is easy to dismiss these people as people who secretly were always abusers, but what if they weren't? What caused them to turn from being a follower of Jesus to being an abuser?
I will not offer any iron-clad answers to this question. I do want to suggest that there are teachings and ideologies within many Christian groups, especially those of Evangelical or Fundamentalist persuasion, that are instrumental in turning good people into abusers. They become Good People who do Bad Things.
My focus is on the churches I am most familiar with: Independent, Fundamentalist, Evangelical, and Baptist churches. I could spend the next hour detailing the heinous acts of people I personally know; men and women considered to be devoted followers of Jesus who became abusers of the very people they were supposed to love and care for.
I do not want this post to come off as a justification for the behavior of abusers. When 9-11 happened our focus was rightly on the terrorists who murdered thousands of people. Over time, a few people tried to raise questions about WHY the terrorists did what they did. Some people have no interest in pondering or answering the WHY question. "Who in the hell cares WHY they did it. We know they did it and that is all that matters." I understand this sentiment, but refusing to ask the WHY question leaves us open to a repeat of the 9-11 attack. Dealing with the terrorists motivations just might reduce the number of terrorist attacks.
Multitudes of people have gone through their own personal 9-11. They have been attacked, abused, and often emotionally and spiritually destroyed by people they trusted. Their tales of abuse are heart-wrenching, and I have no problem understanding their hatred for those who abused them. What I want to gently do is try to understand WHY the abuse happens. I will understand if you say, "Let them all rot in hell. I don't care what their reasons were, or why they did what they did." I have not walked in your shoes so I have no right to tell you how you must respond to these issues. But, I do think answering the WHY question is very important when it comes to reducing emotional, mental, physical, and spiritual abuse.
I spent the first fifty years of my life in the Evangelical church. I believe I can give some answers to the WHY question. I want to look behind the abuse and see what led good people to become abusers. I am convinced there are things within the DNA of Christianity that lends itself to breeding and growing abusers, especially within the Evangelical church.
What are the reasons a person joins a church?
They are born into the church. At a later date they make a public profession of faith and are baptized.
Their family has always attended a particular church, so they, keeping with family tradition, join the family church.
They get married and their spouse attends a particular church. They join the church their spouse attends. It is important for couples to be on the same page spiritually, or so they are told.
They move into a new community and find a church of like faith to join.
They are dissatisfied with the current church they are members of and they are looking to join a church that best meets their needs.
They think there is no church that meets their needs or standard of belief so they start their own church.
They are friends of someone who attends a particular church. They visit the church, like what they see, so they join their friend's church.
They attend a church, hear the preaching, fall under conviction of their sins, and are saved. They are baptized and become members of the church. They are called "new converts."
What I have listed above pretty well covers the reasons why a person becomes a member of a particular church. I recognize the reasons I mention lack nuance, but I think they will suffice for what I plan to write later.
There are uncounted people who are not a part of organized religion. They are part of fellowship groups, cell churches, home churches, study groups, etc. While these groups are detached from the organized church, they are just as capable of being abusive as any group mentioned above. I know of home churches that are just as fundamentalist, if not more so, than any independent, fundamentalist Baptist church.
Every church and denomination has its own orthodoxy and its own orthopraxy. When trying to determine why good people do bad things, we must first look at what a particular church or denomination believes and practices. This is essential to understanding why people, in the name of God, people who are committed followers of Jesus, abuse other people, often doing despicable things to those they are supposed to love and protect.
Most Evangelical churches teach:
The Bible is the inspired word of God and is sufficient for faith and practice. I am deliberately avoiding the various arguments about inspiration, inerrancy, etc. Every Evangelical believes the Bible, to some degree or another, is God's truth. If they don't they are not Evangelicals.
That what the Bible teaches is to be believed, obeyed, and practiced.
The Bible is to be, with rare exception, read in a literal sense.
The pastor is called by God to preach and teach the Bible to the church membership. I am well aware that a minority of churches have multiple pastors or elders, but the majority of churches are pastored by one person.
When we add these things together we end up with a church that believes everything written in the Bible. Its members believe they are to live by teachings of the Bible. They believe the most important thing in the world is to be obedient to God. They also believe that God has given them a man or a woman to teach them and guide them in the teachings of the Bible: namely, the pastor. The pastor is linchpin of the church. He is the main cog upon which the machinery of the church turns. It is impossible to over-emphasize the importance the pastor plays in what people believe and practice. The amount of power that a pastor has is astounding.
How do pastors gain such power over people? I will answer this question in part three of this series.
~~~~~~~~
Spiritual Abuse Survivor Blogs Network member, Bruce Gerencser blogs at The Life and Times of Bruce Gerencser He writes from the unique perspective of having been a pastor for many years and having seen it all in churches. His journey out of being a true believer and pastor has been an interesting and informative one. He is also a kind and compassionate man who seeks to help others understand how best to leave and recover from toxic belief.
Bruce Gerencser spent 25 years pastoring Independent Fundamental Baptist, Southern Baptist, and Christian Union churches in Ohio, Michigan, and Texas. Bruce attended Midwestern Baptist College in Pontiac, Michigan. He is a writer and operates The Life and Times of Bruce Gerencser blog. Bruce lives in NW Ohio with his wife of 35 years. They have six children, and eleven grandchildren.
---
Stay in touch! Like No Longer Quivering on Facebook:
If this is your first time visiting NLQ please read our Welcome page and our Comment Policy!
Copyright notice: If you use any content from NLQ, including any of our research or Quoting Quiverfull quotes, please give us credit and a link back to this site. All original content is owned by No Longer Quivering and Patheos.com
Read our hate mail at Jerks 4 Jesus
Comments open below
NLQ Recommended Reading …