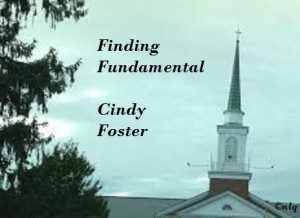 by Cindy Foster cross posted from her blog Finding Fundamental
Recently, I read a poignantly and transparently written post at 'Stuff Fundies Like' titled "Pining for the Leeks and Garlic". Anyone with knowledge of the Old Testament accounts of Moses and the Children of Israel's 40 year wilderness journey will immediately recognize the title's significance.
I've followed SFL for quite some time finding the irreverent sarcasm to be perfectly refreshing for those times when I need to laugh at the stupid stuff. But this one took me back to an emotional place I hadn't visited in a go
Recently
od, long while.
I too, watched several movies that theatrically but very accurately depicted, like "The Village", the insidious nature of high-control churches and movements. The catalysts for their beginnings, the grooming processes, the distortion of reality, the re-interpreting past truths, the intertwining of relationships within, the demonization of all without, the procurement of absolute trust in and dependency on the leader/s and the spiritual and psychological control– impenetrable as the walls of Alcatraz– and all the patterns authentically revealed through the characters and stories.
While I am deeply thankful to have rediscovered and returned to my original, pre-cult-ish beliefs, I can't say that my heart has returned entirely to the condition it was before the hurt of betrayed and abandoned friendships….and more…..family.
I can relate in a small way to the characters from one movie "Eternal Sunshine of the Spotless Mind" who chose to erase their memories and wipe out the intense pain of love gone sour. I have entertained such a fantasy at times even though mine was a loss of family and friendship rather than lover.
One tagline from the movie, "You can erase someone from your mind. Getting them out of your heart is another story," most certainly rings true for me.
Alexander Pope poetically opines:
"How happy is the blameless vestal's lot!
The world forgetting, by the world forgot.
Eternal sunshine of the spotless mind!
Each prayer accepted, and each wish resigned."
And Friedrich Nietzsche asserts:
"Blessed are the forgetful: for they get the better even of their blunders."
I do continue to preserve a little hope that we can all come together someday and lay to rest the issues that were misunderstood or misinterpreted–at least– and appreciate the good memories and the virtuous qualities in each other.
Perhaps this would enable us to retain a warm, kind-though-distant- bond. After all, we were all once so closely connected for such a long time. It would certainly help me to find a 'better place' to rehearse and store all the memories.
And that has been a problem. Where do I put the memories? How do I enjoy memories of better days without remembering the pain of how it all ended? Well, it's actually not a problem anymore. I have found healing. I can remember without pain, but only in the last couple of years.
There are three friends in particular whose abandonment I have grieved the most, the main of whom is the Preacher's wife, my sister-in-law. I still miss her and the others at times, even after all these years.
We had done so much together. Our relationship was a unique kinship–a 'sisterhood' if you will.
We shared the earliest days of our marriages followed shortly by motherhood. We lugged small children on mini adventures–lunch, garage sales, thrift stores, parades, the zoo, birthday parties, seasonal celebrations. We survived (or more realistically, the merchants survived) 'double-couponing' deals and OR-deals together.
We worked together developing vacation Bible school lessons and crafts, teaching classes, organizing snacks, activities and rides. We went to youth camps in the summer and missions trips in the spring working together on the many details involved in taking so many on such long and sometimes treacherous journeys.
We worked on ladies' events, retreats and meetings together. We began our home schooling journeys together. We visited home schooling book stores and conferences together. We explored curriculum ideas together and took our kids on field trips together. We took out-of-town 'mommy excursion' trips together.
We giggled, played games, binged on ice-cream and candy, gossiped, kept secrets, complained about our husbands and kids, and griped about rules annoyingly, irreverently as giddy teen-agers.
We even got into trouble.. a time or two.. together.
But with all we shared, all the years we shared, all the 'consolation in Christ', all the 'comfort of love', all the 'fellowship of the spirit', all the 'bowels and mercies,' when time and circumstances affirmed the Spirit's leading that I, that we, could not and would not stay at that church…..
none of what was supposed to define us as 'Christian' sisters….was enough.
But, it's supposed to be enough! Love is supposed to cover a multitude of 'sins'. So, why doesn't it? Why didn't it for me, even when I wasn't 'sinning'?
The blaring contradiction is not in the Word, but in the deed. The 'Word' gave them permission to continue our friendship, but THEY chose not to.
There is no scripture to mandate or even justify abandoning friendships on the basis of differences in beliefs, standards or even leaving a particular church.
I have finally come to accept that the real ugly truth is simply this: people will resort to all kinds of manipulations of 'truth' in order to escape admitting the fact that they are mad, hurt, indignant and/or even secretly jealous when anyone, all the more a close friend, leaves their church– no matter what the reason.
I truly expected my 'friends', and especially my sister-in-law would call me the morning after they were informed of our leaving. But when that day passed, then another and another and another until weeks, then months passed…no calls, no cards, no letters, no contact whatsoever forced me to accept that my friendless state was not likely to change for a good long while.
How much heartache would be spared if they could just acknowledge the tendency-the reality, endure the initial pain then embrace the changes! Friendships formed from a Spirit-led, Christ-like love will not only survive, but thrive through the changes and the changes can actually be for the best if allowed!
Relationships that blossom and grow over many years from youth to mature adulthood are difficult at best and in some cases near impossible to discover and cultivate again in mid-life. This certainly has been true in my life.
When there's no shared history, connections and experiences to bind one person to another, the one seeking friendship must start completely over in every way. That is extremely hard at 46 when there is little desire and even less energy.
It was easy then, to wish I could simply forget.
Darrel, author of the SFL article, sensitively alludes to a scene and character from "The Matrix" to convey another reason people surrender their wills to avoid the hard work of dealing honestly with the 'real world':
"
There is an incidental plot line in the movie, however, involving a relatively minor character who, although he has been awakened to reality, cannot stand the ugliness that he sees in the real world. Eventually, he betrays his comrades for the promise that the machines will put him back to sleep and he will be able to enjoy the fake world blissfully unaware that it's all a sham.
In scene of his betrayal

he sits at a table eating a steak

and proclaims that "ignorance is bliss." The movie paints him as weak and despicable but if I'm being honest, I have to say that I know how he feels. Sometimes I wish I could forget too. Even though I love my freedom and know the truth of the emotional and spiritual slavery that exist back where I used to live, there are sometimes when I wish I didn't know."
And so do I, Darrel, so do I.
~~~~~~~~~~~~~
Spiritual Abuse Survivor Blogs Network member, Cindy Foster blogs at Finding Fundamental
Cindy Foster is "Mom" to eight gorgeous, talented, temperamental, noisy, opinionated, alike-but very different kids. She has been married to their daddy, Paul, for 36 years.
~~~~~~~~~~~~~
---
Stay in touch! Like No Longer Quivering on Facebook:
If this is your first time visiting NLQ please read our Welcome page and our Comment Policy!
Copyright notice: If you use any content from NLQ, including any of our research or Quoting Quiverfull quotes, please give us credit and a link back to this site. All original content is owned by No Longer Quivering and Patheos.com
Read our hate mail at Jerks 4 Jesus
Comments open below
NLQ Recommended Reading …