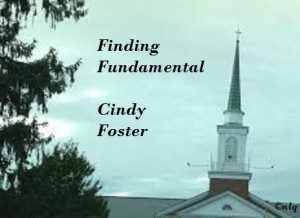 by Cindy Foster cross posted from her blog Finding Fundamental
I've never been much good at New Year's Resolutions.
I tend to over-think everything including all the areas in which I need to improve… so much… that instead of getting motivated and energized by the practice, I end up defeated and discouraged. I just can not seem to make it work for me.
I know what the problem is. My resolutions are entirely unrealistic and being that 'resolutions' are supposed to be made for the long haul, it is necessary to evaluate them for their importance and edit out the trivial if one has any hope of keeping them.
No matter how thoroughly I understand this, I can never quite fix it. My resolutions grow so big and more and more detailed that by the end of it, I have become some stranger–an inexhaustible, perfectionist person who is way far different from who I am! Attempts to prioritize are futile because how does one prioritize when EVERYTHING seems to be a priority?
So, I gave up on resolutions a long time ago. I figured 50+ years of trying and failing was long enough…
Now? Instead of New Year's Resolutions, I look for New Year's Revelations.
This post is about my most recent and profound 'Revelation'.
I had similar results with the more practical daily 'To Do' lists. I tried so many times. I so wanted to experience that sense of completion as I scratched off each task. I so admired the 'successful' women who could accomplish so many things in a day by faithfully utilizing their 'To Do' lists.
But for me, every effort–started and restarted–ended in failure. I would get five or ten tasks completed and scratched off, when one of several things might happen:
distractions in the form of needy little human beings made items on the list trifling;
I'd find myself making up things that didn't need to be 'listed' just to have something to 'scratch off;
my list kept disappearing. Lost, thrown away or baptized in some spilled liquid substance.
The 'To Do' LIst' strategy for organization was abandoned with the same resignation as the 'Resolution List'.
Oh well…
There are other strategies to which one can resort for self-improvement purposes. I just need to find one better suited for my eccentric, scatter-brained ways, which I have finally realized is consistent with the criteria for an ADHD diagnosis. More about that on another post….
Though I am still looking for that customized-to-my-limitations strategy….
Now, after many years of thinking that next in importance to being a mother who passionately loves her family, is one that efficiently accomplishes all that a 'good' mother is supposed to accomplish, I have learned a most profound truth–a new Revelation, if you will. At least… it is for me anyway.
And that truth would be: My greatest source of unhappiness, anxiety, regret, insecurity and inferiority?
UNREALIZED EXPECTATIONS!
Why were they unrealized? Because they were fantastically UNREALISTIC!
Which brings me now to another revelation: The sources of those 'fantastically unrealistic' expectations. Where DO those expectations come from anyway? Of course, there are many answers too broad and varied to deal with now. However, for an excellent summary, here is a good place to read and ponder: http://www.psychologytoday.com/blog/the-blame-game/201209/what-do-i-expect
Probably most would say that the most significant voices to influence their expectations would be: parents, church, teachers, friends and media. I must state personally that as well as these being positive voices formulating my expectations–producing positive outcomes– they have also contributed to expectations that produced profoundly negative ones.
Because, it is from these voices that I also derived my UNREALISTIC expectations! The number one most guilty contributor to my UNREALISTIC expectations has been the Baptist Taliban 'church' and its highly idealistic religious beliefs, and YES, Baptist Taliban, your expectations ARE religious though you will state you are all against 'religion' and practice only a militant faith. (Is there a difference?)
Young, seeking parents tend to be idealistic anyway, so it shouldn't surprise anyone when many are drawn to churches with high ideals and expectations. Any institution advertising 'high expectations, (for example: schools, colleges, athletic organizations and any program employed to educate and train children) is equated to what is 'The Best' for the needs of those children. In short: high expectation = best outcome.
Happily expecting Baby Eden in February!
It is so easy to get caught up in this line of thinking. It just seems like good, old-fashioned common sense. It's conventional wisdom that's hardly ever questioned. But high expectations as they are applied to areas of performance are profitable, even necessary as long is they don't go beyond what is reasonable and what is considerate of the child or young person's limitations, individual bent and desire.
What happens, though, when this ideology is applied by churches in the realm of a person's spirituality?
When church leaders extrapolate their own interpreted 'formula's' for rearing children from scripture, teaching and preaching them to their committed parent/followers as absolute truths yielding the much coveted 'spiritual' outcomes in their children, these committed young parents embrace and practice those teachings often without question. Thus resulting in expectations of 'spiritually' developed, mature and devoted children and MUCH is expected of them to be sure!
Consider this:
"Evangelicals sometimes expect too much or, to put it more precisely, we look for a kind of change God hasn't promised. It's possible to expect too little, but under-expectation is usually a cynical reaction to dashed hopes for too much. We manage to interpret biblical teaching to support our longing for perfection. As a result, we measure our progress by standards we will never meet until heaven."
― Larry Crabb, Inside Out
Paradoxically, ironically, these 'formulas' are practiced using much similar tactics for producing the spiritual behaviors desired that the often denounced 'worldly,' secular institutions employ to instill the behaviors and disciplines they deem important.
These motivational tactics or tools are often just cleverly disguised, creative methods of punishment!
When I was a young mother, I wanted all the best things for and from my children. I followed those voices that seemed to offer the best formula to achieve my highest ideals for them.
I was naive.
I was trusting of my spiritual leaders.
I was trusting of almost any information from 'Christian' sources.
I was ignorant and suspicious of alternative sources of information.
I was submissive to my spiritual authorities.
I was willing to sacrifice any personal desires to rear 'spiritual' children.
I tried as best I could to follow the 'formula'.
I truly expected that this formula would not fail.
Then, when reality collided with my earnest expectations, it was a very messy crash.
But the reality that escaped me was that no parent, no matter how perfectly they follow the formula, can shape a child into a spiritual adult using a formula, no matter how exactly Biblical it may be. It is beyond our power as humans to cause a child to develop into a spiritual adult by any actions we impose on them for that purpose.
What we can do is live out consistently the Christ-like attributes we hope to see grow in their own hearts.
Oh, we can control their behavior for a time when it is necessary to do so. We can gently but firmly employ positive, effective disciplinary actions when they behave in ways that are dishonest, hurtful, irresponsible, negligent, disrespectful, dangerous, etc. We can teach them what is good and what is right in word and in deed. We can guide them in their decisions and inform them of consequences of bad choices as well as of good choices. We can be there for them in the good times as well as the bad, showing grace when they fail, nurturing and loving them back to wholeness. We can provide practical instruction to help them in their transition to a healthy adulthood using outside-the-family -and-church resources as is usually needed.
When we've sincerely though imperfectly tried all we could, whatever the outcome, we can accept them for who they are and where they are, whatever that may mean. This is often very uncomfortable, but vital if we are to be consistent with the example of Christ even in our own lives.
Finally, we can transform unrealistic expectations to hope that always accepts the reality but never loses sight of the potential.
THAT, I think I can do….
"We all remember epochs in our experience when some dear expectation dies, or some new motive is born."
― George Eliot, Middlemarch
~~~~~~~~~~~~
Spiritual Abuse Survivor Blogs Network member, Cindy Foster blogs at Finding Fundamental
Cindy Foster is "Mom" to eight gorgeous, talented, temperamental, noisy, opinionated, alike-but very different kids. She has been married to their daddy, Paul, for 36 years.
~~~~~~~~~~~~
If this is your first time visiting NLQ please read our Welcome page and our Comment Policy!
Copyright notice: If you use any content from NLQ, including any of our research or Quoting Quiverfull quotes, please give us credit and a link back to this site. All original content is owned by No Longer Quivering and Patheos.com
Comments open below
NLQ Recommended Reading …