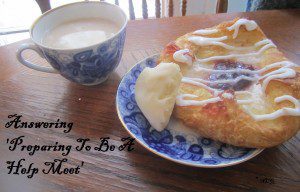 Another installment of giving better answers to the questions asked at Debi Pearl's site message board for the book 'Preparing To Be A Help Meet'. Many young ladies ask questions on all sorts of different subjects brought up by the book. There was just one big problem, many of the answers stray into either the outright bad and emotionally unhealthy to dangerous. Yes, typical Debi Pearl borderline abusive. Here's what we're going to be doing here at NLQ. Every week, once or twice a week, I'll be posting up one of the questions from the message board and ask you, our readers, to answer that poor soul's question in a way that is logical, rational and the best possible solution, in other words 180 degree turn from Debi and friends answers. As always all spelling and grammar in the posting is unchanged from the original author.

One thing that I am noticing is that the questions that are not easy to access, the buried ones, are all the most toxic. Example – grown women peeing the bed or the woman who's mother would not allow her to get an eye exam. This is another one of those super bizarre toxic questions and it's from a man this time. On to today's question:
Will my wife ever love me again?

Hello everyone. I have been separated from my wife for 6 months now. I'm the reason for this separation. Last year I befriended a woman at work and I allowed this friendship to become a distraction within my marriage. We talked all the time and even took our lunch breaks together. It got to the point where people at work thought I was having an affair. Eventually my wife found out about the friendship and was angry of course. I cut ties with my friend because I didn't want to cause problems in my marriage. I even called the woman in front of my wife and had her on speaker so that my wife could hear everything that was being said. I told my friend that our friendship was wrong because it was affecting my marriage and I didn't want it to cause any problems because of it. She informed me that she didn't think she'd cause any problems in my marriage but that she understood where I was coming from and if I felt that was the right decision then she'd respect it. This happened in November 2011, after that my marriage took a turn for the better. December went terrific. We were both happy. BUT come January I was not happy anymore. I was questioning my marriage, questioning my love for my wife, questioning everything. My parents had just gotten separated after 30yrs and I was dealing with that emotionally. I was upset that we were still living with my in-laws, I was just not happy with anything. For weeks I went to work and came home. My wife begged and cried to me and I didn't show any compassion. I didn't care. I was like a zombie and I didn't realize the pain I was causing. When she'd ask what I was going to do I just told her that I didn't know but when I did I would let her know. Well she couldn't take it anymore and kicked me out in February of this year. Right away I knew that wasn't what I wanted so immediately I tried to get her to change her mind. Didn't work of course. For the next month I was prideful and felt like I would be fine without her. Boy was I wrong. I realized that my wife and daughter were the most important thing in my life so I was determined to get them back. We started to talk and even hang out together. But towards the end of April she put an end to that and it's only gotten worse since. I fell into a depression which I'm still dealing with. I ended up recommitting my life to the Lord because I knew all my failures in life were because I had kept God out of it. So I've been making changes in my life and I pray daily, read the bible, and of course go to church. But my wife wants nothing to do with me. Back in June she was very hurtful and told me she was done with me. Since then we haven't talked much and now my own daughter doesn't really like to be around me because of my depression. I can't help but be sad because it took me to lose my family to realize that they were all I really needed in my life. I love my wife with all my heart and I want to prove my love to her and show her that God has changed me and I want to have God in both our lives and marriage. But she still wants nothing to do with me and it breaks my heart. She gets angry with me for being sad around my daughter and I'm trying to be strong around her because I don't want to upset my wife anymore. I just don't know what to do other than pray. I feel like my wife and daughter are fine without me and that I'll never get my family back. I know I have to trust in the Lord but the hard days do take over sometimes. It's hard to act like I'm ok when I miss them so much. I worry that my wife will never love me again or that she'll start dating someone else. So many negative thoughts enter my mind and I don't know how to handle it at times. I've lost my family and I now know that I shouldn't have taken them for granted. I will do anything to get them back and I will wait as long as I have to. I don't want anyone else and I don't want another family. She knows this but still hasn't made an effort to reconcile. My in-laws have told me that she hasn't said anything about divorce but back in June when she told me she was done with me she did mention it. So I do worry about that, I just hate this because my heart literally aches everyday. All I want is my family. The days are getting harder and sometimes it feels hopeless. I know everything is on God's time and not mine. I just pray that I do get my family back
There were only two different kinds of replies. The first advised this man to write letters, love letters to his wife and to go way way way out of his way to let her know how much he loves her. They also said his wife was way too hard on him and to ask a female family member to speak to him. The other half of the commenters told him he wasn't welcome to post there because he's a man and this is a site for young women!
I'm not sure there's any really good answer for this guy, or at least one that doesn't involve loads of therapy and marriage counseling if his wife would agree. There's bound to be much more to this story for his wife to toss him out like that in a religion that tells women to stay married to men who sexually molest their children. What do you think?
---
Stay in touch! Like No Longer Quivering on Facebook:
If this is your first time visiting NLQ please read our Welcome page and our Comment Policy!
Copyright notice: If you use any content from NLQ, including any of our research or Quoting Quiverfull quotes, please give us credit and a link back to this site. All original content is owned by No Longer Quivering and Patheos.com
Read our hate mail at Jerks 4 Jesus
Comments open below
NLQ Recommended Reading …