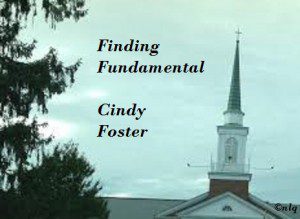 by Cindy Foster cross posted from her blog Finding Fundamental
How many times have we heard it?
"Women are the cause of most of the problems in the church."
Women have been the brunt of such jabs-however jokingly, by preachers from their pulpit perches-so frequently and for so long- that they just laugh right along. But backhanded levity aside, most preachers didn't really mean it as a joke….
Unfortunately, many women resign to it while others actually embrace it as biblical fact. Preach a contention like this emphatically enough, repeat it often enough and many will surely come to believe it.
But, is it really true that women are the cause of most problems in the church?
Or, could it possibly be that what problems appear to be caused by women, are actually symptoms of something else?
Perhaps, women have assumed the blame when really, the menacing, meddlesome-women characterization is just a scapegoat–a diversion– for egocentric men from platforms of spiritual authority to deny their own insecurities, lack of perspective…and in some cases, intelligence?
Consider this….
When a preacher places heavy emphasis on submission to his 'authority' as evidence of one's spirituality, and women indoctrinated from childhood on, that the most godly, most submissive will be the most favored by God and man, what contentions might arise among them as a result?
In my church's case, it was competitiveness and jealousy.
So, in all honesty, I believe the 'trouble-making' determined the fault of the women, is frankly a provocation of the men.
My brethren, be not many masters, knowing that we shall receive the greater condemnation. James 3:1
An emotionally healthy church made up of emotionally healthy, spiritually mature people will not need to compete with one another for 'spiritual' supremacy.
I will say this though, the women in this church were intelligent, efficient and talented.  They were not stupid, needy ninnies, but a person can be highly intelligent and extremely emotionally immature at the same time.
Such problems were nowhere more evident than with the mothers and their daughters of this church.
I may be digressing a bit here, but here are some facts that could be related:
Grown women who were physically, emotionally, psychologically and/or sexually abused as children will stagnate  at the emotional maturity level they were when abused… at least without extensive intervention.
That means, if a women was abused in one of the above ways at 5 years old, even when she has matured physically and intellectually, she will continue to respond to emotional events as she did when she was 5.
So one has to wonder if the women who are actually causing significant 'problems' in the church (or anywhere else for that matter), could be victims of some kind of abuse.
The younger the abused victim and the more dramatic the abuse, the more significant the emotional consequences.  Sadly, the ones most ill-affected won't even realize it…
But one thing is for certain,
A contentious but subtle competition emerged between a few that rivaled the exploiting stage mother.  Mothers who pressured and groomed their daughters to excel in the 'godly arts' of obedience, submissiveness, quietness, modesty, nurturance, homemaking skills, femininity and contentment  in hopes they would attract aspiring preachers, missionaries or evangelists husband candidates.
There were few other options for them..
Any profession outside the home and apart from the husband or father's authority was aggressively discouraged– even prohibited for women closely related to the preacher.  A woman's value there was judged by her prowess as godly wife, mother and homemaker.
The younger women were expected to be content with staying home, growing in the Lord  and perfecting their skills as future wives and mothers.
Being a wife, mother and homemaker is noble IF that is her desire, but a woman has the right to an identity outside of these roles.
Also, a woman who aspires for a professional career or an identity other than wife and/or mother, married or single, should not be treated as an apostate by her church!
But, this is exactly how they would be and were treated.
Mothers of maturing daughters there feared the utter shame and humiliation they would endure if their daughter/s didn't measure up and therefore judged too worldly by the 'godly' preacher boys.
So, when any other of the mother's daughters appeared to be godlier, one mother in particular was obviously resentful.  Envy and  jealousy roused her 'competitive' juices, prompting her to compare and find faults in the the godlier-appearing girls.
Then, naturally, she had to expose the godly-appearing girls for the UN-godliness she wanted to see in hopes that her daughters would unseat them in the eyes of the coveted preacher-boy/husband candidates.
This scenario was reality in our little religious sub-culture.
Here's some examples describing how this competition unfolded:
When the church rule was established that dresses and skirts must come to the bottom of the knee, then the more ambitious mother would require her daughters' skirts extend to the calves.
If the standard for 'courtship' practice was that courting couples must be chaperoned, then she would require 'married' chaperones.
If other daughters were required to be home by midnight, then hers would be home by 10:30.
This enterprising mother even tried to reel in her hopefuls by promoting her daughters' cooking skills at the activities that involved food. After all, the way to a  man's heart is through his stomach, right?
Imagine her jealousy when her daughters'  dishes came back barely touched.
The most regretful consequence, though, was how the trickle-down effect interrupted and even ruined  what should have been meaningful, life-long friendships between the daughters.
Contention among the women was continually brewing and there were other sources than just the competition for 'mother with the godliest daughters.'
Also several classes of women were 'non-conformers'.
You can read about them as well as the mounting conflicts and causes in the 'second act' of 'Girls Interrupted.
~~~~~~~~~
Spiritual Abuse Survivor Blogs Network member, Cindy Foster blogs at Finding Fundamental
Cindy Foster is "Mom" to eight gorgeous, talented, temperamental, noisy, opinionated, alike-but very different kids. She has been married to their daddy, Paul, for 36 years.
---
Stay in touch! Like No Longer Quivering on Facebook:
If this is your first time visiting NLQ please read our Welcome page and our Comment Policy!
Copyright notice: If you use any content from NLQ, including any of our research or Quoting Quiverfull quotes, please give us credit and a link back to this site. All original content is owned by No Longer Quivering and Patheos.com
Read our hate mail at Jerks 4 Jesus
Comments open below
NLQ Recommended Reading …