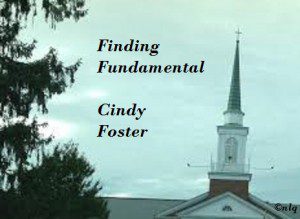 by Cindy Foster cross posted from her blog Finding Fundamental
I woke up yesterday morning to the glorious sound of music.
My twenty-year old son Dillon, was on our desk-top computer in our living room listening to his favorite songs on YouTube.

Often he listens through headphones, but this time he was letting his music serenade me through the speakers of our computer as he would if he were listening to the radio.
He likes to do that for me.
For the next few moments I did nothing else but relax on the couch and revel in the delightful melodies–the harmonies, the various instruments– the very fact that these were among my son's favorite selections.
The fact that he knew he could share them with me and be confident I would appreciate his tastes– something that I will never again take for granted.
The fact that now, he is not limited to the few 'approved' forms of Christian music has added new dimensions to our understanding of each other.
We very nearly missed out on this golden, momentary peek inside the soul of one of our musically sensitive kids. And how regretful that would have been!
Another profound reality that we would never have realized had we not left behind those hyper-fundy, legalistic beliefs.
I consider one of the most sublime of God's gifts to mankind is the facility to appreciate and create music. It can truly be the single most useful tool for penetrating and perceiving the innermost obscure feelings of our young and restless.
Something so healing, so revealing, so nourishing cannot be from the devil.
Our children can communicate what may not be easily expressed in words, but though unintentionally, will through their music.
To be ignorant of its value is to be deprived of its usefulness.
We decided it was time to stop judging and prohibiting their choices in music and start listening to it with them.
One thing I have learned and now firmly believe is that attraction to the anti-authority– even violent–themes of Rock music is not so likely the source of teen rebellion as has been reverberated from the pulpits since the advent of Rock music, but more a reflection of troubled hearts and disconnected family relationship already existing.
Such musical, lyrical expressions are outlets, not causes.
We are a musical family.
It is veritably in our genetics. Not only do we love many genres of music, but have diverse musical abilities.
We all sing and some play guitar, bass guitar and piano. When the kids were much younger, we sang together at church services and other church functions.
We even have gifted songwriters among our bunch.
Two of the boys became skilled at composing computer-generated music by mastering apps such as Fruity Loops, Pro Tools and Garage Band and are self-taught sound and recording producers. My oldest sons have recorded and produced albums for various local artists.
So, you could safely assume we are a family that cherishes music.
I never realized before, how much our shared love of music could enrich our relationships until at least a year after we were forced to leave our legalistic, controlling church.
We had been so entrenched in the fear that any music outside of the spiritual songs and hymns performed within the confines of the independent–independent, fundamental, King James Bible-believing local Baptist church was inherently evil, that this invaluable connection between us might never have been discovered for lack of intellectual and emotional freedom.
But after leaving all that, we cautiously-even fearfully began to sample some Contemporary Christian Music via the radio.
Actually, Paul and I were not quite ready to listen to CCM at first until my oldest son introduced us to some of Nicole Nordman's music.
It was strange and unfamiliar, and I was rather uncomfortable with the soft, breathy sounds of her voice as well as her emotionally-charged, reality-based lyrics. It was preached that such elements were sensual and worldly.
But at the same time, those were exactly the qualities that I found so comforting in her songs. The more I continued to listen, the less nervous I was about transforming our smothering paradigms.
It wasn't long before we were listening to her music every time we went somewhere together in the car. That then lead to conversations about the relevance of the themes in the lyrics.
We added music by Point of Grace, Red Cloud, Twila Paris, Switchfoot and various other Contemporary Christian artists to our repertoire which always led to lively conversation about the songs we liked, didn't like, the content, the musicians themselves and more.
Once we descended on down that "road to perdition," we ventured into other genres of music stimulating more discussion about the many and varied issues and beliefs that our shared interests invoked.
While still a little apprehensive of possible negative consequences due to the 'voices' I was still hearing from memory–the rants of preachers prophesying doom and destruction to all entranced by secular music's demonic magic–still, I refused to surrender to them and went right on listening.
The music was breaking down the barriers to our communication. I was getting to know my kids….really getting to know them. And they were getting to know us better too!
Those times are sacred to me.
Those were the times when I began to feel happy again. Those times were like the tiny, new sprouts that forced their way through the scorched, lava-soaked ground after the eruption of Mt. St. Helens.
The promise that new, vibrant life could emerge through utter destruction. All the fears were subsiding and I was beginning to believe we would all be ok.
I can't say we didn't hit some huge bumps along the way, but I can say that those 'bumps' were accepted for what they were–bumps–not sinkholes. Not spiritual death sentences. Not indictments of incompetent parenting.
And I will now and forever be reminded of the lesson learned,
And nobody says it better than Dobie Gray.
~~~~~~~~~~
---
Stay in touch! Like No Longer Quivering on Facebook:
If this is your first time visiting NLQ please read our Welcome page and our Comment Policy!
Copyright notice: If you use any content from NLQ, including any of our research or Quoting Quiverfull quotes, please give us credit and a link back to this site. All original content is owned by No Longer Quivering and Patheos.com
Read our hate mail at Jerks 4 Jesus
Comments open below
NLQ Recommended Reading …