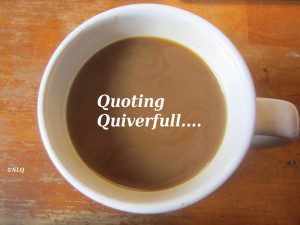 by Adeye Salem from No Greater Joy Mom – The Silent Hurt
Editor's note: Adeye goes on to list their hurts. She seems to think that they are owed a place at the table. Perhaps they would be if some Christians behaved like the guy they claim to follow. But she seems to not understand that if you make the choices that they've made, personal choices, that the world does not necessarily owe them anything. Adeye closes with some good ideas that could make any family struggling just a little bit easier. What she does not seem to get is that isolation is a common very toxic thread running through almost all Quiverfull families and churches. It's not unique to special needs families.
It's the reason why so many families raising children with special needs don't even attend church. It's easier to stay home.

It's the reason why mothers turn to social media to reach out to like-minded people just to know that they're not walking alone. Just to know that they are loved, accepted and supported—even from afar.

It's the reason why our closest friends often become those we may never even have met in real life—but who get it.

It's the reason why families feel so isolated and alone.

It's the reason why an increasing number of large or special-needs families choose to do house church—a much easier and less intimidating option.

It could even be part of the reason why so many parents raising special-needs children end up fighting for their marriages—a lack of support, inclusion, and people who genuinely care eventually takes its toll. Caregiver burnout is a very real and painful road, and many find themselves in that place of feeling utterly worn out.

It's a very, very lonely place.

It shouldn't be this way, of course. But it's more common than we talk about. Our churches should be full of families like ours who bring every single one of their children to every single service or gathering when it's appropriate. There should be hands to help and an unconditional love, support and acceptance. There should be babysitters and family support lined up offering parents date nights—much-needed time to reconnect. Sadly though, it's hard to find the willing few who will learn how to care for children like ours.

Our churches should be a healing, welcoming sanctuary for parents who are sacrificing so much to raise children who often have behavioral issues, health needs, and many other challenges. Weary parents should have a place where they know they can find rest. How amazing would it be if every Bible-believing church had a ministry specifically to those who are called to parent children who struggle more than others? We actually attended one such church a few years ago when we lived in Virginia. It was a gift from heaven!

People tell us all the time, "I have no idea how you do what you do. I could never do it." Oh, we understand. With all of our hearts, we do. We used to be there at one time, and that's perfectly okay. God never said He would call us all to do the same thing. No, He calls us uniquely. But if anyone has a heart to serve, to love and to care, there are so many ways that you can be a blessing to a family in your own community.

Find a family who could desperately use a helping hand and offer to help with cleaning, yard work or grocery shopping.

Reach out to a precious single mom raising her children alone and experiencing the same kind of loneliness so many of us do and invite her and her children over.

Offer a date night to parents who have their hands full and cannot afford to pay for a babysitter.
QUOTING QUIVERFULL is a regular feature of NLQ – we present the actual words of noted Quiverfull leaders, cultural enforcers and those that seek to keep women submitted to men and ask our readers: What do you think? Agree? Disagree? This is the place to state your opinion. Please, let's keep it respectful – but at the same time, we encourage readers to examine the ideas of Quiverfull and Spiritual Abuse honestly and thoughtfully.