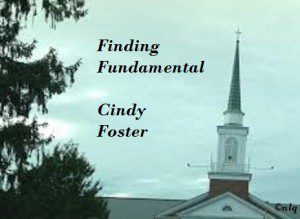 by Cindy Foster cross posted from her blog Finding Fundamental
We wander through this life together in a semi-darkness in which none of us can distinguish exactly the features of his neighbor. Only from time to time, through some experience that we have of our companion, or through some remark that he passes, he stands for a moment close to us, as though illuminated by a flash of lightning. Then we see him as he really is.

– Albert Schweitzer
We all need somebody to talk to. It would be good if we talked … not just pitter-patter, but real talk. We shouldn't be so afraid, because most people really like this contact; that you show you are vulnerable makes them free to be vulnerable.

– Liv Ullmann
I am a private person.
I am not sure if it's by heredity, habit, bad experience or a combination of the three but I realize now, how much it has affected me.
Never did I consider it a problem until time came when I really needed to be transparent…vulnerable… but found it almost impossible.
The first twenty-five years of my life, I worked hard at suppressing my feelings. I didn't want anyone to know what I felt.
In fact, after suppressing feelings for so long, I had trouble knowing myself, what I felt.
No doubt, early in life, I was ridiculed or rebuked for expressing my feelings, so I must have defaulted to subconsciously stuffing them.
And I got really good at it.
I got so good at it that time came when I couldn't allow myself to be vulnerable at all..with anyone. I didn't even know how!
The second twenty years of my life were spent in a Bible-based cult, where anyone confessing more than an acceptable share of emotional struggles was considered weak, self-centered, lacking discipline or just plain backslidden. Not a safe place for transparency.
Just what I needed, right??
Tears that came too easily meant instability unless they were tears of sorrow for 'lost souls'.
Fear, anxiety, confusion and doubt were attributed to a lack of faith.
Depression was nothing more than the unconfessed sin of self absorption.
Anger, ironically, seemed to be one acceptable emotion, particularly if it was directed towards delinquent children, judging by how often it was employed. It was also legitimate to express anger towards all that was considered 'sin'.
Too much joy and happiness aroused suspicions of secret naughtiness, glibness or excessive levity.
Must be careful of those merry emotions for they were likely springing from some "superfluity of naughtiness" conjured up from desperately wicked hearts!
Not that anyone actually said, "It's sin to be emotional," but the notion was made obvious in a thousand different ways and continually reinforced from the pulpit.
I've heard fundamentalist preachers spew disgust, sarcasm and ridicule towards anyone, especially men, who too readily expressed feelings.
Emotionally transparent men were considered 'effeminate'.
One such preacher I know mocked another preacher friend calling him "a woman" for passionately objecting to his improper treatment of another person.
Nothing so emasculates a fundamentalist Baptist preacher than being called a woman.
They didn't speak for years…
So, where transparency and vulnerability—the most essential elements to connection, healing and self awareness—is dangerous, hypocrisy reigns supreme.
People like me would find it necessary for fear of condescension and humiliation, to go on pretending they had it all together.
Whatever emotional scars were buried, could be buried deeper, hoping and believing that by diligent prayer and Bible reading, illegitimate feelings would all simply, miraculously… disappear.
Then there were always the accusatory explanations for one too freely expressing those pesky emotions: not managing life efficiently enough, not serving enough, not denying the flesh enough, not praying enough, not reading the Bible enough, watching television, listening to worldly music and on and on, always having to do with the DOING or NOT DOING!
If there was a physical illness, well, you'd better beware the danger of wallowing in self-pity.
After all, Job, Jesus and the Apostle Paul suffered yet still rejoiced in their sufferings.
Follow the formula and you too can live above your pain. Then there would be nothing for which to bother the preacher or church.
What?
Too much transparency could get a person into a lot of trouble, so, safer to continue in the delusion that there was no real emotional baggage.
No problems.
Marriages were perfect; kids were perfect; relationship to God and others was perfect; life was perfect. Well….as near as could be anyway.
My life was good, for the most part, but there were secret fears that lurked beneath the surface. I could not-would not trust anyone with my fears.
So, in an effort to keep my fears from turning into reality, I resorted to controlling the main subjects of my fears,
my children.
What were my greatest fears concerning my children?
That if I was not successful in bringing up 'Godly' children, I would be judged a parenting failure. I feared failing at anything but terrified at being a Godly-parenting failure.
I also feared that my children would resent me for the choices I made on their behalf. I feared their questioning. I feared they would leave the church. I feared they would leave their faith.
I feared I would lose them.
But I couldn't tell anyone those things for fear the preacher would determine we were ineffective in our parenting therefore unfit to lead in the church and remove us.
Turns out, much of those fears were legitimate.
If I had someone in whom it was safe to trust, someone with whom I could exchange vulnerabilities…fears, I would have suffered much less.
I believed I could "Cast all my cares on God," but there is a reason scripture exhorts us to "bear.. one another's burdens."
God knew we would need tangible flesh and bones with skin, heart and brain– people to respond in an audible voice employed as ministers in times of need.
It's a lofty, noble ideal—to believe God is all we need, but He never intended to be the only one with whom we could be transparent.
I'm not there yet. I still stuff emotion.
But I am getting better and have learned so much from the experience…. painful as it was.
I would not have learned as effectively any easier way.
I've also learned how very satisfying it is to share those parts of myself that I would rather not, so others can experience the relief, comfort and clarity vulnerability brings. And then, in effect, we can all
pass it on.
~~~~~~~~~~
---
Stay in touch! Like No Longer Quivering on Facebook:
If this is your first time visiting NLQ please read our Welcome page and our Comment Policy!
Copyright notice: If you use any content from NLQ, including any of our research or Quoting Quiverfull quotes, please give us credit and a link back to this site. All original content is owned by No Longer Quivering and Patheos.com
Read our hate mail at Jerks 4 Jesus
Comments open below
NLQ Recommended Reading …