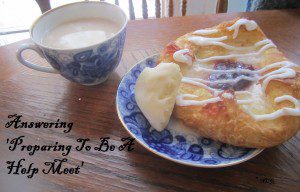 Another installment of giving better answers to the questions asked at Debi Pearl's site message board for the book 'Preparing To Be A Help Meet'. Many young ladies ask questions on all sorts of different subjects brought up by the book. There was just one big problem, many of the answers stray into either the outright bad and emotionally unhealthy to dangerous. Yes, typical Debi Pearl borderline abusive. Here's what we're going to be doing here at NLQ. Every week, once or twice a week, I'll be posting up one of the questions from the message board and ask you, our readers, to answer that poor soul's question in a way that is logical,  rational and the best possible solution, in other words 180 degree turn from Debi and friends answers. As always all spelling and grammar in the posting is unchanged from the original author.

Worried about getting a good husband?

I know I am a little bit too young to be worried about this (I'm 16) but my problem is that I am always moving around (my dad has a job where he is moved a lot) so I never really get to know a lot of people. How will I ever find a husband if I don't get to know any Christian boys? My mom told me to just pray and I guess she is right but do you have any advice on how I could meet people when I am out of school?
Most of the commenters told her to worry about serving God or look in the church. But one person had this to say:
You're single now, and singleness is not simply waiting to be married or a 'searching out possibilities' time, but a season in your life God intended for you to use in a meaningful way. There are things you can't do when you're married that you CAN do right now, in your singleness. You may marry in a few years *assuming you do, hypothetically speaking here*, that means you only have those couple years to be single left in likely the rest of your life. You don't have to schedule your life around trying to find fine young Christian men, in hopes that you'll marry one of them someday– I've struggled with that same question myself, of weather to 'be findable' or wait around for a husband. The answer *for me anyway* is 'neither'. To be findable is limiting, being that I might not be considered very 'findable' in a missions trip in some other country where there's hardly anyone who speaks my language, let alone young men around to ask for my hand in marriage– so being 'findable' isn't always an option. I don't want to plan my life around being findable, but around God's desire for me– which very well may NOT be marriage, since not every women is meant for marriage [or at least, may not marry at a young age– let's remember there's many women in their 30s, 40s and 50s who are still waiting to meet Mr. Right and of course, it's totally possible for them no matter their age, but God does not guarantee, that all women will marry. And I don't want to waist my life trying to be ready to open a gift that God may not intend for me– marriage.].

Then there is the choice to not worry about marriage at all– this can be good in a sense, but it has its downsides, such as dismissing marriage as unimportant, or being proud of your singleness as if it was a higher calling than marriage [marriage and singleness are BOTH callings, neither of which is 'higher' than the other. Both are important, and BOTH were meant to be used TO THE FULL.]

I would say not to worry about putting yourself around where guys are at– if you want to join some activity for the sake of loving the activity, and there happens to be nice Christian guys around, that's great! But if God desires for you to marry, He will bring your future husband to you, no matter where you are. Some may disagree, but I've seen this proven true– it's also usually when we least expect it that God gives it to us [nothing like the element of surprise to shake things up!]. So there's a good chance God could be waiting on you to calm down and stop trying to search out a love story and just let Him write it and cause all the pieces to fall into place Himself.

Of course, my advice/opinions are personal preferences, and you should always check out the B-I-B-L-E for yourself and take it to the Lord in prayer before making any big decisions.

Remember this: it is not YOU who has to or is even supposed to find your future husband, but God! In fact, if you are intended by God to be married, He already KNOWS who that person is and is preparing him for a life with you now. Pray for your future husband, that if the Lord wills it, he will find you. Be glad this job isn't on your shoulders! God will bear it for you– if you ask Him to and TRUST Him to. "Oh what peace we often forfeit, oh what needless pain we bear, all because we do not carry everything to God in prayer". That's one of my favorite parts of a hymn I have the privilege to sing often, and really, it's important to remember that everything in our lives isn't all in our hands– if it was, things would be chaos! But thank GOODNESS God is the one working things out for those who love Him, for those called according to His purpose. I know– it is REALLY hard to not try and 'help things along', especially when it comes to our future husbands! But really, the best love stories are the ones GOD brings into being, and causes to flow in the way that is most beautiful. Read Eric and Leslie Ludy's book "When God Writes Your Love Story":

http://www.amazon.com/When-Writes-Story-Expanded-Edition/dp/1601421656/ref=sr_1_1?ie=UTF8&qid=1342501421&sr=8-1&keywords=when+god+writes+your+love+story+by+eric+and+leslie+ludy

Eric and Leslie Ludy have other books about relationships and SINGLNESS [which I highly recommend! In fact, read that one FIRST!] Here's the link to that one:

http://www.amazon.com/Sacred-Singleness-Set-Apart-Purpose-Fulfillment/dp/0736922881/ref=sr_1_1?s=books&ie=UTF8&qid=1342501503&sr=1-1&keywords=sacred+singleness

I hope God opens your eyes to see the way He wants you to go [A mans heart plans his way, but the LORD DIRECTS his steps]! At the end of the day, it's all about Him, and thank God, we have the best part of the deal, that we get to RELY on Him and TRUST in Him and put our HOPE in Him, in all situations, even our love lives. It's hard, but OH SO WORTH IT.

Maybe try taking a guy-fast? Let me explain– like you go a year without worrying about what guys think of you as a possible wife, if you should marry so-and-so or if such-and-such is a good candidate for you. You just focus SOULY on GOD and His kingdom, and the job He has for you– to serve Him and serve others! This might not sound as fun as daydreaming [or seriously considering!] about future husbands– and don't get me wrong, when I say guy-fast, I don't mean never look at, talk to, think about, associate yourself with, or pray for any guys! Quite the opposite! This exercise is meant to help you learn to look at them through different eyes. To look at them and see brothers, not potential possibilities.

And there is nothing wrong with meeting people. But don't let your motive be to catch a guy– really, being a help meet is awesome, but there is more to life than just that. Singleness is a special, BLESSED time in your life, that you will *likely* never have again after marriage– which could be sooner than you think! No matter HOW LONG God intended for you to be single, you must live each day out for Him, as if there WAS NO TOMORROW. When you have no tomorrow, do you spend today, looking for the future husband of tomorrow? Of course not! If there's no tomorrow, that means you can't have a husband tomorrow! Not to say that you'll never marry, but if you live life like it's 'just what I can do for the Lord RIGHT NOW', then you'll be very productive and likely much more at peace with the subject of marriage and finding a husband– because you won't be in the mindset of finding, but being found. If you have a future husband out there, he'll find you, and you don't need to go out and find Him on your own. God will take care of you.

Marriage is a wonderful and God-given desire! But don't let that 'desire' become an idol in your heart. Listen to this song, and I'll be praying for you, that the Lord will help you focus on Him, and not be distracted too much, [even by good things] so that you can serve Him fervently and whole-heartedly!
God bless!
What do you think?
---
Stay in touch! Like No Longer Quivering on Facebook:
If this is your first time visiting NLQ please read our Welcome page and our Comment Policy!
Copyright notice: If you use any content from NLQ, including any of our research or Quoting Quiverfull quotes, please give us credit and a link back to this site. All original content is owned by No Longer Quivering and Patheos.com
Read our hate mail at Jerks 4 Jesus
Comments open below
NLQ Recommended Reading …