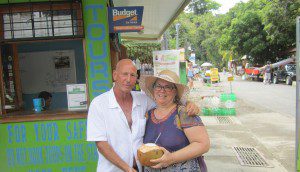 by Suzanne Titkemeyer cross posted from her blog Every Breaking Wave
During my last trip to Costa Rica we stopped for lunch that first day at a Frutas by the side of the road. These little open air fruit stands are everywhere in Central America when you venture beyond the larger cities.
Neither Jim nor I knew what to expect. We were lured into stopping by the gorgeous display of tropical fruits. We hadn't eaten a thing since the airport in Fort Lauderdale, Florida very early that morning and were pretty hungry. Tropical fruits suddenly sounded like a splendid idea in that moment.
Turns out that the Frutas had more than just fruit. They had all sorts of foods and snacks including a small grill. I tried to use my bastard pigeon Spanish to ask the man behind the grill what type of meat was in the hamburgers, but he failed to understand my question, answering back in English that yes, yes, this was a hamburger sandwich.
I decided ultimately to take a chance on the unknown. Sitting at a table outside in the bright sunshine with a gentle breeze ruffling the napkins and oilcloth tablecloth I had one of the best meals I'd have in ages. A mystery burger, fruit and a coconut tart. I was happy with my decision to try this, a burger that was beef after all, dressed with local cheese, lettuce, tomato and a slice or two of cucumbers dressed in a yogurt like sauce.
It could have ended badly. But I knew I had backup. I had in my possession medicines from my doctor to treat travelers stomach problems.
I cannot help but think of that story, of trying new things and foods on my trips when I'm thinking about all those one hour courtships ending in quick marriage in the Reformed version of extreme Christianity that people like those trying to attend Vaughn Ohlman's Get Them Married retreat practice.
It worries me. It's not deciding something so simple as if you should eat some burger possibly made of mystery meat, it's determinate for the rest of these poor kids lives.
And make no mistake, even the ones that are of legal age are still kids. Most are completely sheltered by their parents and have no life experiences beyond mom and dad's mini-cult existence. Those same mothers and fathers love to claim that their children are ready for marriage, but if you question those choices at all they cry out to stop picking on their children – calling them 'children'
This is what happened when I published the photos of Joshua Ohlman and his new bride Laura Camp. I got a number of nasty threatening messages from her father Andrew Camp claiming she was a child and I'd violated a child's right to privacy. He seemed not to understand that Laura herself is the one that plastered those images across the internet, making his claims of violating her privacy seem moot.
This is someone that was supposed to be of legal age, yet her father claimed she was a child. There's something very hinky going on with that. I doubt now that she was 18 or older at the time of the marriage.
Back to my point and away from the Andrew Camp rabbit hole. Let's use Laura Camp as an example. She claims she was given a choice on accepting Joshua as a husband or not in the few hours they were allowed to spend together before signing the betrothal documents to commit to their civil union unofficial version of marriage.
Laura Camp's betrothal and subsequent common law marriage is the perfect example of what bounded choice looks like in the Christian Patriarch Movement. When your only option is to face the profound disappointment and disapproval of your parents and likely constant reminders that you failed to do that one thing they think is your destiny or to marry a stranger there's not much of a choice. You do what you've been brainwashed to do since infancy, what your parents have continually said is your sole purpose on earth. You do it because there are no other options, particularly if you want to keep enjoying the approbation of those you love. You marry the stranger. You pretend to like it.
Now take that particular one bounded choice, Laura's choice, and multiply it by the hundreds, or perhaps the thousands of possible quicky common law marriages this retreat had the potential to produce. See where the problem comes in beyond the fact that the children involved have no actual choice in any of this? Even the odds are that many of these bounded choices are going to happen with people not ready for serious relationships, much less marital ones and you're looking at a sea of misery, of people that will piously blog about how 'WON-DER-FULLLL' their marriages are with a desperation that many readers will see right through.
Sheer misery combined with feelings of guilt for not being insanely happy and satisfied, like they were promised they would be by obeying their parents. I pity anyone that feels they must put on a facade to convince others how great their broken toxic theology is. It's no way to live.
When you don't know what, or who, you're getting all sorts of disastrous things can happen. Most lasting marriages are built on more than satisfied sexual desires. You better be married to your best friend to at least have something to talk about when you're not in the bed or it's going to be uncomfortable at best.
If that burger I ate had turned out to be no good I would have had the option of spitting it out and eating something else. At worse I would have had to take the antibiotic for travelers tummy.
Marrying a stranger your family picked out for you? You could lose your life at their hands, both literally and figuratively. Women in that world have no options, only bounded choice. That's no choice.
~~~~~~~~~~
Suzanne Titkemeyer is the admin at No Longer Quivering. She's been out of the Quiverfull Evangelical world for nine years now and lives in the beautiful Piedmont section of Virginia with her retired husband and assorted creatures. She blogs at Every Breaking Wave and True Love Doesn't Rape
---
Stay in touch! Like No Longer Quivering on Facebook:
If this is your first time visiting NLQ please read our Welcome page and our Comment Policy!
Copyright notice: If you use any content from NLQ, including any of our research or Quoting Quiverfull quotes, please give us credit and a link back to this site. All original content is owned by No Longer Quivering and Patheos.com
Read our hate mail at Jerks 4 Jesus
Comments open below
NLQ Recommended Reading …