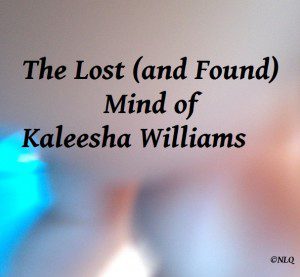 by Kaleesha Williams cross posted from her blog The Lost (and Found) Mind of Kaleesha Williams
I just told off a car full of elderly Jehovah's Witness women. Wow. I have never had the guts to do that before. I usually politely listen to their thing and just wait for them to go away. They are human beings, after all.
Okay, maybe a bit of a stretch to say I told them off. I was only slightly rude. I was brief. I firmly told them I was uninterested, that I am an atheist, that I'd believed that stuff for a decade and a half and was done. Then, without waiting for a rebuttal, I turned on my heel and walked back the garden where I'd been mowing.
The thing is, diplomacy is my default state. I am a peace lover and peace maker by nature. And I will continue to be so. I abhor rudeness. But I am learning to protect my space. My home is my space. My children are my space. My heart is my space. I will protect these things.
A few days after Seth was attacked by dogs earlier this month, a kindly christian and formerly-close friend showed up with a meal. I appreciated that immensely. I have loved this woman. But it was like she'd been waiting for this opportunity to preach to us. She told me and the kids, who were all right there, that God uses things like this dog attack to get our attention. She pushed and pushed, out of the deepest, sincerest concern for our souls. Calmly, lovingly, firmly, I defended my space. I don't need her to not believe in God, I need her to not need me to believe in God. I need her to not push her beliefs and condemnation on me and my children in my home. That is not okay.
Another friend came over a couple days ago. She is a fundamental christian. She is a friend. She was invited. She respects my space. I respect hers. We had a decent conversation, even about God. That is okay.
A local cashier tells me that God was watching out for Seth, because the injuries could have been so much worse. This is faulty reasoning; why didn't God keep it from happening to begin with? Who can judge that situation? Even as a believer I found this an arrogant and silly approach, for who can know the mind of God? It pleases every believer I have ever known to say that God orchestrates some things and Satan others, and it always seems to suit them fine. Anyway, I said nothing to this woman. I was in public, it was a casual discourse. I live in the Bible belt; this is my culture. I expect it and, to a large degree, accept it. I let it go. That was okay.
A while back I was rudely propositioned by a drunken acquaintance. I was caught off guard, but the situation calmed quickly so I let it go. I found I wasn't comfortable with that, so later confronted this person when they were sober and said, "What you did wasn't okay. Don't do it again." I will hold that line and promptly put the person out of my life if it happens again. That's okay.
I have recently had a friend who had be come a huge drain on me emotionally. I tried to create boundaries, but this person pushed them and I could not hold them. That is not okay. Sadly, I have had to scale back from friendship to acquaintance, but that is also okay.
Life is too short to be backed into corners, pushed around, hurt and drained, even by the most well-intentioned people. Even kind, loving people can be wrong for your life and well-being. It's taken me no small amount of time to realize this. I have the right, and you have the right, to say NO, to create boundaries and to protect them. What's more, I say we have the responsibility. Especially if we are parents.
This is not easy, but I am learning.
~~~~~~~~
Did you know that Kaleesha has written a book? – Free To Be by Kaleesha Williams is available at Amazon in Kindle or paperback versions and can also be ordered through her website!
Read everything by Kaleesha Williams
Kaleesha Williams accomplishes her musing, writing, and goat-wrangling
in rural southeastern Missouri–that is, when she has time between
homeschooling and adoring her seven children, gardening, making goat
milk soap, planning projects with Denny, and trying to get her
sourdough English muffins to cook up properly.
Kaleesha has been blogging for over ten years and has written for
various farming and astronomy magazines.  You can check out her newest
book, "Free to Be:  How I Went From Unhappily Married Conservative
Bible Believer to Happily Divorced Atheistic Humanist In One Year and
Several Complicated Steps" at her website, www.kaleeshawilliams.com.
You can also keep up with her on Facebook.
---
Stay in touch! Like No Longer Quivering on Facebook:
If this is your first time visiting NLQ please read our Welcome page and our Comment Policy!
Copyright notice: If you use any content from NLQ, including any of our research or Quoting Quiverfull quotes, please give us credit and a link back to this site. All original content is owned by No Longer Quivering and Patheos.com
Read our hate mail at Jerks 4 Jesus
Comments open below
NLQ Recommended Reading …