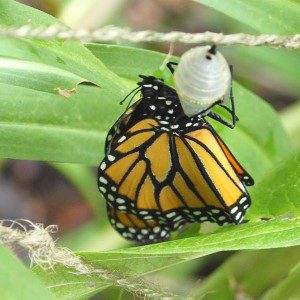 by Propinqua
Editor's note: Another story of shocking abuse by a Christian home-schooling family has come to light. The details are horrifying, and the pattern tragically familiar.
It's just another day in America, where the noble choice of home schooling also serves as a powerful attractant for religious fanatics, and sometimes helps to conceal the torture of children.
In Toledo, on the evening of May 18, as a Port Authority worker named Karen Loudermill was taking out some trash, she noticed a 13-year-old girl wandering by, gnawing at a pastry. Loudermill sensed trouble and decided to approach the child. The girl was terrified and initially fled, but Loudermill caught up with her and persuaded her to come inside and tell her story.
Loudermill called 911 about the girl. "She had been peeing in the bed, and her dad had chained her down in the basement with cuffs on her ankles," Loudermill told the dispatcher.
The girl had allegedly been imprisoned at home for a year or more, fed on table scraps and rancid food, and "disciplined" under a points system enforced by her stepfather, Timothy Ciboro. When she accumulated fifty points, she was denied food and shackled to a post in the basement, with a bucket of ammonia for defecation. Timothy Ciboro, 53, and his son Esten Ciboro, 27, have now been jailed and charged with child endangerment, torture, cruelty, abuse, and kidnapping to terrorize or inflict serious bodily harm.
On May 18, the two Ciboro men went out for a jog, and the girl seized the chance to slip out of her shackles and flee the house, grabbing a handful of garments, snacks, and loose change as she escaped. She had secured a key to the shackles and hidden it at some earlier time.
Despite the girl's matted hair and ripped skirt, despite her poor hygiene, her wounded heel, and the flip-flops she wore on a chilly night, the rescuer at the Port Authority apparently did not grasp the extent of the abuse right away. Loudermill first tried to call Timothy Ciboro. He hung up on her, but probably the call and the girl's disappearance led the stepfather to expect the attention of officials. When police arrived at the girl's address, according to the Toledo Blade, they "found the suspects, two children, and their two pets in a van. The vehicle also had a map with directions to Oakwood, Ohio, from the residence, a lockbox with a firearm, and additional packed items. Police said it appeared they were about to flee the area." The two other children appear to be a ten-year-old son and nine-year-old daughter of Timothy Ciboro.
In the basement of the home, police found evidence to support the girl's story: shackles attached to a support post, and a bucket of ammonia.
Readers familiar with similar cases will not be surprised that the stepfather expressed a weird combination of religious views, patriarchal hubris, and paranoia. "Mr. Ciboro said he is afraid of the Lucas County jail inmates and guards. He said he has faith in Yeshua as lord and savior, and said he is confident in his life after death.
"'My fear comes from my children being without a dad,'" Ciboro told the Blade.
Readers familiar with similar cases also know to expect greed and demands from alleged abusers: "He [Timothy Ciboro] would comment further only if The Blade paid him for expenses related to his legal defense."
Later, however, he gave a TV station a jailhouse interview, in which he worries about risks that outsiders pose to the two youngest children: "Right now they're scared to death, and they need to remember who a stranger is," he says, turning to face the camera. In raw video he repeatedly advises the children to "focus on Yeshua, and […] they can never go wrong."
A reporter asks about the 13-year-old: "Did you shackle her to the pole downstairs?"
"I love [name muted]. She knows I love her […] and I just pray that she does right […] just follow Jesus the whole time," Ciboro responds.
Ciboro addresses the girl through the camera. "I want you to have the best home ever. I would never allow you to go with some of the people because they were… so… bad," he says, his intense voice dropping to a whisper. He repeatedly indicates that the 13-year-old was unwilling to participate in family life.
"I'm high profile. I'm bringing ratings up all the time," Ciboro asserts, before mentioning that some people get paid for interviews.
The girl is now recovering in foster care, as are the other two children who lived in the home. "Robin Reese, the executive director of Lucas County Children Services, said that the agency has been aware of the Ciboro family since at least 2014 […] Service employees […] stopped by the house but saw no signs of child abuse and left the girl there." At the time, someone had called authorities after seeing a girl eating French fries out of public trash. Possibly Children Services was thrown off the scent when investigators were told of a family rule against fast food.
Things turned out differently on May 18: "This time, Children Services removed all three children from the house and placed them in foster care, Ms. Reese said. […] It appears that the girl was the only child targeted for abuse by the suspects."
The newspaper adds, "Ms. Reese said all three children were home-schooled, which may be why the suspects escaped detection for a while, because 'the education process is helpful to us to keep an eye on families.'"
An article states that "Reese said during a news conference last week the family is apparently very religious. Mr. Ciboro said he has attended the church on Noble Street, which is the name of his street and which a reporter was unable to locate."
The girl has received no formal education since first grade. Toledo Public Schools (TPS) "records indicated the victim was home-schooled, but had no records of the other two minors being home-schooled, according to TPS spokesman Patty Mazur."
Timothy Ciboro worked as a firefighter in Toledo between 1996 and 2004, amid disciplinary problems that led to his firing. He was estranged from family: "The brother and sister-in-law of Timothy Ciboro said in a statement they dissociated from him and his family at least 15 years ago." The girl's mother, identified as Stafonda L. Hawkins, left home around 2012 and ended up in Las Vegas. Whether Hawkins is victim, villain, or some of both, she has had trouble with the law. Neighbors in Toledo did not know the standoffish Ciboro household, or sense trouble. When the girl disappeared last year, people just assumed that she was with her mother.
So how did Karen Loudermill notice something amiss with the child? "It was God. He made me help her. God made my feet start running," she said.
It's just another day in America, where a monster claims that Yeshua will grant him eternal life, and where God leads a worker to help the child whom the monster tortured.
Where is God in this? A case can be made that God is nowhere, and that credit for the escape belongs to the girl alone—to a girl abandoned by her mother, ignored by neighbors, forsaken by investigators, and hidden by laws that let adults raise children with no accountability to other human beings. It's easy to condemn the social workers, or to protest that this case has nothing to do with home schooling or even Christianity, but one fact remains: a girl shackled to a post was left to work out her own salvation.
As a Christian, I reject the temptation to dwell on the happy ending at the Port Authority, and to ignore this child's past and future. I reject the sick fringe theology of the "perfect plan," in which God permits abuse in order to rescue a child and thereby reveal His glory (this theology always capitalizes "His"). I reject the strangely compatible view that Satan is using the stepfather's twisted beliefs to make Christians look bad. I would hope that God offers to embrace this child, even if she gave up on God a long time ago. I would hope that God denies the abuser's claim of blanket immunity. I would hope that Christians see through the abuser and behold his victim, even though saved men are always intriguing.
The story forces me to examine my beliefs, but my beliefs are not a part of the story. The only beliefs that matter here are those of the girl herself, and so I defer to her. I hope she believes whatever helps her.
My responsibility is not to say a quick prayer for the girl and find in the story a moral that comforts me and strengthens my faith. My responsibility is to find out what would safeguard this child if she lived in my school district, in my county, in my state. My responsibility is to take attendance of the children in my own neighborhood, and find out exactly what happened if one of them seems to have vanished. This afternoon I started counting children.

~~~~~~~~~
Propinqua is the Latin word for neighboring or nearby (singular feminine adjective). It is used in law and philosophy, and in the scientific names of plants and animals, such as the native bee Osmia lignaria propinqua.
---
Stay in touch! Like No Longer Quivering on Facebook:
If this is your first time visiting NLQ please read our Welcome page and our Comment Policy!
Copyright notice: If you use any content from NLQ, including any of our research or Quoting Quiverfull quotes, please give us credit and a link back to this site. All original content is owned by No Longer Quivering and Patheos.com
Read our hate mail at Jerks 4 Jesus
Comments open below
NLQ Recommended Reading …