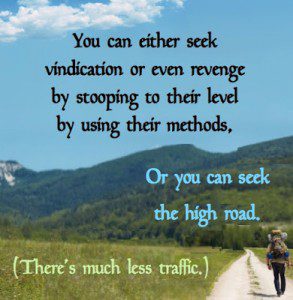 by Cindy Kunsman cross posted from her blog Under Much Grace
All images by Cindy Kunsman and Under Much Grace used with permission
Through daffodils forgotten and found and reclaimed in my recent meltdown, perhaps those reading here can catch a glimpse of how healing from trauma can unfold. In the writing of this, I am almost amused by how spontaneously the whole concept bubbles up in me. I spent many years wondering whether I ever even know joy because it seemed that I'd forgotten because trauma alienated me from the memories of it. I couldn't find it no matter how hard I tried.
Having already defined my dilemma of moving through the Third Stage of healing in the last post, I feel as though I tackled the integration element well. Moving forward and reconnecting, the other tasks involved in Stage Three, blend for me in what I have yet to work through. I noted an example of a meme that objected liars and gossips as "lowlifes," yet I wanted to aspire to something better. But I hadn't figured out how to get to "the high road," having made the choice to seek resolution of conflict as opposed to perpetuating it. For my own benefit, I wanted and needed to aspire to something better.
Disclaimer: Everyone has to find their own way through their conflict in ways that work well for them, and It's important to note that not everything works for everybody. I draw on my own supportive beliefs to transcend pain and loss and trauma, though I understand and expect that many people will find their way through such conflicts differently. I also find myself at a point in my own exemplar conflict where I've come to terms with my anger and the injustice. I also don't want anyone to misunderstand this approach as offering forgiveness to people who aren't sorry for what they've done. I do hope to see justice for everyone involved. Taking an approach that avoids marking people as adversaries or that comes from the secure perspective that love can offer shouldn't be mistaken for cheap forgiveness that ignores justice. (Here's an index of over seventy blog posts that basically argue that without justice, forgiveness and mercy are meaningless.)
A Christian Approach to Transcending Tension
For me, Christianity offers some key perspectives about getting up to "the high road." While I'm not willing to excuse the behavior, I don't have to be adversarial about any of it. I thought of several virtues, the first was the call to love others, to bless those who curse me, and to pray for those who treat me with spite. Those principles sound counter-intuitive, but considering that my anger at this point has tapered, I feel safe enough to consider this as an alternative. But how do I do that? Exactly how do I make it work? I can think about how I might wish to be treated if the situation were reversed, but that didn't translate well for me, either.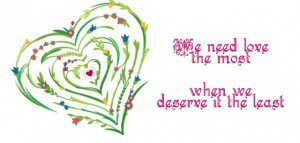 I also stumbled on to an interview with singer Michael Card who recalled an old saying: "You need love the most when you deserve it the least." I heard that about a week before I read the meme about "lowlifes." I found myself repeating this phrase that I've apparently never heard stated in that way before. And it was working in me.
My mind turned to Corrie ten Boom who I see as probably the foremost expert in making this love thing work. At about this time a year ago, I revisited her writing while pondering hard cases of forgiveness of family members who were difficult to forgive. In chewing on my new dilemma, I recalled another quote of hers that I thought sounded lovely. I felt a bit more inspired by it than I did the last time that I thought about it. I created my own meme, playing on the imagery of both her words, but also using the maze concept that I'd also used to describe how convoluted the process of healing from trauma can be.
Corrie notes that love is painful and difficult when something blocks it. We can hide from that which blocks love, but we deaden ourselves along with the pain of love rejected. But she offers another solution which echoes other well known statements she has made about asking God to take over when our own human love fails. She offers the option of praying for God to open another way for love to get from one party to the other. And that seemed to draw a picture of exactly what I hope for in this conflict.
A Workable Plan
I also found myself humming an old song that I used to sing more than thirty years ago with Freedom, a small Chrsitian band of which I was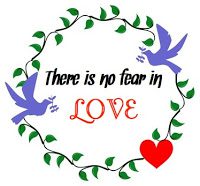 a part for a few years. (See below.)  I love that it just happened spontaneously and that I had that song and it's words at work in me somewhere. I'm glad that it came back to me like the words of Corrie ten Boom did to point the way.
I don't know quite how I'm going to get there and whether I will successfully stay on the path. But I've set my sites on it as my desired destination specifically in this trying and painful circumstance.
In terms of my own growth, though I would have liked for all of this process to have happened spontaneously and instantaneously. That's my FANTASY! In reality, it took seven or eight weeks for me to get a viable game plan together, but the fact that I navigated through it speaks to how much healing I've had in the past. I know that I can trust the process, and I just needed to remind myself of things that a bump in the road made me forget for awhile. I can celebrate the bedrock of the healing that I've worked at before. It also means that my self-talk or internal dialogue has changed to become much healthier. It just hasn't quite become my "path of least resistance" yet. That will come with more practice.
I can work with this picture, plan, and roadmap. I don't expect it to be stress-free or fun or even easy. I have, however, harnessed my strengths and figured out what tools I have to help me make the journey.
And again, as I've done many times in the past, I'm drawing on the imagery that Corrie so often used when she showed a piece of fabric adorned with a knotted mass of threads. We can choose to look at the the knots, wondering how that mess will amount to anything of value. Or we can figure out how to flip that fabric – a tapestry – around to the front side of it – the one that she says that the Master Weaver has created with love and purpose. I know that I can trust in the outcome of the that which I cannot yet see, because in my experience, that Weaver has never left me down. I can focus on the knots and the chaos, or I can trust the high road.
I imagine that I'll find myself singing this song a bit more often until I make it all the on the hike up to and along the high road.
~~~~~~~~~
Cindy is a member of the Spiritual Abuse Survivor Blogs Network.
Cynthia Mullen Kunsman is a nurse (BSN), naturopath (ND) and seminary graduate (MMin) with a wide variety of training and over 20 years of clinical experience. She has used her training in Complementary and Alternative Medicine as a lecturer and liaison to professional scientific and medical groups, in both academic and traditional clinical healthcare settings. She also completed additional studies in the field of thought reform, hypnotherapy for pain management, and Post Traumatic Stress Disorder (PTSD) that is often associated with cultic group involvement. Her nursing experience ranges from intensive care, the training of critical care nurses, hospice care, case management and quality management, though she currently limits her practice to forensic medical record review and evaluation. Most of her current professional efforts concern the study of manipulative and coercive evangelical Christian groups and the recovery process from both thought reform and PTSD.
She blogs at Under Much Grace and Redeeming Dinah.
---
Stay in touch! Like No Longer Quivering on Facebook:
If this is your first time visiting NLQ please read our Welcome page and our Comment Policy!
Copyright notice: If you use any content from NLQ, including any of our research or Quoting Quiverfull quotes, please give us credit and a link back to this site. All original content is owned by No Longer Quivering and Patheos.com
Read our hate mail at Jerks 4 Jesus
Comments open below
NLQ Recommended Reading …