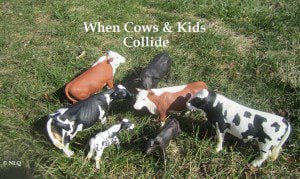 by Mel cross posted from her blog When Cows and Kids Collide
This post is seven pages long and graphics heavy:
Today, we learn about the fight-or-flight response. Well, kind of.
I taught a basic (~9th grade) human anatomy course for 5 years in various formats. ATI/ATIA has taken on a huge subject in this section. To effectively describe how the adrenal glands work, the students need to have a solid understanding of the divisions of the nervous system, how different sections of the brain work, and a refresher on feedback loops. Since this is the first booklet, all of this information would need to be covered at once. That sounds like a trainwreck in the making since I spent six weeks on brain structure and function, divisions of the nervous system, and reflex arcs and other spinal cord controlled nervous system functions alone before spending an additional 6 weeks on the endocrine system.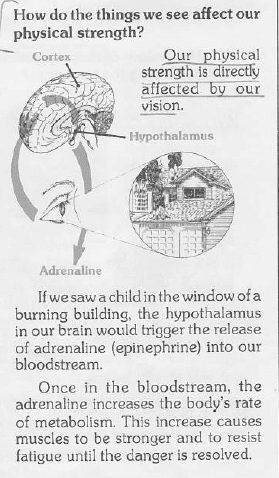 Yeah, physical strength and vision are not directly related.
The hypothalamus does trigger adrenaline release, but there is a gland that actually produces and releases the adrenaline into the bloodstream. Wonder how long it will take for the booklet to name that gland?
Fight-or-flight can increase strength and stamina, but there are still upper limits based on the physical fitness of the person. For example, my strength increases noticeably in an emergency, but I still have overly tight muscles. I might be able to jump higher to reach the roof of that building and pull up using my arms during fight-or-flight, but my legs will still have limited range of mobility to kick a leg up to the edge of the burning roof.