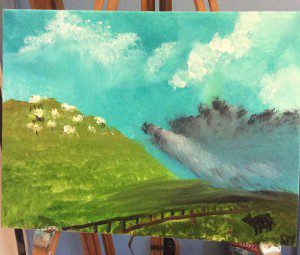 by Suzanne Titkemeyer
One of the realizations I've come to over NLQ recently is that there are a lot of women still in the Quiverfull movement that come visit and read at this site. I admit I haven't exactly been nice or welcoming to them, generally running them off the comments the minute they say something nasty. I'll continue to moderate the comments and enforce the safe space there for those in recovery, but at the same time I cannot help but feel we need to somehow be more open to those still choosing to be part of the movement. What we can do is continue to point out the poisonous nature of that theology. This is the first part of a series of posts aimed at showing the reality of life in the movement. But then again, all the posts on this site seek to do that.
~~~~~~~~~
Last night as I stood in my backyard and watched the colorful 4th of July fireworks display from our local park I could not help but muse over the costs of Quiverfull, what it costs many of us during those years and the high cost to get out. It is a terrifying high price to pay both ways. There may be no free lunch, but there's also no way to skip paying that bill either.
This post is about the costs to women in the movement to join and stay engaged.
During my years in the movement it cost me my health. Like so many coming out, like Vyckie Garrison, like many of our writers I sacrificed my own health for religion. I was convinced as a life long asthmatic to toss all my medications, my CPAP machine and my nebulizer and wait on the Lord to heal me. Deny the symptoms and soldier on cheerfully. The price I've paid for that has been extreme. I went from moderate asthma well controlled, to it shifting into some sort of insane high gear out of control and not responding to medications. I trudge back and forth to Johns Hopkins and the National Institute of Health as part of research studies now in an attempt to find something that works.We've had to spend a scary large amount of money on copays and procedures or tests with no end in sight. If I'd just continued on controlling my condition with proper medications I would likely not be in this fix now that makes my day to day life very hard.
I sacrificed my uterus because I tried to be Quiverfull, ending up with a large pile of miscarriages and a hysterectomy. Had we used birth control and made an attempt to control our family size I could have avoided the hospitalizations. My body was just not built for back to back births and when I became ill our entire family suffered. Being told I was somehow being punished for secret sins just added to the pain.
It cost me a fully funded retirement 401K and the salary I would have likely earned during those years. If I hadn't given in to peer pressure and stopped working to stay home with my children it would have helped our family pay for college for our children a bit easier instead of the insane intense scrimping we did for six years. Yes, I did some home based business things, the few that the CPM allow, but never made close to what I did make in the professional world.
It cost me peace of mind, happiness and the possibility of life without extreme stress as I tried to fulfill impossible standards in a culture that told me that nothing I did was done 'good enough'. It was a hell of constantly comparing myself to a standard that kept moving the goalposts. An exercise in sheer frustration, guilt and resentment. I felt angry and guilty so much of the time.
It nearly wrecked my marriage by encouraging me to give lip service to the idea of my husband being the leader while sneaking around doing everything possible for him. You're not doing anyone any favors by being their slave, you're just enabling their weakness. It can take years to recover from this particular idea. It still rears its ugly head ten years later and wreaks havoc.
It cost me relationships with many extended family members and close friends because suddenly they were 'heathens' or 'unbelievers' and you could not be unequally yoked with them. The way I treated those I professed to love is shameful and I regret every pious unloving word now.
One of the costs was of my own self esteem, personal agency and individuality. During those years I was miserable trying to fit in that one-size-fits-all mold of what church leadership deems 'righteous Christian womanhood'. There's not much room for your own individuality, needs and wants in Quiverfull.
I lost my ability to think rationally, creatively and not filter everything through the strict interpretation of my pastor and church during those years. Critical thinking skills are discouraged.
Boundaries and the ability to express my own needs were trampled. Quiverfull mommas are expected to put everyone else needs first and to have no boundaries. This just leads to extreme burnout.
What did you lose in those years and how did you regain them, dear readers?
The next part deals with the losses that happen when you decide you must leave.
Read more by Suzanne Titkemeyer:
~~~~~~~~~
Suzanne Titkemeyer is the admin at No Longer Quivering. She's been out of the Quiverfull Evangelical world for nine years now and lives in the beautiful Piedmont section of Virginia with her retired husband and assorted creatures. She blogs at Every Breaking Wave and True Love Doesn't Rape
---
Stay in touch! Like No Longer Quivering on Facebook:
If this is your first time visiting NLQ please read our Welcome page and our Comment Policy!
Copyright notice: If you use any content from NLQ, including any of our research or Quoting Quiverfull quotes, please give us credit and a link back to this site. All original content is owned by No Longer Quivering and Patheos.com
Read our hate mail at Jerks 4 Jesus
Comments open below
NLQ Recommended Reading …