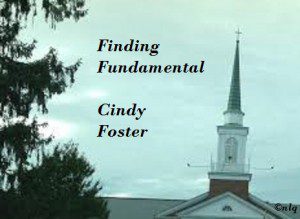 by Cindy Foster cross posted from her blog Finding Fundamental
In order to add some context to the articles I have written on this blog I want to designate a page to summarize our story from beginning to end.
It is my hope, as it has always been, to expose not only the wrongs that The Preacher was guilty of, but to own the
actual
wrongs we committed as opposed to what The Preacher has stated publicly using skilled innuendo and out-right public accusations.
Since it is obvious that sides have been chosen between our family and The Preacher's, the resulting division and excommunication of family members to this day is due to much ignorance, misinformation, rumors and even blatant lies about us.
This is a fact that I can not tolerate without at least making our story available so that if any families were divided directly or indirectly on the basis of association to members of my family, the ones who chose to believe they were acting in obedience to scripture by disassociating themselves from their own family members for continuing to associate with us, can reconsider just how 'scriptural' that decision and how true their information about us really was and is.
I also wish, however, to settle whatever assumptions may still exist….the parts of our story that was either assumed or fabricated concerning my family's experience in the church and the events that led to our leaving it.
We were so very young and idealistic, my husband Paul and I, when we accepted his sister and her husband's invitation to help start a church in Oklahoma.
Of course, he would be the pastor and my husband would be the youth director/ second man and anything else he was needed to be.
Life was good for us at the time. We were living in Houston right next door to my parents. We had two very young children, a daughter who was nearly two and an infant son who was nine months. Paul had a steady job working for the Sugar Refinery in nearby Sugar Land and working some for my dad in his pest control business. The money was adequate and we needed the consistency a steady, fixed income provided, since we always had trouble managing our finances on the fluctuating income he was getting before from roofing and sodding.
Content and happy though we were, we had no real direction or purpose beyond the repetition of a weekly paycheck, a rather limited youth ministry, and family. We knew that we would eventually want a more satisfying, engaging, ministry-type occupation in the near future when we were invited by my brother and sister-in-law to help start a church in Oklahoma.
They gave us two weeks to decide. At first, we didn't think we were interested in moving to another state just to help start a church, but when all the pieces fell into place, we took this as God's leading and accepted.
Two weeks later, we loaded up and headed sight-unseen, for the strange land that would become our new home. It is the place where we birthed and reared six more children, established a church, built a house, started a business and planted the roots of a lifetime.
At first we lived in duplexes right next door to each other. Then, both families jointly purchased five acres, divided them equally and each built a house on their two and a half acres.
As more children came, naturally there would be conflicts between theirs and ours which produced conflicts between us, their parents. This was particularly difficult for me because whenever arguments erupted between them (for instance) over toys or other belongings as to what belonged to whom, my sister-in-law would automatically assume the role as head arbitrator. She was 'The Pastor's Wife' which gave her a kind of 'authority' to be the decision-maker in the matter. This usually meant that if ownership could not be established, she would keep the item in her possession until it could be.
I hated always being expected to just 'defer' to her judgment when the issues involved both of our children. It was a constant reminder that I was in subjection to her and as it was, not only in the church but also in our private family relationship.
It might have helped if we had discussed these sensitive kinds of issues between us openly but we never did. I think it was easier for us to just 'let it go' rather than risk bringing up anything that might cause a huge argument since there had been times earlier in the relationship where issues such as these had caused some pretty ugly conflicts. Later, this neglect of establishing agreements and boundaries proved to have a snowball effect that was felt most by my children. This, I believe, awakened feelings of distrust in me towards her, for I could not believe that her judgement could ever be unbiased.
FAMILY AS MINISTRY WORKERS
As time went on we found it increasingly more difficult, being in a subordinate position under our brother-in-law, and to some extent even Paul's sister acted like our authority. Not only did Paul and The Preacher/brother-in-law minister together, but they also worked for the same roofing company and eventually worked together in the roofing business my husband established.
They would get annoyed and even downright mad at each other on the job, then since they rarely, if ever, resolved their disputes would have to stuff or dismiss any bad vibes between them to work together at church.
As much as they tried to stuff, dismiss or ignore the tension between them, it still often carried over, or at least, I could tell it did. There were at least two occasions where The Preacher was mad at my husband but my husband was not there so in his absence, he unloaded his angst on me. Those occasions, for reasons that I can not disclose here, made profound impressions on my feelings about him as a person, and so much more, as a 'pastor'.
The Preacher and his wife graduated from Baptist Bible College in Springfield, Missouri. At the time he attended there, the college was quite conservative. There were strict rules about dress, dating, curfews, entertainment, music and much more.
The Preacher actually grew up in Springfield and was a member of a church that was not nearly as rigid in its standards as the college was, so in the beginning of his ministry as pastor, he did not have the extreme beliefs that he eventually embraced later in his ministry.
It was several years after the church had started and was established with its own building that the more relaxed climate began to change to rigid. There were several contributing factors.
The Preacher had always extolled the merits of the old-fashioned preachers, past and present. The God-loving, sin-hating ones who cried for a return to the value of unquestioning obedience to all authority, days when it seemed that children respected their elders, women knew their place, homosexuality and other sexual sins were crimes, and preachers were not afraid to preach against sin, name the sins and those who committed them from the pulpit.
He was lifted up by some of these older 'men of God' as one 'wise beyond his years' and 'called by God' to lead a church as a 'remnant' back to the 'old paths'. He seemed to also believe himself to have some kind of special leadership qualities that would aid him in keeping his church pure. At least one of those factors was us.
There was also an event in The Preacher's life that became the catalyst for change in our attitude towards him and our position under him in the church.
The Preacher had a procedure done to get rid of kidney stones that had plagued him off and on for months. He had some kind of reaction to the anesthesia or something and it was feared he wouldn't survive it. It was grave enough that Paul went to see him in the hospital. There were statements made about the care of his family should he not make it, and Paul felt terribly sorry for him for the state he was in. He also felt guilty that he had not treated him with the respect that was supposed to be due a man in the position of 'pastor'.
So, he made the decision that he would from then on give him the respect he was supposed to deserve as a 'pastor'. Up until that time, Paul treated The Preacher no differently than any other person. Whenever they 'got into it', whether it was concerning work, church, or family–there was no consideration for his position. They would really, 'get into it' not unlike more normal brotherly relationships. But everything changed in that moment.
Read more by Cindy Foster:
~~~~~~~~~~
---
Stay in touch! Like No Longer Quivering on Facebook:
If this is your first time visiting NLQ please read our Welcome page and our Comment Policy!
Copyright notice: If you use any content from NLQ, including any of our research or Quoting Quiverfull quotes, please give us credit and a link back to this site. All original content is owned by No Longer Quivering and Patheos.com
Read our hate mail at Jerks 4 Jesus
Comments open below
NLQ Recommended Reading …