by Mel cross posted from her blog When Cows and Kids Collide
All images from When Cows and Kids Collide and used with permission. This post is 8 pages long.
In today's little slice of crazy from ATI's Wisdom Booklet 5, we take
John 12:24
and use it as the basis for an entire lesson on how plants grow from seeds. Teaching kids how plants grow is a great idea! Using John 12:24 as a literal explanation of how wheat grows is a terrible idea.I don't want anyone to think I'm bashing the Bible. I love the metaphor in this verse about how death or loss often brings new life. I've been humming the hymn "Unless A Grain of Wheat" all day.
Historically, the metaphor makes sense. In areas of the world with seasonal dry spells – either hot times without rain or cold times where water is frozen – it seems like seeds have to go through a "dead" spell where they are dried out before they can germinate.
The problem comes is that the seeds that germinate are not dead during the dry time. They are dormant. This would have been impossible to see during the time of the Bible, but we are well aware of it now.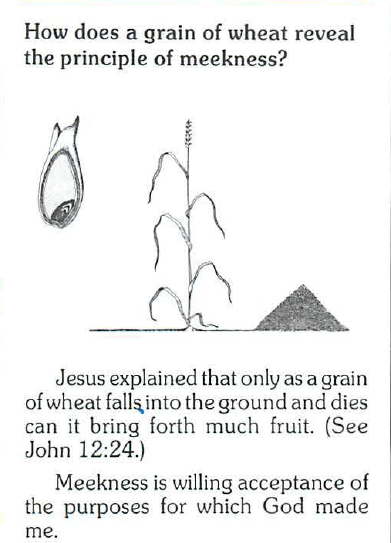 How does a grain of wheat illustrate the principle of meekness? Well, the best answer I have so far is "A grain of wheat does not illustrate meekness."
Notice that Gothard defines meekness in a way that I've never heard of before. Dictionary.com defines meekness as "humbly patient or docile as under provocation from others" or "gentle and kind" in obsolete meaning.