by Mel cross posted from her blog When Cows and Kids Collide
All images from When Cows and Kids Collide used with permission. Post is 7 pages long.
In this post, ATI gives a crash overview of anger causes people to grind their teeth and the horrific side-effects that can ensue. Of course, the anger-teeth grinding angle is overplayed while the effects are a mix of real and made-up consequences.
Let's start with the overview: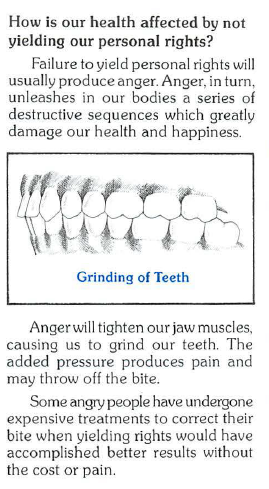 I'm already confused after less than one sentence. I don't understand why people have to yield personal rights in the first place. Rights are generally used to describe basic human needs that all people should have access to. It makes no sense that giving up basic human needs would make someone less angry instead of infuriated.
Chronic anger is bad for people and health so I agree with the author on that factoid. Reputable medical sites like Mayo Clinic do list emotional and personality causes of bruxism, so that portion is not entirely made up.
I'm curious what "expensive treatments" the booklet is referring to. Most people who have stress-related bruxism either use a mouthguard at night or seek short-term therapy for stress relief. While therapy and mouthguards can require an outlay of cash, the benefits can continue for years – and neither are painful.