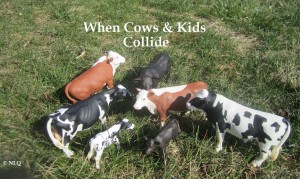 by Mel cross posted from her blog When Cows and Kids Collide
All images by Mel from When Cows and Kids Collide and used with permission. This post is 7 pages long.
In the last post, we covered the first five reasons that sheep can teach us about meditation. Although, honestly, I really learned more about common misconceptions about sheep.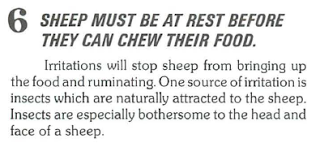 I hope that this section is meant to describe Biblical techniques for dealing with insect control because no one dumps tar and herbs on livestock anymore.  I will concede, however, that many insecticides are oily.

Insect infestation decreases animal weight gain, but not because the sheep stop ruminating.  Remember, a ruminant who stops ruminating is a dead animal.  No, the animal is so busy chewing at sore spots that it eats less food in the first place and uses some of the energy that would go towards gaining weight goes towards healing the injuries from the insects and from the chewing.
"Relaxed and peaceful" is a relative term in livestock.  Yes, if your sheep are actively running away from a predator, chewing their legs off from fly-strike, or overheating from lack of shade, they won't ruminate right then.  On the other hand, when it's time to chew cud, the sheep will chew cud.  I've watched cows chew cud between contractions during labor while a tractor is running nearby and the overhead cooling fans are running on high.  This makes me very skeptical that "peace" let alone "relaxation" is needed for cud-chewing.