When we left off last week we'd looked at the places that Carol Ann either sent mail from or that people had seen her at, ruling out a few places that she might have been for lack of any solid evidence.
Someone put together something that I did not understand the significance of in my original research, that the Brownwood Reception Center where Carol Ann wrote her Michigan family from is also called the Ron Jackson State Juvenile Correction Facility. Why is that important? Because it's named for the retired director of the Texas Youth Commission Ron Jackson.
While information on Brownwood and the Texas Youth Commission lists a number of troubled teen homes and agencies that all did contract placement of children to the TYC, nowhere in the lists is there anything involving the Rebecca Home run by pastor Lester Roloff. But there is a possible link between Lester Roloff and Ron Jackson.
Is it that much of a stretch of think that there is a possibly that not only the places listed as referring organizations or homes are the only places to contract in or out children? Several people have mentioned that there was link between the Texas Youth Commission director Ron Jackson and Lester Roloff of Roloff Homes and the People's Baptist Church. Did TYC do placements of children to the Roloff Homes? Could Carol Ann Cole have ended up placed for a short time in a Roloff Home?
So far I'm not managed to turn up any legitimate evidence of that connection. That's not to say it does not exist.
A death at one of the Roloff Homes at Artesia Hall of a teenage girl by rat poison was the incident that blew the lid off the brewing and worsening climate rife with abuse in the troubled teen industry in Texas. For many years, up until this 1973 death, many other states would ship their troubled youth to Texas, where many different churches or organizations set up teen homes with little or no ability to treat the problems of those children. Abuse and neglect was more likely than not at many of these facilities, leading the state to finally require that these homes must be licensed and under state oversight.
How bad could it have been being ensconced in a Roloff Home? Let's just look at a list of dietary and health directions Roloff himself published and think about the implications of how it might have played out in a Roloff Home.
DO NOT eat starches, sugar, or sweet fruits such as raisins, dates, and figs with meats or fruits such as grapefruit, oranges, lemons, apples, pears, peaches, etc

Make your own toothpaste out of salt and soda. The dentist will tell you this is safer and better for your teeth.

Sleep on a hard bed and learn to sleep on your back.

Fast at least three meals a week.

Do not drink liquids with your meals.
Remember that these are exactly the types of places that like to pry off braces just so they do not have the expense of regular orthopedic appointments for the kids. How likely is it that on top of the physical abuse (Roloff believed in beating children just like No Greater Joy's Michael and Debi Pearl) and sexual abuse that none of the inmates of the Roloff Homes were receiving proper hygiene help or the nutrition they needed.
But also keep in mind that none of these places were likely to be much different than the Roloff Homes. In that time even the Klu Klux Klan had teen homes that they used to indoctrinate girls that may have strayed from the rules of the Klan families. This was much more common in the days before the states started cracking down on facility standards and regulations on the care of children by others.
Roloff Homes and Roloff himself would have been well-known to the administration of the Texas Youth Commission and Ron Jackson himself due to the many battles between the state of Texas and Lester Roloff after the state decided that all youth treatment faculties must meet minimum standards determined by the state, inspected and licensed. Roloff courted some of the more religion-friendly politicos in Texas during his long battle to keep the state away from his many different group homes, but died before seeing resolution of his disagreement over licensure issues with the state of Texas.
In some ways Carol Ann Cole being sent at some point to one of the Roloff Homes for Girls is one of the few ways that makes sense when you start looking at how she might have gone from a Texas rehab facility near Austin to turning up in the vicinity of Shreveport Louisiana, just down the road from Bossier City and within a short distance from New Bethany Home for Girls.
It's alleged that Roloff and New Bethany's Mack Ford moved girls between their troubled teen homes and it's distinctly within the realm of possibility that Carol Ann went from Roloff to New Bethany.
There's not much evidence showing which rehab or home Carol Ann was surrendered to and there's a pile of facilities in the Austin Texas area we've yet to touch upon. One of them was Girlstown USA. They had a residential home for teen girls near Austin that might possibly be the place Carol Ann was living during her time in the Palmer Drug Abuse Program.
The other scenario that takes Carol Ann from Texas and lands her in Louisiana is that perhaps she did do as her mother Sue Cole says and ran away. She could have easily hitchhiked up from Texas to Northern Louisiana. No one knows. One of the Girlstown USA homes at the time was housed on the east side of Austin in an old TB hospital. It was known to have a high percentage of girls that ran away.
This curious request was posted recently on the Carol Ann Cole / Bossier Doe Facebook page:
My family and detectives are still trying to seek Justice for me. They have pretty much figured out my trail from Texas to Louisiana but they still haven't figured out how I got there or how I ended up at my final destination.
The bolded information is interesting because it says one thing and then turns around and directly contradicts the very thing it stated. The trail from Texas is likely to be either Carol Ann ran away and got a lift to Louisiana or she, like so many girls in abused teen homes in Texas, was trafficked to Louisiana and another teen home.
So which is it, has the Bossier Parish Sheriff's Dept. deduced how Carol Ann got to Louisiana or not? Seems unlikely from that posting.
From the Carol Ann Cole Facebook page: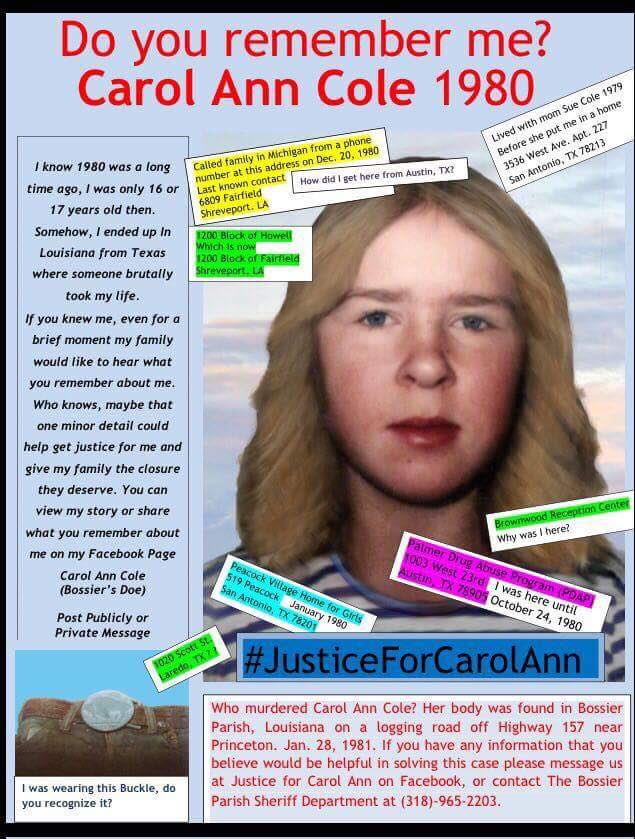 Next week we're going to take a look at why girls can end up being switched from home to home, the history of abuse at these particular facilities and the difficulties getting away from these places along with examining the time line of events after Carol Ann arrived in Louisiana. We were supposed to cover those topics today but this information on the possibility of a Roloff connection came in after I posted last week's piece. As information does come in it might skew the topic of the upcoming week.
If anyone has any information on the murder of Carol Ann Cole or knows how Carol Ann got to Louisiana from Texas please contact the Bossier Parish Sheriffs Dept at 318.965.2203 Please give Carol Ann Cole's family the peace that comes with closure. This is still an unsolved open case being investigated.
In the meantime if you wish to contact anyone at NLQ about what happened to Carol Ann Cole, or with your own story please drop me an email at SuzanneNLQ@gmail.com.
Introduction | Part 1 | Part 2 | Part 3
~~~~~~~~
Suzanne Titkemeyer is the admin at No Longer Quivering. She's been out of the Quiverfull Evangelical world for nine years now and lives in the beautiful Piedmont section of Virginia with her retired husband and assorted creatures. She blogs at Every Breaking Wave and True Love Doesn't Rape. She can be reached at SuzanneNLQ@gmail.com
---
Stay in touch! Like No Longer Quivering on Facebook:
If this is your first time visiting NLQ please read our Welcome page and our Comment Policy!
Copyright notice: If you use any content from NLQ, including any of our research or Quoting Quiverfull quotes, please give us credit and a link back to this site. All original content is owned by No Longer Quivering and Patheos.com
Read our hate mail at Jerks 4 Jesus
Contact NLQ at SuzanneNLQ@gmail.com
Comments open below
NLQ Recommended Reading …