by Suzanne Titkemeyer
This week on several of the Facebook groups dedicated to finding out who killed Bossier Doe Carol Ann Cole a photo was posted of what looks like it could possibly be Carol Ann. She was posing with three other teenagers, the rest with their faces blurred out to protect their identity. The photo is purported to have been taken at a PDAP -Palmer Drug Abuse Program in Austin, Texas while she was there. Take a look for yourself. The girl that might be Carol Ann is circled in black:
Carol Ann is thought to be the girl popping into frame on the extreme left edge of the photo. My understanding is that it is likely this photo has not been examined by a facial recognition expert to rule on the authenticity of the image. It was taken and passed on by someone connected to Austin PDAP in hopes of establishing that Carol Anne was at PDAP Austin at some point even if PDAP had an outpatient treatment center instead of a residential center.
This was posted along with the photo and looks like an explanation into some of the various different PDAP facilities and services: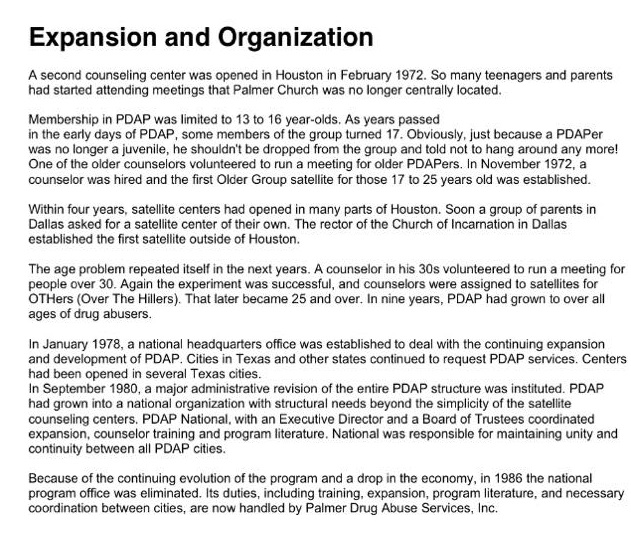 Because of the many locations of PDAP in the time frame where Carol Ann was affiliated with them it is possible that she may have been moved within the PDAP facility system before ending up in Shreveport, Louisiana.
It is not known if law enforcement has spoken to the person who gave the photo to one of the people connected to the New Bethany group. It might be a good place for them to start asking particulars and establish the time line of Carol Ann's movements up until she appeared in Shreveport. The Bossier Doe Facebook page is asking anyone that was a counselor or a patient in treatment at PDAP that remembers Carol Ann to share anything that might help law enforcement.
So what type of treatment goes on in these troubled teen homes? It genuinely depends on the type of facility it is, and who is running it. You'll see a huge variation of treatments across the spectrum. Places like PDAP follow the '12 Step' model of Alcoholics Anonymous, as you can see from their online manual.
Most residential treatment centers who are licensed and overseen by state licensure boards are going to follow similar treatment plans involving counseling with a licensed therapist, possibly art or music therapies all designed to help the child. There are onsite schools at many facilities and trained staff to guide the child during healing. Everything, every therapeutic interaction, is documented to exacting standards to pass an insurance or Medicaid audit.
It's an entirely different animal all together when the troubled teen home is run by a outlier or less mainstream religious organization, like Assemblies of God or Independent Fundamentalist Baptist churches. Many of these fundamentalist church-linked troubled teen homes follow no established mental health treatment plan, doing little more than warehousing children while charging parents a steep fee and trying to indoctrinate their inmates into their particular flavor of Jesus. They have no standards to meet and no overseeing agency so it's up to the person running the facility what types of treatment, if any, the patients receive.
Some of them seem calculated to isolate the child, groom them for abuse and then traffic those same kids for sexual purposes to strangers. The internet is filled with accounts of inmates from these hell holes recounting the lack of medical and dental care, basic nutrition and sexual and physical abuse at the hands of those that were charged with caring for them.
Both Roloff Homes and New Bethany fit the pattern of secretive, unlicensed group homes where no real education or treatment was received and the girls were traded to others for sex.
One of the glaring red flags that pops out once you start looking at the postmortem description of Carol Ann Cole, that makes me think we must consider the possibility that she was in an IFB troubled teen home at one point are what happened to her braces. When Carol Ann was put into the system she had a full set of braces. When her body was found her braces had been crudely removed, leaving dental cement on her teeth.
Only an unlicensed religious teen home would do such a thing. Most places that care for children and teens that are licensed have a dentist that sees all of the children several times a year. The last residential treatment center I personally worked at, where many of the residents were wards of the state on Medicare, brought in a dental practice they held a contract with for care provision twice a year. They came in on campus, set up in the dining room area of one of the group homes and saw each and every child over the course of three or four days, not only performing check ups and cleanings but providing braces adjustment and other needed dental procedures. This is how legitimate safe places do it, they do it with the well being of the child, not to safe money.
New Bethany Home for Girls, along with many other religious unlicensed homes, is known to have immediately pried off the braces from each child admitted. Without fully knowing their reasoning for doing so it was likely a cost-saving measure. Without braces there was no need to keep running the children to the dentist for adjustments and no further outlay of money, money that flooded into the pockets of Mack Ford and others. A cursory search of Louisiana property tax records shows that when he was alive Mr. Ford had managed to stockpile quite the portfolio of properties during his years at New Bethany. How could he have done that without trimming out anything he deemed unnecessary when running the facility, like doctors visits and orthodontia?
Someone prized off Carol Ann Coles braces and someone else knows who and why and where that leads.
Next week we'll look at Carol Ann's final whereabouts and how she was discovered dead on a logging road in Bossier Parish, Louisiana.
If anyone has any information on the murder of Carol Ann Cole or knows how Carol Ann got to Louisiana from Texas please contact the Bossier Parish Sheriffs Dept at 318.965.2203 Please give Carol Ann Cole's family the peace that comes with closure. This is still an unsolved open case being investigated.
In the meantime if you wish to contact anyone at NLQ about what happened to Carol Ann Cole, or with your own story please drop me an email at SuzanneNLQ@gmail.com.
Introduction | Part 1 | Part 2 | Part 3 | Part 4 | Part 5
~~~~~~~~
Suzanne Titkemeyer is the admin at No Longer Quivering. She's been out of the Quiverfull Evangelical world for nine years now and lives in the beautiful Piedmont section of Virginia with her retired husband and assorted creatures. She blogs at Every Breaking Wave and True Love Doesn't Rape. She can be reached at SuzanneNLQ@gmail.com
---
Stay in touch! Like No Longer Quivering on Facebook:
If this is your first time visiting NLQ please read our Welcome page and our Comment Policy!
Copyright notice: If you use any content from NLQ, including any of our research or Quoting Quiverfull quotes, please give us credit and a link back to this site. All original content is owned by No Longer Quivering and Patheos.com
Read our hate mail at Jerks 4 Jesus
Contact NLQ at SuzanneNLQ@gmail.com
Comments open below
NLQ Recommended Reading …