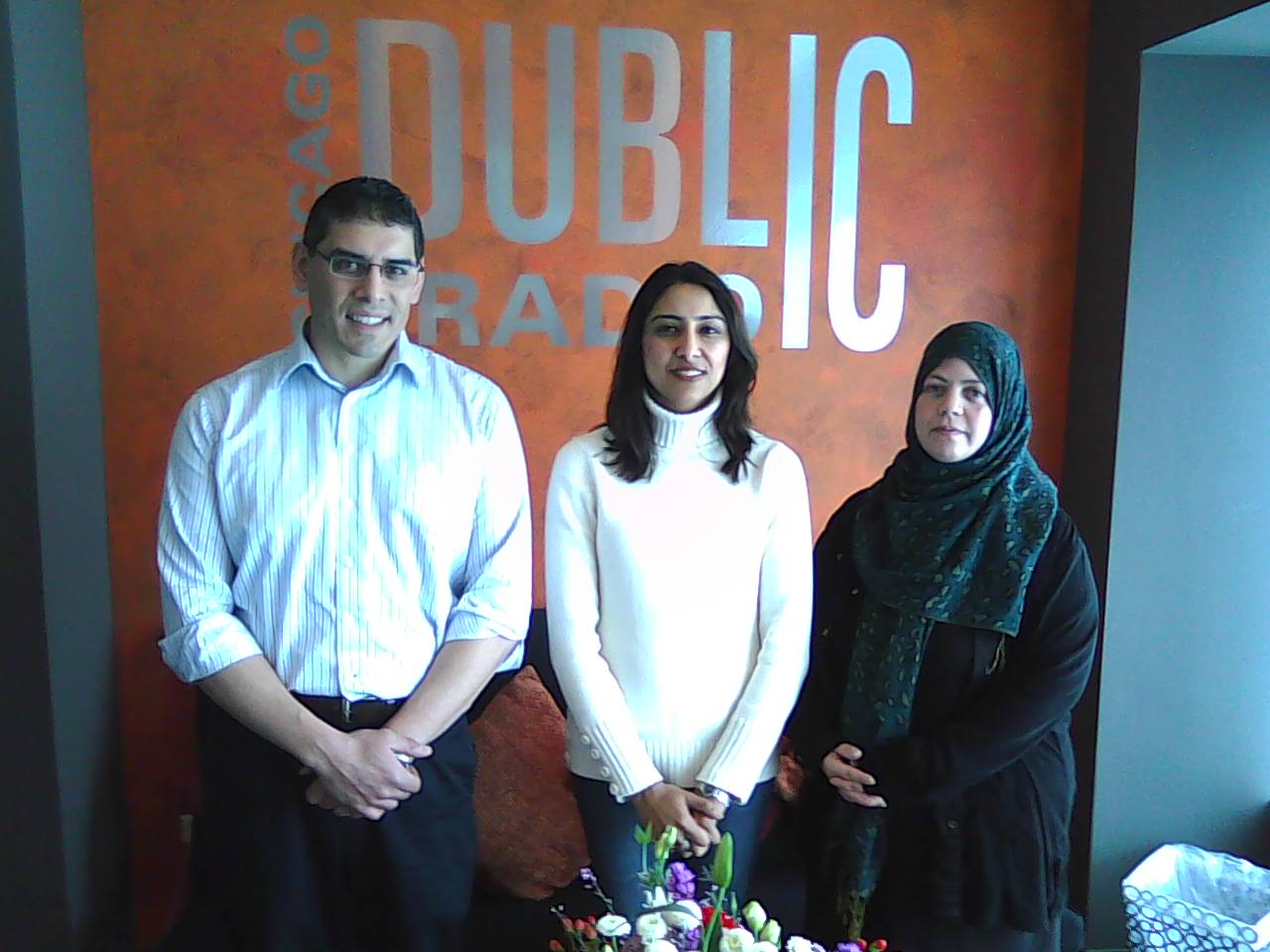 It's that time again — this morning was another "Interfaith Youth Core roundtable by Chris Stedman," as Tom generously terms it, on Chicago Public Radio's Vocalo.org (WBEW 89.5 FM). This week's topic was Chicago Muslims and Civic Engagement, for which I invited Chicago-area Muslim leaders to discuss their faith and how it motivates them to serve. On the panel were Anisha Ismail Patel, Founder and Executive Director of the Muslim Women's Alliance; Angela Salva, a teacher at a suburban Islamic school where she is a co-advisor of the school's "Students for Social Justice" club; and Jihad Shoshara, a member of the advisory board of the Inner-city Muslim Action Network (IMAN) clinic, the only free medical clinic for the underserved in Chicago run by a Muslim charity. Jihad is also the coordinator of the Chicago Muslim Turkey Drive, which provides free turkeys to hundreds of needy families on Chicago's South Side for the Thanksgiving holidays.
Unlike the topics of previous roundtables I assembled — Interfaith, Evangelical Christianity, Secularism, and Religion /Art — I have little in my identity to draw upon in speaking about Islam and civic engagement. On top of that, there was a technical problem that made it so that I had to share a mic with Jihad, and I wanted to limit the number of times I moved it from in front of him. So, instead, I mostly sat back and enjoyed the stories they shared — inserting myself for a question or two. The conversation covered a lot of ground, from recounting times when panelists bumped up against misconceptions of Islam to positive experiences of interfaith collaboration and intrafaith work. This was an inspiring group of articulate people, and I was delighted to give them an opportunity to share the work they're doing with others. Many thanks to all of the participants, and to the host Tom for distilling my ideas into radio-friendly questions and handily facilitating the conversation.
You can listen to the archive of the entire 7 AM – 10 AM (CST) show by clicking here — my segment is from 9 AM – 10 AM, so fast forward to hear the panel. I'll update this post with a splice of just my segment when it becomes available.
Thanks to everyone who tuned in, and again a special thank-you to the panelists who trudged through Chicago's worst blizzard of the season to get to the studio. In spite of (or because of?) my secularism, I relish every opportunity that I get to better understand how the nuances of a person's faith moves them to action in a religiously plural world.