"The chief deficiency I see in the skeptical movement is its polarization: Us vs. Them—the sense that we have a monopoly on the truth; that those other people who believe in all these stupid doctrines are morons; that if you're sensible, you'll listen to us; and if not, to hell with you. This is nonconstructive. It does not get our message across. It condemns us to permanent minority status." – Carl Sagan, Wonder & Skepticism
"Holy shit," he said. "That is a dead body underneath that tarp."
It was a Sunday morning. The air was quiet; many Columbus residents, I imagine, were seated in church pews. Nat and I were leaving the hotel where we'd spent the weekend and headed to the Ohio State University for the final day of the 2010 Secular Student Alliance (SSA) National Conference. We were in a hurry – conference proceedings were to begin at 10:30 AM with a panel on interfaith, and I was on said panel.
We were very glad to be leaving this particular hotel. Our room smelled like a wet dog, the carpet was sticky, and every available piece of fabric was stained. We aren't high maintenance – just last month we slept on the ground for five days while camping in the mountains – but this place was something else. To cope with the horror we felt about being stuck there, we spent the weekend jokingly referring to it as the "Murder 8." As we packed our things and went to check out, we made one last joke to bid the hotel farewell and alleviate the nervousness I experience anytime I do public speaking. "Bye bye, Murder 8," we chuckled.
Boy, did we eat our words when we stepped into that rainy Sunday morning and saw yellow police tape outside our room's window, crime scene investigators busily snapping shots, and a single hand protruding from beneath a blue plastic sheet.
Neither of us knew what to do. There was nothing to do, really, except get in the car. Man, I spend too much time worrying about minute things, I mused as we drove away, sick to our stomachs.
Trying to put the image out of my mind, I readied myself to talk about secular participation in the interfaith movement. The panel was comprised of myself, "Friendly Atheist" Hemant Mehta, a Christian Reverend who has done interfaith work with Atheists named Jonathan Weyer, and Lewis Marshall from Stanford's Atheists, Humanists, and Agnostics. During the panel, I spoke strongly in favor of interfaith cooperation and why I think it is important for secular folks to engage with religious communities in a respectful manner. I thought it went really well, but I admit I was surprised at the end when a significant number of the questions during the Q&A were directed only at me and seemed a bit pointed.
After the panel was done and the panelists had all shaken hands and expressed our mutual gratitude, several students approached me and asked me to denounce things some of my interfaith allies have said about Everybody Draw Muhammad Day (EDMD). I said that I could not – and then everyone was asked to be seated for the next session. I never got the chance to reconnect with these students as I had to catch an early flight home. I can't help but feel bad about the anger they expressed and my inability to offer anything to soothe them.
Noticing a trend here? Humor, shock, nervousness, anger: experiences get processed through emotions. They were the cornerstone of the conference experience; both my own – the friendships I built, the anxiety I felt before speaking, the shock of a random death – and those of others – the impassioned questions, the anger and hurt of some students, and the community constructed. Whatever we do, emotions narrate our experiences and guide our actions.
Perhaps it is useful at this point to share an illuminating conversation I had with a man I now count as a personal friend: Jesse Galef, Communications Director for the SSA, adjunct blogger for The Friendly Atheist, and stellar breakdancer. Ours has been an evolving dialogue: it started at the SSA New England Leadership Summit I attended this past April, continued during a conference call we were both on around EDMD, and most recently extended before an audience at the Center for Inquiry Leadership Conference last month where we were on a panel together.
During a break in the conference schedule Jesse and I returned to this ongoing conversation on our different approaches – what are often caricatured as "aggressive" Atheism and "accommodationism" – and why we practice them. At one point in the conversation, Jesse identified his number one goal as working toward a world rooted in "rationality." I'm not sure why I didn't fully recognize this before, but that is not a goal we share. I'm more interested in cultivating communities and relationships that develop broad coalitions of solidarity across identified lines of difference. Relationships of mutuality and respect. Relationships that account for – you guessed it – emotion.
Our approaches are different because our end goals are different. We both believe we are being pragmatic; it's just that I pragmatically don't think a solely "rational" world is achievable. Nor, emotionally, do I think it is preferable. Emotions do and always will play a sizable role in the decisions we make, and I think that when we try to divorce our actions from our emotions and rest entirely on "reason," we end up making pretty irrational decisions.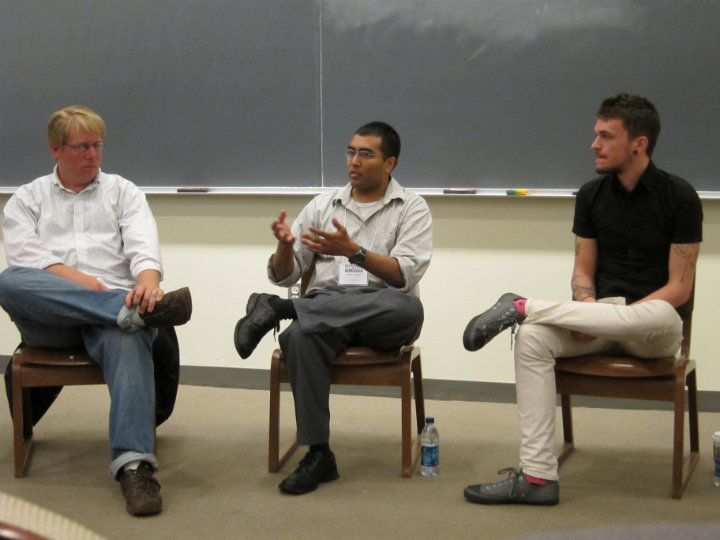 Take, for example, a recent blog post by my fellow panelist Hemant Mehta, who is also on the SSA's Board of Directors. Writing about Anne Rice's declaration that, though she still believes in Christ, she can no longer identify as a Christian due to the tradition's historical bigotry, Hemant dismissed her statement and said he'd "pay more attention" if she abandoned her religious beliefs altogether. As Skeptigirl's response post wisely notes, Hemant displays zero compassion in this reflection. There's no sign of sympathy or even a practical appreciation for the ways in which her move advances our cause. There's no emotion there, only superiority.
I love the Secular Student Alliance because they empower young people to create communities. They do such important work, and I am honored to be a member, contribute to the eMpirical, and speak at their conference. I celebrate where our ambitions overlap – I too want to see more secular students be vocal about our identity and actively create communities. But where we diverge is that I worry about the identity we model when engaging in things like EDMD, a contentious issue that came up several times throughout the conference and repeatedly in our interfaith panel.
I walked away from the conference solid in my conviction that things like EDMD and Blasphemy Day are bad for our community because they symbolize our worst characteristics and attempts at emotion-denying: a tendency toward intellectual superiority and a struggle to empathize with different experiences and identities (these go hand in hand). We say "it's just humor" as if everyone should be expected to see the joke in how we mock their central tenants. I can't help but notice in this a stark difference between humor that elucidates a truth and humor that just dehumanizes.
I'm proud of my non-religious identity but I also know that secularism is a sign of profound privilege, and we ought to exercise caution in how we navigate this reality. As Debbie Goddard of the Center for Inquiry, keynote speaker Greta Christina, and others rightly noted, our movement is dominated by upper-class, educated, heterosexual white men. Why is this? Most people do not have the luxury of sitting around debating the existence of God, let alone taking an entire weekend to attend a conference on secularism, because they are preoccupied by just trying to live, to eat, to survive. Some reconcile the struggles and challenges of their existence with a belief in God.
I don't think we need to treat "believing something different" and "sharing in humanity" as mutually exclusive entities. Our secularism needn't deprive those who do not share in it of their dignity. We have the luxury of being able to devote our time to critical thinking and inquiry, so let's use them for good. Let's stop seeing the world in dichotomies of black and white, right and wrong, rational and emotional, secular and "delusional." They just aren't very useful; the world is full of information and we shouldn't close ourselves off from any of it by thinking we've reached "the truth" while boasting that others haven't. We must always aim for empathy and humility, not unabashed assuredness. If we cannot, we are just as guilty of what we accuse the evangelical religious of – exclusive truth claims that promote oppression.
Instead of cracking so many jokes at another's expense, let's listen to more stories, like the one my mother shared on this blog about how she learned to embrace the legitimacy of choices that differed from her own. As Eboo Patel, April Kunze and Noah Silverman write inStorytelling as a Key Methodology for Interfaith Youth Work: "Personal storytelling moves the encounter from competing notions of 'Truth' to varied human experiences of life, which possess the unique quality of being both infinite and common." If we tell our stories and listen to those of others, we're likely to learn a lot.
We may not believe in souls but we can be soulful. Let's stop focusing so much energy on how we are "right" and on "promoting rationality," lest we forget about our hearts. Those things aren't mutually exclusive either. To quote from something I've written before:
My mom occasionally recounts a story about me as a child, a time I corrected a kid at a birthday party for calling sherbet "ice cream." She always laughs when she tells it… As you might guess, in my youth being "right" held ultimacy. I corrected everyone who I felt was "wrong." With age and experience, my perspective has shifted. I do believe it is better to be "good" than to be "right."
I may not always get this right, but I'm trying to practice what I preach the best that I can. It helps me to ask in any given situation that begins to move into conflict: isn't being loving more important than being "right"? A quick perusal of human history shows that when one person's idea of "rationality" trumps basic human decency for others, we all suffer. Let's learn from our mutual past.
Today I am not spending my time worrying about the folks who offered negative appraisal of my comments during the interfaith panel. I think instead of the family of that nameless person killed outside of my hotel.
I wonder how they are coping; I wonder if they are praying. I could understand if that family was appealing to a God in the face of such tragedy – I remember only too well the times I turned to God when experiencing loss.
Ask yourself this: if they are turning to God to process this experience, would you go up to them and tell them that they are wrong? Foolish? Deluded?
I shudder at that thought almost as much as I do the unshakable image of that blue tarp with a single hand exposed, reaching out for something. What he was reaching for we cannot know, but we can feel it if we try.