Today's guest post in the current lineup of "Other NonProphets" is by Lewis Marshall, the president of Atheists, Humanists, and Agnostics (AHA!) at Stanford. Lewis reflects on how AHA! became one of the Stanford Associated Religions (SAR) and the subsequent interfaith alliances they built. This is a really great resource for any non-religious students interested in interfaith campus work. Without further ado:
I had the honor of being on a panel discussion about operating an atheist student group in an interfaith organization at the Secular Student Alliance (SSA) conference this summer. I had a great time, and it was nice to meet the other panelists (Hemant Mehta, Chris Stedman, and Jonathan Weyer). Chris has graciously invited me to share more of my experiences with getting involved in interfaith work. I hope this context helps to explain why I think atheist groups should be involved in interfaith organizations. I'm also going to share a few lessons I've learned that may help those starting this process.
There may be dissent from your own organization
In the spring of 2009, Atheists, Humanists, and Agnostics at Stanford (AHA!) applied to become a member of the Stanford Associated Religions (SAR). The main sticking point in becoming a member of the SAR was discomfort inside our group about the pledge that is required of SAR groups. In part, it reads: "promote the moral and spiritual growth of the Stanford University community."
That single word, "spiritual," was a major source of argument in deciding whether to join the SAR. Many people believed that joining this organization would compromise our values. Others thought that we shouldn't join because we are not technically a "religion."
In the end, we joined, and with our application included a memorandum of understanding, which read in part:
Though its participants generally do not consider themselves religious, AHA! reconciles its purpose with a broad interpretation of the term "religion," and of the pledge by all SAR organizations to promote "spiritual growth" …with respect to open inquiry into questions of meaning and morality, which are spiritual questions in the most comprehensive sense, AHA!'s function complements those of the other SAR organizations.
Looking back now, the initial argument was overblown. Being part of the SAR has not affected the daily life of our group, or forced us to compromise our mission. We've still been able to do controversial events and we've still been able to run our group as we see fit. In my mind, the practical outcomes are more important than any hang-up over labels.
There may be less backlash from religious organizations than you expect.
In part, we wrote the memorandum of understanding for ourselves, to show that we had a clear vision for our involvement with the SAR. In another sense, it was a way of preparing for objections from religious organizations. We were concerned that religious organizations would question our place in a community that pledges to promote spiritual growth.
In reality, we've had virtually no comment from religious organizations on our involvement with the SAR. No one objected to us when we joined, no one has showed surprise at seeing our banner at events. It has been a complete non-issue.
We anticipated some criticism participating in Everybody Draw Muhammad day. In particular, the rules of the SAR require that we inform religious organizations of events critical of their religion. We did not receive any response from Muslim student groups over this event, the only criticism was in anonymous comments on our website.
In my mind the take-away lesson is this: If you act like you belong in an interfaith organization, people will treat you like you belong in an interfaith organization. Be kind and confident, and you might be surprised by the reaction.
There may be more material benefits to joining an interfaith organization than you realize.
When we joined the SAR, we anticipated that it would be a mainly symbolic gesture. In reality, we've received a number of material benefits that we never considered.
Incoming freshmen at Stanford are asked to fill out a religious preference card letting the Office of Religoius life know their religious affiliation. Each year, we get a list of over 100 incoming freshmen who listed themselves as atheists, agnostics, or something uncommon like like "Jedi" or "Discordian."
Being on the SAR mailing list has led us to many event opportunities. While we always table at the major activity fairs, we now have the opportunity to participate in discussions and tabling events specifically for religious organizations. We currently have a list of about five events catering to the religious needs of incoming freshmen this fall.
We now have access to a number of meeting spaces we would not otherwise have, including the Stanford Memorial Church. This year, we were able to host Austin Dacey in the church at the regional SSA conference at no cost to ourselves.
Religious organizations are likely to need the same sorts of infrastructure as an atheist student group. Interfaith organizations can help you tap into that infrastructure and make organizing your group that much easier.
You may find some natural allies.
I would be remiss if I didn't mention some of the very helpful people we've met in Stanford's religious community. The Progressive Christians have been some of our best friends at Stanford. They were particularly helpful in setting up a discussion with Hemant Mehta and their campus minister, Geoff Browning. The Hare Krishnas facilitated one of the most vigorous discussions we've had about the existence of God. We've also had contact with the Quaker and Buddhist communities. These two groups contain atheists and I think they could make great allies.
I think it's important to build ties to partner organizations like this, because it's one of the quickest ways of changing perceptions about atheists. Some of these communities were hesitant to work with us, but after holding events together I think we have a solid relationship and a real understanding.
So why join an interfaith organization?
In my mind, this is like asking, "Why join the SSA? Why join the Center for Inquiry?" All of these organizations have resources that can help your group. They have connections to interesting, involved people. If you can find a way to use those resources, you're helping yourself, and you're helping to build a meaningful, diverse community.
P.S. That's great, Lewis, but it doesn't really help me…
I realize that many of you live in areas more conservative than the Stanford, and you might not find your religious organizations as welcoming as we did. I've certainly talked to people still getting a cold shoulder from religious organizations. I can only speak from my experience, but I think this will get better. Religious students attend meetings and share ideas cross-country too. As more and more atheist groups enter interfaith communities, I think it will start to seem more normal. That's what I'm hoping for.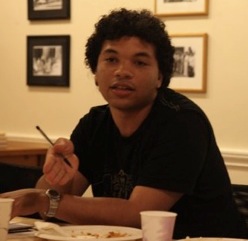 Lewis Marshall is the former publicist and current president of Atheists, Humanists, and Agnostics (AHA!) at Stanford. He was previously a member of the Campus Atheists, Skeptics, and Humanists (CASH) at the University of Minnesota. Lewis is currently a third-year Ph.D. student of chemical engineering at Stanford and received his B.S. in chemical engineering at the University of Minnesota in 2008.