Today's entry in our series of guest posts is by Bruce Johansen, a prolific freelance writer who also happens to be my first cousin once removed! You may remember my Mom's guest post on NPS — it's a family affair here. To that effect, Bruce offers a poignant and illuminating look into the recent memorial service for his father and the role religion did (and didn't) play in planning it. It's a real honor to share this affecting and insightful writing with you today — thank you for sharing this moving piece with us, Bruce.
"There Won't Be Anything"
I remember it vividly. We were in the kitchen doing dishes, when my father said something that I could not quite follow.
"I guess there won't be anything for me when I'm gone."
"What do you mean?" I asked.
"No funeral or service," he clarified.
Still not sure I understood, I pressed him further: "Why wouldn't there be a service?"
"Well," he replied, "your mother and I haven't belonged to a church in years."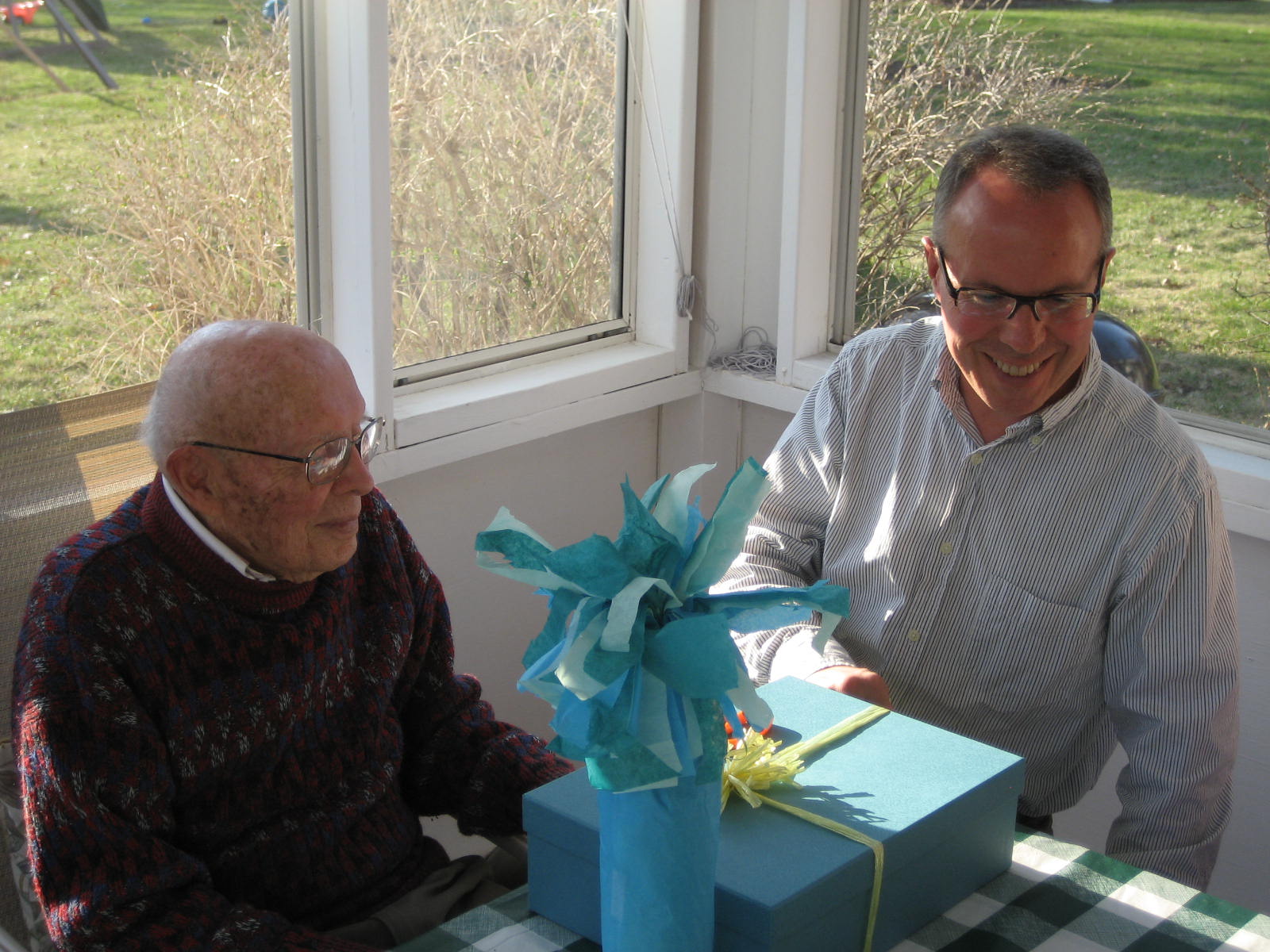 It was true. My parents had stopped attending church years (actually decades) ago, and at some point my father, for whom religion had once seemed most important, had drifted away from it completely. Even so, I assured my dad that having severed that relationship was no reason to think that there would be no service. We knew several people who could put together something wonderful and meaningful. It would not be religious in the traditional sense (no God language or prayer, for example) but it would serve many of the same functions.
In hindsight I wish that I had followed up with more questions. What would he like to have included in a service — readings, pieces of music, stories? I also found myself wondering what had become of the Christian beliefs that had seemed so important for much of his life, back when he prayed before holiday meals and attended church faithfully. At the time, however, I was mostly relieved that I had put his mind at ease.
When the Time Came
One night in June, a couple of years after that exchange, my father died. Since January 2008 he had suffered a series of physical setbacks, including two fractured hips and a stroke. As his health deteriorated, he often expressed his desire to die. Still, upon receiving the news, we as a family found ourselves unprepared, both emotionally and in practical ways. Suddenly we were confronted with the reality of his absence, and by numerous tasks that were new to us, many involving finances and stacks of paperwork. Fortunately we had a trusted financial advisor we could lean on for advice about that sort of thing. What was not so clear was how to mark my dad's passing.
In families that have a strong connection to church, a funeral or memorial service is less of a quandary. The church is notified and conversations are held, hopefully with a trusted pastor, priest, rabbi, imam, or someone in a comparable role. In most traditions, a service is scheduled, most often for the following week. There are certain prescribed rituals; expected music, commonly shared words. But what happens when that connection to church is lacking, and when members of the immediate family hold views about religion that range from humanist to agnostic to atheist? That was the context in which we, as a family, began our conversations about how to mark this chapter.
With few models to work with, two family members suggested that we think of the event as a "celebration of life." Initially it was thought that this celebration would be held outdoors, in a park along the Mississippi River that in recent years had become a favorite site for family gatherings. An aunt who had planned and led two services — one for her mother who had suffered with Alzheimer's, and the other for a dear friend who had committed suicide — could officiate. The service itself would be shaped around the sharing of stories. Most importantly, it would not be generic and impersonal.
While we liked the spirit that my family wanted to capture, my partner and I had our share of concerns. Some were logistical. Would elderly friends and relatives be able to hear if it were held outdoors? Would people find the spot and would it be easy to navigate? What if the day happened to be rainy or overly hot? Anything was possible in Minnesota in late August. After mulling over those questions, a decision was made to hold the service in the chapel at Macalester College, my father's alma mater.
The next decision proved trickier. While I had no doubt that my aunt would do a wonderful job preparing and officiating, I thought that there could be some wisdom in inviting friends who had professional training and experience planning such events. From services I had attended, the best helped loved ones remember the person who had died and confront some of the deeper issues and questions that all of us face about mortality and the meaning of life. After some initial hesitancy, other family members consented, and I invited the assistance of two people in addition to my aunt, Susie: a good friend, Rod, who is a Unitarian Universalist minister and another, Marilaurice, who is a long-time Catholic liturgist. All three would guide us.
The Potential Gift of Religious Practice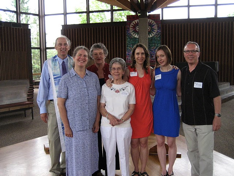 As planning proceeded, the main challenge was to design a celebration that would prove meaningful, while not setting off alarms for the most anti-religious among us. Some family members lump all religion together with the most literal, fundamentalist brand. As for me, I have a longstanding appreciation of humanist religions. I also know many people who identify with and derive meaning from more traditional religions, who are smart and thoughtful, and who have a negotiated relationship with their religion. They may appreciate religion in metaphorical, not literal ways, or find in some of its parables useful lessons for how to be in the world, while rejecting other texts. Many of these people seem well grounded, fight for social justice, and treat others with an inspiring compassion, kindness, and love.
Those of us who hold a more nuanced view know that while religion can be a source of great suffering and terrible violence in the world, it can also elicit the best in people. And, as this story shows, religion — including the humanist variety that I am most comfortable with — also has the capacity to help people navigate the most difficult moments and questions in their lives.
What evolved from working with three people who possessed the right blend of skills and sensitivity was exactly the kind of celebration I had envisioned, and proved to be more than what my family had hoped for. The groundwork was laid through phone calls, email exchanges, and an initial planning session that brought the minister and liturgist, my mother, partner, and me together around a table on a Saturday afternoon. That casual exchange led to many good ideas being bandied about. By the end of our session the order of service was nearly set and to everyone's satisfaction. The following Friday, the day before the service, all of us came together as a family, with our planners, and the final details fell into place.
The service that resulted captured who my dad was, and simultaneously grappled with the big questions about life, death, and what it means to be human. Between thoughtful opening and closing words came the sharing of my dad's life story, music, poetry, silence, and a wonderful blessing tailored to my father's life. Photo albums, carefully prepared by my brother, enhanced the story that was told. All of the elements were respectful of the beliefs and wishes of my family.
Every person present for my dad's celebration of life left the campus grounds that Saturday knowing more about him than when they arrived. And for those who may have entered the chapel skeptical about or even hostile toward religion, the service demonstrated the potential gift that religious practice can be in helping people mark important passages of life. To a person, members of my family were sure that my father would have been pleased with how the celebration had unfolded. While his physical being was not there, much of his spirit was present.
Stepping Back
If I could step back in time, rejoin my dad in the kitchen that day, I would assure him with much greater confidence that the service planned would be one of reflection, respect, tenderness, and love; that his absence from church these past many years would not matter one bit; that our family could learn from those among us who are more "churched" than we, and that they could learn from us as well.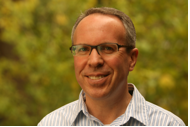 Bruce Johansen is a freelance writer and editor with a PhD in American studies. He currently does research and writes reports for the DC-based FrameWorks Institute and devotes much of his time to community development work in Minneapolis's Seward neighborhood. As a child, Bruce attended Sunday school at a Presbyterian church, and then, in his 20s, discovered Unitarianism. More recently he has found himself drawn to Ethical Culture and Buddhism as well.