"Community is the goal." – Tom Pettit
Prescott is a beautiful small town in Northern Arizona surrounded on all sides by National Forests. We have epic views of Granite Mountain and Thumb Butte. The sunrises and sunsets are breathtaking. During thunderstorms, there are often rainbows everywhere and it smells like juniper for hours afterward. There are ugly things about Prescott, as well. There's a lot of gossip, xenophobia and limited perspective on a number of issues because people's exposure to difference is minimal. There was that whole mural controversy. If you Google "Prescott, AZ" and "racism," you'll get 130,000 search results. I am not idealizing my town. That said, moving here has taught me about the very best human beings have to offer, and about the beauty and productivity of loving my neighbors in order to accomplish amazing things—despite serious differences.
Life in Prescott is inherently humanizing. You know everybody. And the few people you don't know, you've heard of. People tend to be polite and honest—because if you're a dick or a liar, you're certain to run into the same person again down the road and it will be awkward and unpleasant. People tend to be helpful, because we're all neighbors, and we understand what it's like. People tend to be forgiving, because despite ideological differences, we know each other and we know that, even when folks in town are wrong, they're usually acting in good faith. In a word, people in Prescott can disagree all day long, but usually we're able to see each other as people and we're willing to come through for one another when it matters.
Never has this been more evident than when my friend Tom Pettit was diagnosed with stage 4 esophageal cancer. Tom was a local progressive activist and community organizer. He was involved in every progressive issue imaginable, every environmental cause, everything that really mattered in Prescott. Being that this is a small, conservative town, Tom had his share of adversaries, but even his adversaries knew him to be a man of integrity who cared passionately about the quality of life here. When Tom got cancer, people from all walks of life turned out for fundraisers on his behalf, bought t-shirts that said "I ♥ Tom," brought meals to his partner and looked for ways to help. Even politicians who he'd publically spoken out against contributed. Why? Because Tom was a human being. He was a member of the community whose humanity was evident and whose presence mattered to all of us. He wasn't a statistic or an abstract name. When people heard that their neighbor was dying of cancer, it hurt all of us—regardless of political stance, regardless of ideology, regardless of religious belief or nonbelief.
Tom Pettit believed in community organizing because he knew it could change people—and by changing people, it could change the world. And the communities Tom organized came together beautifully when he needed them. This is the same way interfaith/nontheistic cooperation works. When religious and nonreligious people come together to achieve a goal, we are participating in relationship. We are acting for a common purpose and validating our common humanity. We are building trust and goodwill and creating the kind of dynamic where difference isn't a barrier to progress. This kind of trust and goodwill abounds in Prescott, and while I can think of dozens of examples, my very favorite is our annual Empty Bowls fundraiser. Empty Bowls is an interfaith project, sponsored by Prescott's Unitarian Universalists, that raises money for our local food banks. The event is held on the courthouse square, and for a $15 contribution, donors receive a beautiful handcrafted bowl created by local artists and a bowl of soup prepared by local chefs. Last year, in our little town of about 40,000 people, we raised over $14,000 in one day at this one event. Prescottonians love participating, and we're proud of the fact that the whole town comes together to do it.
People in Prescott have shown me that the abstract concept of building relationships to effect change works; it's a model that people all over the world participate in daily in their own neighborhoods and towns, and the rewards are tangible. I take Tom Pettit's vision of healthy, transformative communities with me into my activism as an atheist and it feeds my vision of interfaith/nontheistic cooperation. People in my town know that I don't agree with the predominant conservative attitude, just as people in the interfaith community know that I don't buy into their supernatural beliefs or much of the ethical systems those beliefs are based on. But that doesn't mean we can't do important work together when it really matters. And it doesn't mean we can't have honest, respectful, productive dialogue about our different worldviews—dialogue that often results in profound attitude change and ultimate victory for reason and compassion.
Just as small towns have their dark side, interfaith work isn't always perfect either. Sometimes there are miscommunications. Sometimes there is a failure to strategize clear-sightedly. Sometimes there is too much animosity toward a particular idea for opposing viewpoints to come together at all. But we need to keep doing it and keep learning as we go—because when we get it right, we transform everything.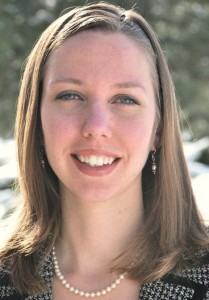 Serah Blain serves on the boards of the Secular Coalition for Arizona, the Arizona Coalition of Reason, and the Prescott Pride Center. The Executive Director of QsquaredYouth, a nonprofit organization that supports LGBTQ youth in Prescott, AZ and surrounding areas, Serah is also the organizer of the Prescott Freethinkers, a thriving community of nontheists in Northern Arizona that meets regularly for discussion, fellowship and fun. She also co-chairs the Secular Student Alliance at Prescott College where she is working on a B.A. in Engaged Humanism. Her current interfaith volunteer projects include hospice care, and faith outreach for the Prescott Pride Center. Serah has two children who are being raised to be conscientious, compassionate human beings.