Last Wednesday afternoon, I rebelled against death by going to a big, bright yellow house to eat tea cakes.
Sparks House tea is a tradition begun by the late Rev. Peter Gomes in 1974. Rev. Gomes wanted an opportunity to get to know the individuals who made up the Harvard community. So, for one hour every week, for over thirty-five years, he invited them – one and all – into his home. In the starched-collar world of Ivy League academia, such unconditional hospitality is a rare treasure.
Tea with Rev. Gomes had long been one of the items on my senior spring bucket list: the fun things I knew I'd want to do before I graduated, but which I felt I couldn't possibly fit in until the magical post-thesis end times. Unfortunately, life doesn't always conform itself to the plan I've laid out for it on Gcal, and my future teatime plans were derailed when Rev. Gomes died last February.
I had never met Rev. Gomes. I'd seen him speak once, at my freshman convocation, but I didn't understand then what a legend he was. (If I'd met him, he could have told me himself: as he once said of another professor, "He may well be a star, but I am an institution.") Despite never personally connecting with him, I felt that the campus was palpably enriched by his charismatic presence. I looked forward to meeting him at that mythical spring tea, and to hearing him speak at my graduation, as he had spoken at dozens of graduations past.
So I was saddened by the news of his death last semester, and I deeply regretted my postponement of afternoon tea with the institution that was Rev. Peter Gomes. However, I hadn't thought about him or his teas overly much since spring – until last week.
Ten years after the collapse of the World Trade Center, those of us old enough to remember it – and it's odd to think that there are about a billion people alive who don't – tried to figure out how best to mark the day. Many religious services were held for those who were comforted by anticipation of afterlife reunions or by faith in the good judgment of a divine choreographer. Those of us without an instruction manual were left to our own devices.
I have a makeshift three-step process for dealing with death that I improvised last year when one of my high school friends and my grandfather died less than three weeks apart. That month was a formative experience in the development of my Humanist philosophy, and I'll be sure to post about it when I feel like I have time to do it justice (and when I feel like I can do it without crying all over my keyboard…so…maybe never). Anyway, I had to figure out how to cope with all the futility and helplessness I felt then – how to prevent death from being meaningless – and this was what I came up with:
Remember. Death is the end of someone's consciousness, but it doesn't need to be the end of their influence on the world. As long as their memory is cherished, part of them is still alive. Do your part by telling their story.
Pay it forward. In honor of those who once gave love to you, give love to someone else. Death – especially sudden, violent, or early death – reminds us how fragile we are, and how alone in the universe. In such an uncertain world, we each must do what we can to help others make the most of their time here. When you encounter suffering, do what you can to alleviate it.
Live as hard and as loud as you can. Death teaches us to cherish the little time we have. Don't postpone the important things in life, or the frivolous but fun ones.
So, on the tenth anniversary of the 9/11 attacks, I helped the Harvard Chaplains organize an interfaith reflection and remembrance event for people to share their stories of their own experiences ten years ago. I felt that it was crucial to focus on interfaith cooperation in commemorating a day like 9/11, when thousands of people were sacrificed on the altar of religious conflict.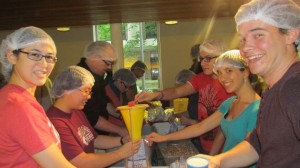 After the reflection, I helped NPS's very own Chris Stedman run a massive interfaith service project, sponsored by the Humanist Chaplaincy at Harvard. With the help of almost 200 volunteers, we packaged 10,002 meals (far exceeding our symbolic goal of 9,110) for undernourished children right here in the Boston area. Our volunteers also wrote hundreds of letters to congresspeople asking them not to cut funding for crucial hunger relief programs in the coming fiscal year.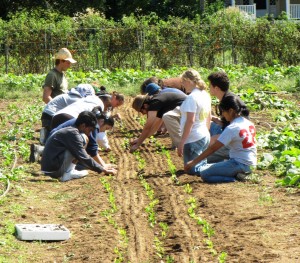 That day also kicked off a partnership between the Harvard College Interfaith Council and Gordon Christian College's Loving Our Religious Neighbors organization. Several Gordon students came to Harvard to help package meals on September 11th. The following weekend, a dozen Harvard students accompanied as many Gordon students on a journey to a farm just outside of Boston, where we helped grow produce for hunger relief programs. Between planting and weeding, we also grew our mutual understanding, and forged friendships to be strengthened during our year of partnership.
And finally, a few days after this city mouse ate her first raw green bean, freshly picked and still warm from the sun, Sparks House opened its doors for the first afternoon tea since Rev. Gomes's death. The Memorial Church staff members who worked with Rev. Gomes are keeping his memory alive by continuing his tradition of offering the whole Harvard community a pick-me-up at what Gomes endearingly called the "flabby part of the day." And I, after weeks of thinking about death while organizing events for 9/11, was ready to stop putting off my plans and start grabbing life by the sugar cubes. And so, on Wednesday afternoon, I set aside my intimidating stack of unread articles and incomplete problem sets, pinned a flower to my hair, and set out to eat tea cakes in honor of a man I had never met.
They were delicious.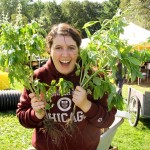 Chelsea Link is a senior at Harvard University, studying History and Science with a focus in the history of medicine, and minoring in Mind/Brain/Behavior. She is the Vice President of Outreach of the Harvard Secular Society, and the President of the Harvard College Interfaith Council. She also writes for the Harvard Brain and volunteers with the Be the Match bone marrow donor registry. She likes to cook while pretending she's on Top Chef (Hasty breakfast? More like Quickfire Challenge!), adores word games of all kinds (and was once the President of the illustrious Harvard College Crossword Society), and tends to kill the mood at parties by unnecessarily reciting Shakespeare. This summer she interned at the Humanist Chaplaincy at Harvard. You can ask her what she's doing after graduation, but she'll give you a different answer every time.