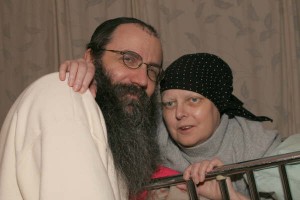 My mom was a deeply religious woman. Her religion framed her understanding of social justice and hospitality, and she used the language of her Hasidic Judaism to understand and express how to be good to her fellow human beings. Her home and table were always open to whoever needed respite or food because she believed God commanded her to welcome the sojourner. She cared about peace and justice because she believed God required her to "do justice, love kindness, and walk humbly with [her] God" (Micah 6:8). She created a Jewish/Muslim women's dialogue group to try to heal the division between these two communities because she believed God desired the reconciliation of his whole human family. And when she was diagnosed with an aggressive stage four cancer three years ago, she was simply grateful for the good years she believed God had given her.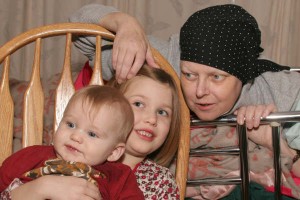 As the severity of my mom's cancer became clear, I flew in from across the country with my daughter and my newborn son to help my stepdad manage her hospice care. Despite the fact that I was an atheist, my mom's religion framed much of my experience of her death. To begin with, part of my experience included a crash-course in Hasidic Judaism and Lubavitcher traditions (keeping mom's kitchen kosher, learning the modesty rules for when she had visitors, determining what one could and could not do on shabbos, etc). The local Hasidic community was infinitely generous—both to my mom and stepdad, as well as to myself, my siblings (who also flew in from out of state) and our kids. People came to visit, brought food, helped with chores, talked or prayed…whatever was needed. Importantly, the community never let us run out of vodka. Or pie. It did not matter to them that my brother and I were atheists, that my sister was apathetic, that my older brother was an evangelical Christian. What mattered was that we belonged to my mom and so we belonged to the whole community—and we clearly required vodka and pie.
My mom's home, the home she died in, quickly became an intense, concentrated representation of the very best of interfaith. Rabbis came in and out to attend to my mom and stepdad (and brought kosher sour mix for the vodka). The hospice chaplain visited frequently as well as a United Methodist minister whose church I used to belong to. Muslim and Jewish women from my mom's dialogue group came, and conservative Christian family members, and evangelicals who had gone to church with my mom before she returned to Judaism. Religion was both immensely present and completely irrelevant; while we all used the language of our religion or secular lifestance to articulate what was happening, ultimately, we were all talking about the same thing. We were all talking about the preciousness of life, its joy and its sorrow. We were talking about fear and gratitude and meaning and the unfairness of it all. What transcended religion as my mom approached death was our common humanity, and in it, the pain of loss and the delight of living.
It is often said there are no atheists in foxholes—the implication being that, when faced with the possibility of death, even an atheist will call upon God for help and salvation. Stories of deathbed conversions abound, and regardless of the fact that atheists die every day completely at peace with their nontheism, the "no atheists in foxholes" myth persists. This myth distracts from what really happens when human beings are faced with the possibility of death. What really happens in foxholes is that we are confronted with our humanness—and given the opportunity to reconcile ourselves to what this means for us. There are atheists in foxholes, and there are Jews, Muslims, Buddhists, Hindus, Christians, Wiccans…an endless variety of human beings who are all, most essentially, human beings. We're just people in foxholes.
Very soon after my mom's death, I became a hospice volunteer. It is truly the easiest kind of interfaith work, because what dying people seem to crave most is to have another human being really truly present with them—and I am very good at being human and at being present. My atheism and my patients' religious traditions are not nearly as important in those moments as our mutual humanity. I have attended many deaths now, and visited many dying people. I have found that the concerns my mom had as she approached death were mostly human concerns rather than explicitly religious concerns—and that they are shared by most people as we contemplate our deaths. My mom wanted to know that her children would be o.k. after she was gone. She wanted to know that she would not be in unmanageable pain or feel like she was suffocating. She wanted her life to have mattered, and asked for memorials to go to
Jerusalem Peacemakers
and
Brick World
(my mom was all about peace in the Middle East and LEGOs—because peace and LEGOs are awesome, duh). These are the same concerns secular people share, as well as people who have religious faiths very different from my mom's. We want our loved ones to be cared for, our pain to be managed, and our lives to have meaning. We all have to die regardless of religion or nontheism—and we are all very human at the moment of our death. So many of the differences between us dissolve during the end of life, and only what is most essential remains.
These things that happen—the transcendence of religion and the affirmation of humanness—are why I love hospice work so much. I am able to see who people really are—when all of the arbitrary divisions and labels we use to separate ourselves from one another during our lives are cast aside (or at least are no longer used as barriers, but just recognized as incidental facts). I'm sure there are people who use religion or atheism as a weapon right up until the end, but I have been fortunate to see something else at work as I attend the dying: I have seen people articulate the human experience in a clear, connecting way rather than in a way that is divisive.
I wish we could participate in this kind of connection before the end of our lives; I wish we could practice seeing one another as fellow human companions in this short life and cease seeking to draw attention to our difference and separation. This is why I care about interfaith-nontheistic cooperation—because I have seen how beautiful the transcendence of difference can be. Death is hard, and horrible and unfair. And so is life. If we can do a better job of being human together in our lives and in our deaths, we will spend much less time creating additional, unnecessary hardships and horrors—and have much more time for joy and gratitude.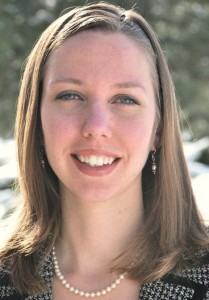 Serah Blain serves on the boards of the Secular Coalition for Arizona, the Arizona Coalition of Reason, and the Prescott Pride Center. The Executive Director of QsquaredYouth, a nonprofit organization that supports LGBTQ youth in Prescott, AZ and surrounding areas, Serah is also the organizer of the Prescott Freethinkers, a thriving community of nontheists in Northern Arizona that meets regularly for discussion, fellowship and fun. She also co-chairs the Secular Student Alliance at Prescott College where she is working on a B.A. in Engaged Humanism. Her current interfaith volunteer projects include hospice care, and faith outreach for the Prescott Pride Center. Serah has two children who are being raised to be conscientious, compassionate human beings.