This article originally appeared in the Huffington Post. Below is a link to the full original article.
We're aware of the irony: three atheists are driving from Cambridge, through Somerville, and into Medford, Massachusetts–en route to a Gurdwara while blasting Christian hymns on the radio. The church organ's hazy echo transforms Chelsea's stereo into a time machine, conjuring images of sweater vests and Sunday mornings past. It's nice to have an excuse to wear a tie. I realize I don't mind being up before noon on a weekend, a rare thought for this twenty-something.
We pull up to the Gurdwara Guru Nanak Darbar and I am immediately struck by its simplicity. The building could easily pass for any of the restaurants it borders on Mystic Avenue. We join a group of more than 25 in front of the Gurdwara, gathered by Assistant Humanist Chaplain Chris Stedman: Muslims, Christians, Pagans, Zoroastrians and atheists stand united in their support of a community recently hit with tragedy. A Sikh man bows towards the Nishan Sahib, a holy flag raised high outside the Gurdwara, before entering. A small group stands outside the building, holding posters that state their support for a community touched by tragedy. While we make small talk and wait for the last members of our group to arrive, a Sikh woman embraces a Muslim woman in our group and thanks her for coming. The love and gratitude felt by the Sikhs of Medford is palpable.
 Click here to read the full article!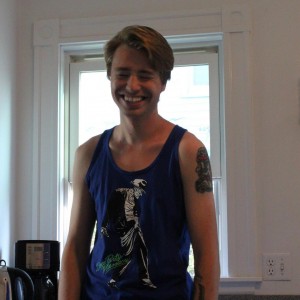 Stephen Goeman is an atheist and Humanist. A senior at Tufts University, he is the former president of the Tufts Freethought Society and now serves as their Community Outreach Representative. He is also an Interfaith Youth Core alumnus and a member of Students Promoting Equality, Awareness, and Compassion, a peer education program that coordinates student responses to acts of intolerance at Tufts.