Thanksgiving is over, and Black Friday seems to have passed with no casualties and only modest violence. That can mean just one thing, readers—it's time to get in the Christmas spirit. And what better way to bring in the Yuletide festivities than with music by Detroit's favorite folk-singer-cum-hipster-demigod, Sufjan Stevens?
Sufjan has been recording yearly Christmas EPs since 2001, giving them as gifts for friends and family and eventually assembling them in boxed-sets for release. He took only a few years off to work on other projects (like his critically acclaimed album, Illinois) or to polish up older material (which he's been doing for the last few years). The songs, more than 100 in total, were released in two different 5 EP box sets. The first, titled Songs for Christmas, was released in 2006, and it contains straightforward and enjoyable Christmas classics and original work, focusing largely on the religious nature of the holiday. The follow-up, Silver and Gold, was released earlier this November. It has 59 songs, spans more than three hours, and embodies Sufjan's conflicted relationship with Christmas. Along with stickers, a poster, temporary tattoos and a DIY ornament, Silver and Gold comes with an 80-page booklet containing essays and reflections on the holiday. In an in-depth review and analysis of the release and it's background, Pitchfork writes:
The entire project is an excavation into Sufjan's conflicted Christmas heart. He also penned two essays for the booklet, and both are filled with some of the most critical seasonal tidings you're ever likely to hear. In the first, which reads like a tortured self-justification for the project itself, he observes that the yearly economy-boosting hoopla reduces us to "that clammy, pre-pubescent Christmas wish-list spoiled brat kid of our insatiable childhood, throwing an empirical fit on Santa's lap, faced with the hard-candy facts of reality, knowing for certain we will never really get what we want for Christmas, or in life, for that matter."
It's pretty heavy stuff for a Christmas album, but who can't relate to the tension in Christmas? Many atheists are reluctant to celebrate the holiday because of its religious nature, but even believers have to struggle with the blatant commercialism of the season. Jesus has always been and will always be second to Santa when it comes to Christmas.
But the set still manages to keep Christmas from feeling dour. Sufjan has always demonstrated a gift for manufacturing beautiful contradictions, like the simultaneously joyful and heart-wrenching
Casimir Pulaski Day
. To see a Christian really engage and wrestle with the unpleasant aspects of the holiday, while still fundamentally
celebrating 
it, makes for good music and some challenging material. Sufjan highlights this perfectly, albeit strangely, in the final track of the set,
Christmas Unicorn
—a metaphorical and absurd autobiographical account of his relationship with the holiday.
The songs range in scope from breathtaking and somber reflections on death to finger-picked acoustic classics to bouncy lumberjack carols and auto-tuned clusterfucks, and little of it disappoints. I've written before that I'm not willing to let a minor technicality like not actually believing any of it get in the way of celebrating a perfectly good holiday. So for the next month, as I decorate and get in the Christmas spirit, I'll be playing through my 100+ Sufjan Stevens Christmas songs on repeat. How better to celebrate such a nostalgic, troubled, and beautiful holiday.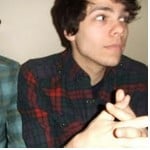 Vlad Chituc is a lab manager and research assistant in social neuroscience at Duke University. As an undergraduate at Yale, he was the president of the campus branch of the Secular Student Alliance, where he tried to be smarter about religion and drink PBR, only occasionally at the same time. He cares about morality and thinks philosophy is important. He is also someone that you can follow on twitter.