The following piece is authored by Chris Stedman, founder of NonProphet Status. 

The same month Kesha (née Ke$ha) hit #1 with her debut single, the celebratory "Tik Tok," NonProphet Status was launched. Later this year, both the song and the blog will hit their 5 year anniversaries.
As we approach this benchmark, it feels fitting to pull up that song and celebrate some good news: NPS is relaunching under the guidance of Kesha-fan Vlad Chituc.
But before we look ahead to NPS's bright future, I hope you don't mind if we take a minute to look back.
A bit of history
Nearly half a decade ago, I started NPS while working as a community organizer and studying for a Master of Arts in Religion. I didn't set out to be a blogger, but after writing about being an atheist who works with and respects people of faith in a guest post for a friend's column, I received a surprising number of responses from other atheists.
A common thread emerged from this feedback: Many of these atheists felt that their perspective on atheism—one that sees in atheism a call to work with people of faith on addressing humanity's shared problems—was being drowned out or erased by louder and confrontational atheists.
Some of these atheists felt that most atheist writers and organizations had different priorities than they did. They felt that many of the most visible atheists had a somewhat narrow view of religion, and that a large number were so focused on tearing down religion that they were missing opportunities to talk about the beauty of a nontheistic worldview. (These things aren't mutually exclusive, of course.) I agreed, and I wanted to keep reflecting and writing about it. So after talking about it with a friend who ran a queer music blog, I decided to start NPS. I had no idea what it would become.
I started posting regularly, sharing ideas and stories about atheist-interfaith dialogue and cooperation. Many of my ideas were underdeveloped; some were just plain wrong. I was lucky to receive encouragement from some readers, who pushed me to keep going—as well as challenging comments from others, who pushed me to reconsider and refine some of my ideas. They all made (and continue to make) me a stronger writer and activist.
I invited many of them to weigh in on NPS, so that I and others could benefit from the diverse ideas and perspectives of guest contributors. (I felt so strongly about the need to elevate new voices that I eventually helped start a website intended to lift up emerging ethical voices in dialogue called State of Formation.)
As NPS continued to grow, I reached an agreement with Beacon Press to write Faitheist and then, not long after, accepted a part-time fellowship at the Humanist Chaplaincy at Harvard. I moved across the country with only a few bags, and my fellowship stipend was so small that I couldn't even afford the rent I paid for a single room in a house with seven other people—so I put my student loans in forbearance (eventually reaching the legal limit), scraped by, and focused on my job and on finishing my book.
As a result, I posted less and less often on NPS. I eventually worked my way up to a full-time job at Harvard, and between that, the editing and eventual release of my book, speaking engagements and readings, and writing for other publications, I neglected NPS even more.
Fortunately, I met amazing, thoughtful activists over the years who were willing to join NPS as regular contributors. They picked up the slack and breathed new life and new ideas into the site. One of them was Vlad Chituc, who will now be editing NPS 2.0.
Last year, after only intermittently writing for a while, I started writing a regular column again at the invitation of Religion News Service—one of my favorite sources for religion news and commentary. I was thrilled to join their team, and I now post new Faitheist columns several times a week. I couldn't be happier to be writing regularly for such a dynamic and informative news agency, and I hope NPS readers will continue to follow my work there.
So what can you expect from NPS 2.0?
The first big change is that, instead of being on its own, NPS will find a new home at Patheos. NPS was founded with the goal of contributing to expanding and deepening the dialogue between believers and atheists—and Patheos shares this goal.
But most of all, I'm excited about the writers. They offer fresh, unique perspectives on interfaith dialogue and living good lives without religion. They are Humanist Divinity School students like Stephen Goeman and Walker Bristol, Humanist camp counselors like Tony Lakely and Dean Roth, separation of church and state activists like Sarah Jones, interfaith activists like Adam Garner, atheist activists like Ed Beck, Humanist service advocates like Wendy Webber, teachers like Alex Chituc, scholars like Andreas Rekdal, and student leaders like Kumar Ramanathan. They are all people who have inspired me; they are still learning, yet already so full of insight and empathy. They represent an important and still underrepresented take on what it means to be an atheist in a religiously diverse world.
They will be well served by NPS's new editor, Vlad Chituc, a vital young thinker and writer. I first met Vlad when he was a student leader at Yale; he didn't agree with my position that atheists should participate in interfaith, but he eagerly pursued a discussion about our disagreements. To his credit, he was thoughtful and patient as our conversation extended over several months. He sincerely wanted to understand other people's perspectives, and he really took the time to listen carefully and think critically about his own views. Several years later, he is one of the most dedicated advocates for atheist-interfaith dialogue, someone who constantly helps me reconsider my own ideas, and a good friend. NPS is lucky to have him.
Another way forward
While I will continue to write at Religion News Service about my hopes for an atheist community that disavows extreme tribalism and recognizes the value of building cooperative, humanizing relationships with people of faith, I'm glad to see NPS continue because it takes many voices and perspectives to advance a discussion.
In a culture that fixates on conflict, I think the new writers of NPS can play a valuable role by modeling another way forward. It's easy to dismiss people who disagree. It's easy to argue. It's easy to carve the world up into "us against them." It's easy to talk past one another. It's easy to get caught up in an echo chamber and feel convinced that we have all the answers.
But to really understand people we disagree with, to show empathy and understanding, to be patient, to be kind, to look for common ground—these things are hard. And the writers of NPS, past and present, feel very strongly that few serious problems are solved by taking the easy road.
While things are changing, the fundamental issues that NPS will address now are the same as when it was started: Can atheism focus on building, rather than just tearing down? Can we be more collaborative than we are combative? Can we get past extreme tribalism and focus on the project of how to live meaningful lives in a pluralistic and secular society?
I continue to believe that there is a place in atheism for religious criticism—but I also think that atheists should be concerned about much more than that. I am grateful that NPS will continue to lift up these other concerns.
While NPS is changing, it's still moving in the same direction: toward a world where all people, believers and nonbelievers alike, can work together and learn from one another. It's just continuing the conversation with new voices—and I look forward to learning from them, just as I have learned so much from the many people who have written for NPS over the years.
As Kesha would say, "tik tok on the clock." Time moves forward, all things change. But change is often great—NPS and all of the people it has brought into my life have certainly changed me for the better. As we look forward to even more change, NonProphet Status's status is looking pretty good to me.
---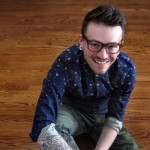 Chris Stedman is the founder of NonProphet Status, Executive Director of the Yale Humanist Community, atheist columnist for Religion News Service, and a former Harvard University chaplain. He is the author of Faitheist, which Booklist described in a starred review as "an intimate and deeply affecting portrait… [that] proves [he is] an activist in the truest sense and one to watch." In 2013, Chris was named one of the "five next-gen gurus who are disrupting religion's status quo" by Details magazine and "the millennial busting every stereotype about atheists" by MicNews. He has written for Salon, CNN, msnbc, USA Today, The Huffington Post, and The Washington Post. Follow him: @ChrisDStedman